Newsletter Headline Here...
with Mathieu Leopold
Tuesdays, 2:00 - 3:15 PM, all of February
Saturdays, 8:15 - 9:30 PM, all of February
This Aerial Straps B&P Plus hosted by professional circus artist and resident Body & Pole trainer Mathieu Leopold is an overall understanding of movement using straps.
Sexual HEEL-ing: HOOP
LEVEL 1 & UP
with Abigail Williams-Joseph
Sunday, 2/14 10:00 - 11:15 AM
Join Abigail Williams-Joseph in this one-off Valentine's Day B&P Plus! Using the aerial hoop as a partner and apparatus, you'll explore sensual movement in and around the hoop to expand your vocabulary and range of motion...in heels!
THERE'S STILL SPACE IN:
SPINNY POLE 3/4
MONDAY, 2/8
10:30 - 11:45 AM
Spots are almost full, grab yours now!
Tuesdays, 5:00 PM with Brenna Bradbury
Fridays, 2:00 PM with Joshua Dean
Sunday, 4:15 PM with Kira Fath
If you have never taken Aerial Silk and are new to aerial dance, this is for you! We recommend that you take Intro to Silk a minimum of 5 times or have approval prior to joining Aerial Silk - Level 1.
Thursdays, 4:45 PM with Zoe
Sundays, 5:15 PM with TBD
Tuesdays, 1:45 PM with Donna
In Pole FloorWERK, students will start from the ground up, focusing on floor work that will be translated to your pole practice.  This training will teach you creative and dance-based floor to pole transitions, helping you build strength and fluidity. No pole experience necessary.
Pole Power, 10:30 AM
Pole Level 1, 12:15 PM
Pole Level 2, 2:00 PM

Fridays
Intro to Pole, 5:30 PM
Pole Level 2, 7:15 PM
Please welcome Yana Edinovich to the schecule, and check her out her recent Trainer Tuesday video to learn more about her!
WORK-STUDY OF THE MONTH
Our Work-S
tudy of the month to kick off 2021 was Adama! Adama did an amazing job stepping up to stage manage the Work-Study Show this month! Adama has been working hard for the studio and with their team; showing creativity, leadership, and presence.
To show our appreciation, they will receive a free private lesson with the trainer of their choice! Thank you for everything!
🤳🏽 B&P ONLINE: LIVE CLASSES 🤳🏽
LIVE ARCHIVE AVAILABLE NOW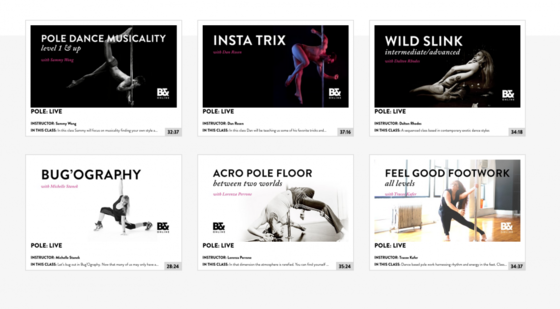 You can sample the LIVE ARCHIVE now for one free view!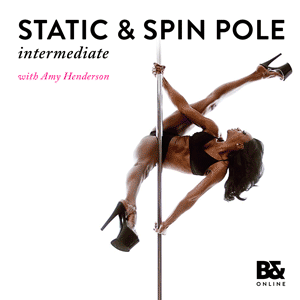 STATIC & SPIN POLE
WITH AMY HENDERSON
WEDNESDAY, 2/3 6:00 - 7:30 PM EST
EXOTIC CARDIO HEELS
WITH MATTHEW ALDINI
FRIDAY, 2/5 4:00 - 5:30 AM EST
Available only for our B&P Online Members! Enjoy these limited-run, exclusive live classes with your favorite B&P Online instructors and now, special guest instructors! Classes are capped to maintain an intimate class environment.
If you are a B&P Online Member, you will receive sign up details this week.
We understand not everyone will be able to join us in person, so B&P Online is there for you - streaming & live.
- Live Classes For Our Members
- Workout With Your Favorite B&P Instructors & Your Favorite Classes, Now & Anytime!
- Quality In-Studio Experience For Everday Use
- Over 500 Classes, Search By Class Or Technique
- New Favoriting Feature
We are honored to help you own your unknown. Stay safe and stay moving.
- The Team at Body & Pole