Laser Training Cabarete

Cabarete, Dominican Republic

.

December 2017
In this issue:
Nick Thompson clinic,

January 4th-8th, 2018.
2 Time world champion, and a constant figure in top 10 finishes in worldcup events
Nick Thompson proved that he can make the Laser sail fast in any ocean condition and
What makes him unique is his ability as a coach to create a program allowing each sailor to improve boat-speed and ability, by establishing achievable tasks on the water. Once the sailor improves on the first step, Nick elevates him to the second step. Than the third, and after that 4th. Nick is accessible and ready to share knowledge and answer any question.
Most important there are 3 spots left for Nick's clinic January 4th-8th, 2018.
If you can make a quick decision, and join us so soon for this clinic, it may be the single most important
racing decision you will make for 2018.
We offer partial grants for sailors 21 years old or younger. For more details
contact us
.
---
Coach Rulo March 2018 wave clinic.
Reserve the the dates: March 6th to 10th, 2018.
Coach Rulo is among the world's most known Laser coaches. He is deeply involved in the US sailing Olympic development program.
So.. if you want to get a feel of how the world's top sailors practice now days, join this clinic.
This clinic is all about riding waves.
Rulo will concentrate on how to ride waves in different sailing conditions, such as chop, short waves or massive swells.
The waves will also be the focus of attention sailing upwind, reaching, downwind, on the startline and your race plan.
Coaching and Laser charter fees are $1,239.00 USD. Clinic is limited to 12 sailors.
---
Easy solution to keep track of time on port tack on the start line.
Most sailors find themselves on port tack during starting sequence attempting to improve their position. To avoid the stress of having the watch on the mast facing starboard, consider having two watches upfront, one facing left the other facing the right. In any case a spare watch is always handy in case of the common watch failure.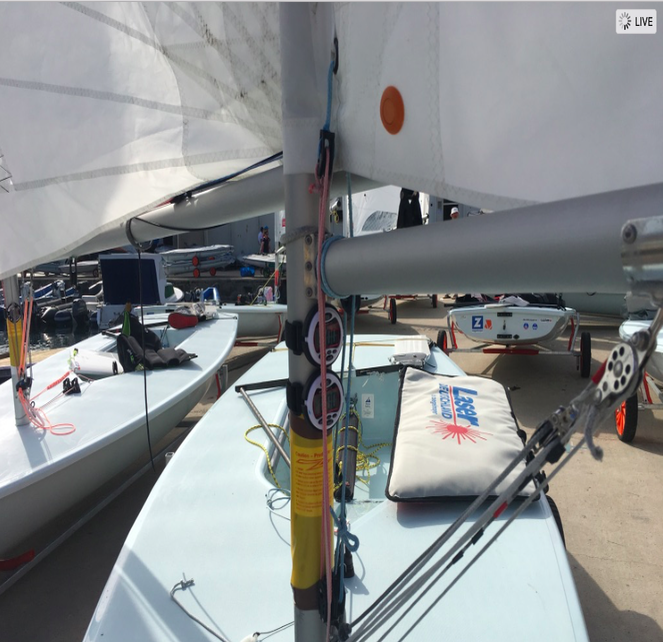 ---
New class rules.
Canadian sailing legend and Laser class leader Andy Roy syas: "as far as I can tell from researching product availability there are currently only two products on the market that meet the new rule". Andy sent the following two links.
*
Our friends at South East Sailboats are offering a class legal carbon base for the Tacktick compass.

And
may 2018 offer more sailing
and better winds
, than ever before
!
---