SOLIDARITY HIKE FOR PALESTINE [11 MARCH, KLIPRIVIERSBERG]
"Take a Hike South Africa" is hosting a 7km solidarity hike for Palestine at the picturesque Kliprivier Nature Reserve on 11 March at 07h00 (with registration at 06h30) as part of
 this year's #IsraeliApartheidWeek
. Nice scenery, beautiful wildlife (including zebras!), fun people, for a good cause...to book a spot (R100) or for more info, contact 0843577865. Click here for the full #IsraeliApartheidWeek schedule.
HIGH TEA & FASHION SHOW FOR PALESTINE [24 MAR, ROSEBANK]
Studio 5 Fashion School is collaborating with BDS South Africa and others for a high tea and fashion show on the 24th of March at The Rooftop in Rosebank (99 Oxford Road) starting at 13h00. Students at the design school have been given a Palestine challenge and will be displaying their "Palestine activist" garments at the event. The students work will be judged by South African designers and celebrities including TV Presenter Kuli Roberts and Vanya Mangliso of Sun Goddess Clothing. Tickets are R250, call 0712786744 to pre-book or for more info. Click here for the full #IsraeliApartheidWeek schedule.
TENNIS TOURNAMENT FOR PALESTINE [18 MAR, ELLIS PARK]
Center for Tennis Development will be hosting a tennis tournament for Palestine as part of this year's #IsraeliApartheidWeek. The event, catering for children and adults, will take place on Sunday 18 March at Ellis Park in Johannesburg starting from 9am. To play in this tournament or for more info contact 0843862901. Click here for the full #IsraeliApartheidWeek schedule.
SOCCER TOURNAMENT FOR PALESTINE [18 MAR, PRETORIA]
UCT FILM SCREENING ON ISRAELI RACISM AGAINST AFRICANS [12 MAR, CAPE TOWN]
BDS SOUTH AFRICA

BANK: First National Bank
NAME: BDS South Africa
NUMBER: 62273997943
BRANCH NAME: Rosebank
BRANCH CODE: 253305
SWIFT CODE: FIRNZAJJ
 
BDS SA, is a registered Public Benefit Organisation (PBO) with Section 18A tax-deductible status. This means that any donations made to us can be used to apply for tax exemptions. Kindly send copy of proof of payment to finance@bdssouthafrica.com / 0866664995 for receipt.
"APARTHEID AIN'T FUNNY" NATIONAL COMEDY TOUR FOR PALESTINE WITH SA ENTERTAINER MASHABELA GALANE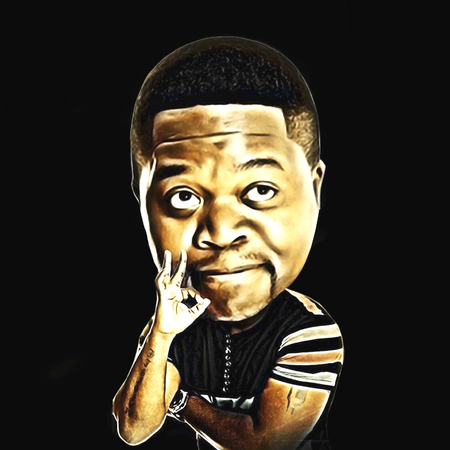 South African entertainment heavyweight Mashabela Galane will headline 
"Apartheid Ain't Funny" 
Palestine awareness cultural events and comedy shows in 5 cities, at 5 South African campuses as part of this 
year's #IsraeliApartheidWeek (12-18 March)
. The launch of the national tour
 will take place on at 18h00 on Tuesday 13 March at the 1000-seater Onkgopotse Tiro Hall at the University of Limpopo where Deputy Minister of Higher Education Buti Manamela will also be in attendance.
Having won a Savanna Comics' Choice Award (twice!), the 2012 IKUSASA Young Comedian award and boasting appearances in Opening Guys (Mzansi Magic), Teenagers on the Move (SABC1), Rhythm city (SABC2), District 9 and Invictus (both Hollywood),
Galane
has earned his stripes in the comedy and entertainment industries. He's had shows at the Durban ICC and the State, Lyric, Soweto, Market and Baxter theatres and, of course, not forgetting his recent sold-out show at the Big Top Arena at Carnival City.
Mashabela
, who is a giant in the vernac comedy scene, has also performed in other African countries, including Lesotho and Botswana, on his well-known Botsisa Papago Tour. Other than performing at festivals he also founded and still runs the annual Comedy Under the Sun picnics.
Galane
is one South Africa's biggest entertainers and we are humbled that he has teamed up with BDS South Africa for this cause. He joins a long list of South African entertainers like Kagiso Lediga, Riaad Moosa, Joey Rasdien, Tumi Molekane, Simphiwe Dana, Lebo Mashile, ReasonHD, 
Thabang ER, Muzi Dlamini, Mo Mothebe, Stig Dlamini, Nomsa Mazwai, JR, Chester Missing, Thandiswa Maswai, Muzi Dlamini, Ginger Breadman, Lazola Gola, HHP, Nina Hastie, Loyiso Madinga
 and many others who have come out in recent years in support of the Palestinian struggle. They are, in turn, joined by international actors and entertainers including Mark Rufallo, John Cusack, Stevie Wonder, Lauryn Hill, Lupe Fiasco, Harry Belafonte, Penélope Cruz, Emma Thompson, Danny Glover, Roger Waters, Jesse Williams, Rosario Dawson and others who have voiced support for Palestinian solidarity initiatives. CLICK HERE for the full #IsraeliApartheidWeek schedule of events including Mashabela Galane's shows which are taking place at the University of Limpopo, North West University, University of Mpumalanga, University of the Free State and Tshwane South College.
JOIN US ON FOR THIS CREATIVE ISRAELI APARTHEID WEEK SOCIAL MEDIA CHALLENGE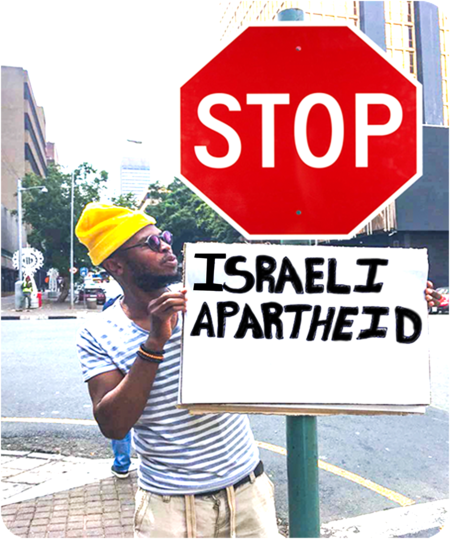 Join us online for this year's #IsraeliApartheidWeek social media challenge! On cardboard or paper, write the words "Israeli Apartheid". Then take a photo holding your placard (with the words "Israeli Apartheid") next to or under a STOP sign (see above).

Post the image online, and remember to tag us using the hashtag #IsraeliApartheidWeek.
#IsraeliApartheidWeek is endorsed, in South Africa alone, by more than 110 organisations, trade unions, embassies, youth movements and other groups including South Africa's governing party, the country's largest student formation and SA's largest trade union federation. #IsraeliApartheidWeek has previously hosted former South African president Kgalema Motlanthe, 
the former Chairperson of the African Union Dr Nkosazana Dlamini-Zuma,
 the National Speaker of Parliament Baleka Mbete as well as several Government Ministers, Mayors, Ambassadors, sports-people, artists, actors, comedians and many other well-known South Africans. 
With "Afro-Palestinian solidarity" as this year's theme, #IsraeliApartheidWeek in SA will focus on both Israel's apartheid policies against the Palestinians as well as the regime's discriminatory policies against Africans.
Israel is presently expelling thousands of Africans, giving them an ultimatum: leave by 1 April 2018 or risk indefinite imprisonment. Israel has offered one hundred thousand rands in bonuses to civilians who aide in forcibly deporting African asylum seekers. Israel has portrayed non-Jewish Africans as a threat to Israel's Jewish character calling them "infiltrators" with Prime Minister Benjamin Netanyahu repeatedly calling for their expulsion saying that Africans "threaten the social fabric of society." Israel's Minister of Interior, Eli Yishai, has said that African immigrants "think the country doesn't belong to us, the white man." And the Israeli Minister of Culture and Sport, Miri Regev, has compared Africans to "a cancer". In 2013 Israel was revealed to be forcibly sterilising African women without their consent.
Click here for more info on Israel's racism against Africans.
In a 2009 report commissioned by the South African government, the Human Sciences Research Council (HSRC) concluded that Israel is guilty of apartheid. This position was then confirmed by the Russell Tribunal on Palestine, which sat in Cape Town in November 2011. Again in 2012, both the United Nations Committee for the Elimination of Racial Discrimination as well as the Human Rights Council made similar findings. A 2017 report by the UN Economic and Social Commission for Western Asia detailed how Israel has established "an apartheid regime that oppresses and dominates the Palestinian people as a whole". At the UN's January 2018 Universal Periodic Review, South Africa slammed Israel as "the only state in the world that can be called an apartheid state". Amnesty International, Human Rights Watch and various other legal and human rights organisations have issued similar reports and called for action to hold Israel accountable. Click here for more info on #IsraeliApartheidWeek.
JOIN BDS SOUTH AFRICA'S EMAIL MAILING LIST
To join BDS South Africa's email mailing list (& receive these newsletters) send a blank email message to alerts@bdssouthafrica.com