---
Scotland Island: Opal Card Drive
Mums 4 Refugees
Imagine not being able to take your child to school.
Your child is sick and you can't get them to the doctor.
We are hoping to collect Opal Cards for asylum seekers between 3rd - 17th September.

If 25 people in each of the 50 Northern Beaches suburbs gave 1 x $20 Opal Card, we would raise $25,000.

Help people who have had their work rights denied to get their children to school, get to medical centres, and food banks.



How you can help:



Buy a $20 adult Opal Card
Get 25 of your friends to do the same
Send them to Mums 4 Refugees c/o PO Box 568, Church Point Post Office, 1860 Pittwater Rd, Church Point NSW 2105.
You can buy pre-paid cards from these outlets.
https://www.opal.com.au/en/where-can-i-use-it/find-an-opal-card-retailer/

Contact Louisa for more info - 0431125142.
Thank you in advance.



---
Scotland Island Fire Shed Dinner
Saturday September 12th from 7.00 pm
---
STARRY FUTURES
Peninsula Music Club's Concert - Friday 21st August at 8 pm
The Peninsula Music Club's third concert for the year STARRY FUTURES is on Friday 21st August at 8 pm doors open at 7.30 pm and entry is with your 2015 membership card.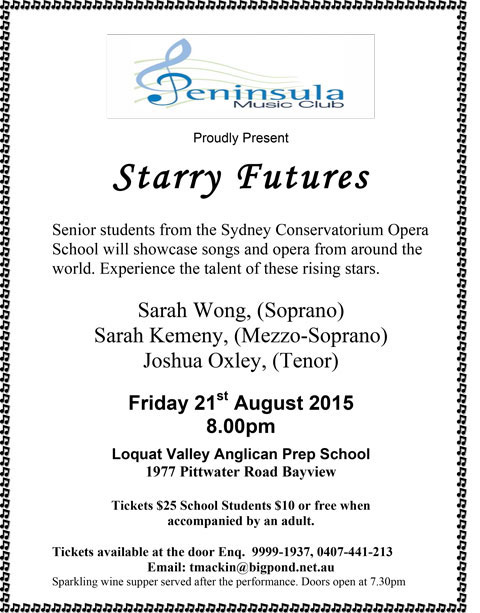 ---
Letters to the Editor

Dear Editor,

After reading the PON dealing with the end of the PET ticket on 31/12/15 as the government moves to OPAL cards I phoned Transport NSW as suggested. I got the run-around, as anticipated, and after being put through to three different offices and speaking to junior personnel who relayed information to me that Church Point Ferries are not within the umbrella of Transport NSW (already a given, I might add). One offered to put me through to his supervisor and after a brief hiatus he came back on to tell me that his supervisor didn't want to talk to me--which is always a sign of confidence in our public service--but offered to put me through to Church Point Ferries. Unwittingly I had spoken to one of the drivers earlier this week and been told that the government hasn't been able to come to terms with the OPAL system with regard to ferry services, but has, to date, paid the difference between the cost to the individual of the PET and the cost to the company.

During my discussions today I pointed out that Transport NSW does the same with a number of private bus companies and has no problem orchestrating the introduction of OPAL cards on them--which may have prompted the reluctance of the supervisor to speak with me. I finally found the form on the Transport NSW website and submitted my concerns but have little faith that will do anything. I feel it is imperative that everyone impacted locally by this decision write to Rob Stokes with their concerns, as I did. He is our Local Member and a part of the government introducing this system, so he should be made aware of the problems facing his constituents.

Regards
Steve P


---

Thank you for alerting us to the impending changes re Opal card system ... may I also recommend that a Petition be organised by Scotland Island and the Western Foreshore's Community Associations to collect as many signatures as possible for presentation to both Rob Stokes and Andrew Constance, to augment individual expressions of concern.

Lynne C



---
For Sale
1) 4 full sheets (1200 x 3000) and various large pieces (adds to 1 more sheet) of 10mm plasterboard left over from our renos. A$ 80.00

2) Ikea Malm single bed with mattress reasonable condition A$ 50.00

3) Ikea Malm QS bed (no mattress) reasonable condition A$ 50.00

4) 3 x Ikea Malm small 2 drawer bedside reasonable condition A$ 10 ea

Pick up 53 Robertson Rd/ SI
Andrea 99995828/ 0414922199



---
House Sitting
My mum and dad are looking for a waterfront to house sit.

Contact Luke Ratcliff
luke@bdremedialbuilding.com or 0413043810




---
---

A complete set of past electronic newsletters since May 2000 can be found and read at https://ymlp.com/archive_gesgjgm.php


---
To Contribute
If you would like to contribute to this newsletter it's easy!. Send an e-mail to the editor (editor@scotlandisland.org.au) or by clicking here. Type your contribution (100 words or so would be fine) and assuming it is of general interest to the community, does not include matter of a political nature and is not offensive, it will appear next month.


Subscription Information
To get on and off this newsletter, click here

or got to:

http://www.scotlandisland.org.au/signup .


To change your address, click the 'modify' link at the bottom of this newsletter or send an email to the

editor@scotlandisland.org.au


---
Follow the PON
---
The Online Local Contacts Guide
Click HERE to load
---
---
The views expressed in this newsletter are not necessarily the views of the Scotland Island Residents Association (SIRA), or the Western Pittwater Community Association (WPCA)
---
---