IAW PRESS STATEMENT
Musician Cassper Nyovest to perform at #IsraeliApartheidWeek concert
- Cassper Nyovest, Ginger Breadman, Nomsa Mazwai, Tshwane South College performing at IAW Palestine solidarity gig -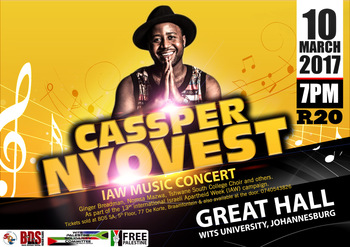 Refiloe Maele Phoolo, professionally known as Cassper Nyovest, arguably one of South Africa's largest hip hop artists, will be joined by artists Nomsa Mazwai, Ginger Breadman, the Tshwane South College Choir and others.
Cassper Nyovest's debut album Tsholofelo was released on 18 July 2014, it quickly climbed to the number one spot on the iTunes South African albums chart and thereafter went multi-platinum. Nyovest is currently signed to his own independent label and media company, Family Tree. One of Cassper Nyovest's most popular singles, "Doc Shebeleza," has seen him gain major success with various remixes.
His most recent collaboration is with Babes Wodumo and Mampintsha titled "Family". At an international level, Nyovest has shared stages with several artists including Kid Cudi, Kendrick Lamar, Nas, and Wiz Khalifa. He also features on a track by US artist Talib Kweli. Kweli,
a supporter of the Palestinian struggle and BDS boycott of Israel
, was hosted by Nyovest when he visited the country two years back.
Cassper made history in 2015 when he was the first South African artist to fill the Dome in Johannesburg to full capacity, selling 20 000 tickets to fans. This was followed by another first, and a game changer for SA music, when in 2016 he attracted almost double the amount of fans at a concert held at Orlando Stadium in Soweto. Following the success of #FillUpTheDome and #FillUpOrandoStadium, Cassper has already announced plans to fill up FNB stadium, an 80 000 person soccer world cup stadium.
Last year Cassper Nyovest won the MTV Africa Music Award for Best Live Act.
----------
The annual #IsraeliApartheidWeek campaign has hosted several South African artists at Palestine solidarity concerts during the week long campaign. In previous year's the following artists have performed at Palestine solidarity #IsraeliApartheidWeek (IAW) concerts: Simphiwe Dana, Stogie T (Tumi Molekane), Reason, JR, Ginger Breadman, Nomsa Mazwai, Lebo Mashile and HHP.
----------
Tickets for the 10th of March concert (at 7pm) are on sale for R20 at the BDS SA offices (5th Floor, Mishumo House, Braamfontein, Joburg, 0114032097) and will also be available at the door on the day of the concert on a first come first serve basis.
Click here for more info.
For info, Wits University IAW student representative: +27 (0) 82 3134227