Notices for Offshore Residents of Pittwater, Australia

---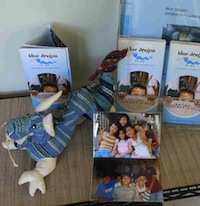 Art of Christmas Sale Success! 




A BIG THANK YOU from Rouge & 'The Art of Christmas Sale' artists & 'The Blue Dragon Children's Foundation' in Hanoi :



The Art of Christmas Sale artists, Paul and Tracy Smith, Carole Corrie, Gwyn Perkins, Marion van den Driesschen, June Lahm, Dimitri Lihachov, Nick Creech, Nettie Lodge, Rouge & chef Kath Anderson, wish to send out a BIG THANK YOU to all who supported the artists and the Blue Dragon Childrens Foundation, held recently at ArtSpace Rouge in Lovett Bay. Also thanks to our volunteers Lucy Kemp, Lisa MacDonald and Penny Gleen for her assistance with the ferry service.


| | | |
| --- | --- | --- |
| | | |
| | | |
| | Full sized images can be seen at the online Offshore Gallery here or by clicking an image | |

The great news is that the artists have donated a total of $1,050 to the Blue Dragon Children's Foundation in Vietnam.

Roz Noble, a resident of Lovett Bay, held the position of Program Manager for 6 months of 2009 at the Hoi An Children's Home in Vietnam.  Roz's association with Blue Dragon (an Australian grass roots charity based in Hanoi) started in 2008 when she volunteered for 3 months at the Children's Home – nearly 2 years later her bonds with the children at the Home in Hoi An and her commitment to Blue Dragon and the work they are doing remain incredibly strong.  

Blue Dragon enables children from impoverished families, to complete their schooling.  This support includes food, accommodation, care staff, social workers, and all their educational needs.  Without this assistance these children would probably have been forced to finish their schooling and work to help support their struggling families.
 
For further information or donations please contact Roz Noble at roznoble@hotmail.com

or go to the Blue Dragon Children's Foundation website www.streetkidsinvietnam.com
 
To date, Blue Dragon has:          
Sent 1,093 kids back to school and training          
Provided accommodation to 97 girls and boys          
Served 143,965 meals          
Built or repaired 20 homes for families          
Distributed  3,657 litres of milk          
Handed out 15,764 kgs of rice          
Reunited 57 runaway children with their families          
Taken 473 kids to a doctor or hospital          
Put 5 teens through drug rehab          
Obtained legal registration papers for 169 children          
Rescued 63 trafficked children          
Placed 50 teens in jobs          
Played 695 games of soccer!


---

Local Council Notices

COASTAL HOLIDAY FUN FOR THE KIDS


There are still some places available for the January school holiday's "Kids on the Coast" program at Pittwater Council's newly refurbished Coastal Environment Centre at North Narrabeen.

The program which runs from Monday 4 to Friday 22 January offers primary school aged children a broad range of activities to entertain and stimulate their young minds.  
Pittwater Council's Natural Environment and Education Manager Mia Dalby-Ball said the diverse program offers something for everyone and is run by enthusiastic and experienced educators.
"There is a mix of fun outdoor, craft and cinema activities available with the focus on learning about the wide variety of plants, animals and sea creatures that are abundant in Pittwater's coastal environment," said Ms Dalby-Ball.
"We will be holding the popular Junior Fishing Clinic again that provides an introduction to fishing. Kids receive facts and tips about fishing as well as some free gear!"
Other activities include "Flying high with kites" – making and decorating your very own kite and taking them for a fly; "Fantastic Frogs" - how to look after the many species of frogs in Pittwater and "Coastal Capers" - an excursion to Turimetta Beach looking at signs of life and treasures washed up on the seashore.  
The "Kids on the Coast" program runs every day throughout the school holidays.There are two-hour activities available between 10am-12 noon and 1pm-3pm for $20 per child per session.  For children wishing to attend a full day (10am-3pm) the cost is $55, which includes care between sessions.

The Coastal Environment Centre is located at Lake Park Road, North Narrabeen. 

For more information or to book a place visit www.pittwater.nsw.gov.au/cec or call the Coastal Environment Centre on 9970 1675.

Media Contact:  Tina Demetriou  Ph: 9970 1676 or 0428 102 040




CAMPAIGN TARGETS RISKY DRINKING


Supplying alcohol to anyone under the age of 18 is against the law, attracting a fine up to $11,000 and even jail in severe cases.

Despite this, young people still seem to discover ways of getting their hands on alcohol, with a recent study by the Australian Drug Foundation (ADF) stating that 37% of students who had drunk alcohol in the past week reported that they had been given it by their parents.

To help the community understand what supplying alcohol actually means, including the laws and associated fines, ads will be running at local northern beaches cinemas during the Christmas period.

The ad campaign has been coordinated by the Pittwater Community Drug Action Team, comprising the Manly Drug Education and Counselling Centre (MDECC), the Northern Beaches Local Area Command, Pittwater and Warringah Councils and the Northern Beaches Health Promotion (NSCCAHS) and other community representatives. 
Pittwater Council Community Development Manager Lindsay Godfrey said that while the campaign targets all suppliers of alcohol to young people such as family, friends and outlets, there is an emphasis on making parents and guardians aware of 'secondary supply'.

"Evidence suggests that if your under 18 year old child attends a party at a friend's house there is a chance that the host parents may be supplying alcohol to your child. More often than not, the host parent or guardian is not aware of the legal ramifications."
Amanda Watkins, Health Promotion Coordinator, MDECC stated that "the concern parents, community and services have with underage drinking is that young people are far more at risk of harm associated with alcohol-related violence, sexual assault, road safety and unable to make informed decisions when intoxicated". "It's all about safety" said Ms Watkins.

For further information about the 'secondary supply of alcohol' contact Manly Drug Education and Counselling Centre (MDECC) on 9977 0711




PITTWATER COUNCIL NEWSLETTER




---