Having trouble reading this newsletter? Visit
https://www.ymlp.com/pubarchive.php?sira

September 1, 2009
Notices for Offshore Residents of Pittwater, Australia
September 2009
---
Helena Nelson 1919-2009




Vale Helen Nelson

.
My late husband, Graham, and I had the pleasure of being close friends with Helen for over 30 years. During this time we shared many memorable events - the passing of her dear husband Bob, the birth of my three children, sunken boats, leaking water tanks, pesky possums and so much more.

Helen was fiercely independent and asking for help wasn't something that came easily. But there was always a long line of people who were only too willing to help, whatever the situation. She always valued being part of the wonderful close knit community on the Island. Helen loved her Island paradise and it took many years to finally make the decision to become a "mainlander".

My move to Queensland two years ago was difficult on both of us - I know she missed me and I constantly worried about her health. But I knew I had left her in good hands with wonderful friends - Elizabeth, Marjolyn, Barbara, and Therese to name just a few - who kept a close eye on her.

Helen was a true Islander and a wonderful lady who will never be forgotten.

My deepest sympathies to Helen's family.
Judy Botham, Mount Nathan, Qld.

---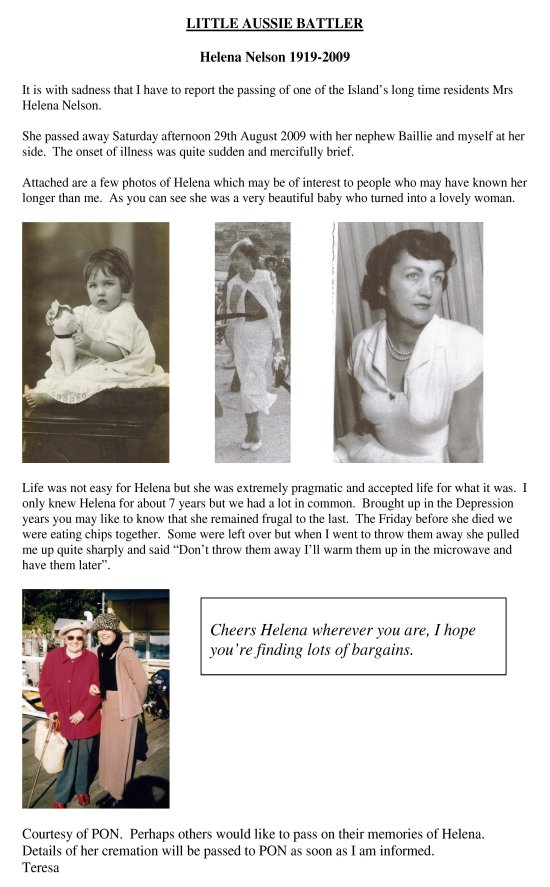 ---