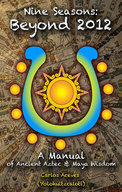 Indigenous Cultures Institute has published two new books, Nine Seasons: Beyond 2012 by Carlos Aceves and volume 1 and 2 of the Institute's online journal Nakum.
"We're very excited about this new venture," says Maria Rocha, interim publishing coordinator.  "And it couldn't have happened without the help of several ICI supporters and staff."
Both books are now available on Amazon.com for the retail price of $15.95 for Nine Seasons and $12.95 for Nakum.
However, the Institute is offering special prices to its patrons, friends, and relations on the home page of their website, www.IndigenousCultures.org.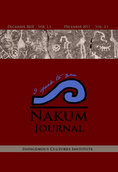 "Our supporters can buy
Nine Seasons
for $12.75 and
Nakum
for $10.00, plus tax and shipping costs," says Rocha. "We bought a limited quantity so that we could share these publications with our audiences."
Nine Seasons: Beyond 2012 is a brand new edition with beautiful cover art and illustrations by renowned El Paso artist Gabriel Gaytán. It is described on Amazon.com as "Clear and precious descriptions of indigenous wisdoms where readers discover how celestial cycles merge with seven skills for long life and learn the secrets of becoming spiritual warriors of the mind and heart."
Nakum Journal, Volumes 1—2 features eight contributing authors and is a peer-reviewed, interdisciplinary academic journal that offers a space for the continued exploration of Hispanics' indigenous identities.
All proceeds from the sale of the books will go towards the Institute's programs.
---