The half way point of 2016 is here bringing with it another major opportunity to experience something different. The month begins as the Sun continues its visit to dualistic Gemini. This sign is ruled by or associated with the planet Mercury. Mercury is known for a few qualities – wit and intellect, mental and verbal energy, quickness and agility (of both mind and body). It is also associated with youth and early education, and considered the sign of the "student path". Eager to learn and impatient to know and understand, Gemini is known as the "Peter Pan" of the zodiac. If you really think of the story of Peter Pan, you recognize the story is about the eternal spirit of youth, the beauty of innocence and child-like wonder with all things around us, and the powerful belief that you can create reality out of your thoughts and words. In June our focus shifts from our basic survival needs to our ideas, thinking, and communications – the stuff that creates our reality. We are reminded that life experience is whatever you choose it to be; it is whatever you choose to think, say, and take action for.
On June 4th, the Gemini New Moon amplifies the need for thought and communication, but is a complex lunation as it triggers a Grand Mutable Cross between Venus in Gemini, Jupiter in Virgo, Saturn in Sagittarius and Neptune in Pisces. The Grand Cross (no matter what signs are involved) always reminds me of that old saying. "A Heavy Cross to Bear" which more than likely comes from this cosmic alignment. This Grand Mutable Cross is about being flexible and preparing us for the changing season ahead. As confusing as a mutable Grand Cross is, it is demanding we adapt to survive and move into the future. This New Moon in Gemini is all about the mental realm: communication, speaking, writing, education, commerce, and travel. However, because of aspects this month we are being asked to sensitize our thinking and forcing us to look at the broader picture and how we relate to it.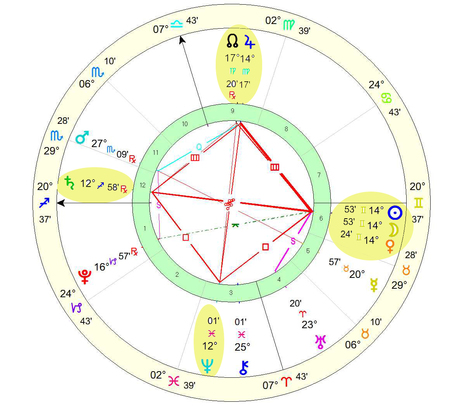 Now there is one favorable alignment to this month's lunation it's the exact conjunction the Sun and Moon with Venus. We can expect a lot of the discussion to be centered on art, music, love, relationships, money, and social graces (which are eroding by the second, it seems.) Gemini is often accused of being a superficial sign, due to its tendency to jump around from one talking point to another and seemingly never staying on one long enough to get to the bottom. I think this is less of a problem here with Mercury in Taurus holding steadfast. There is persistence here in getting points heard and pulled out of others. It's a very sociable New Moon, and what starts off as a lighthearted good time and lively banter can turn up quality information.
On June 12th, the winged messenger, Mercury, enters his home sign of Gemini. He is quite comfortable in this versatile placement bringing with it all kinds of ideas, thoughts and forms of self expression. During his three week visit we can expect our words to be flying around by every means possible and our phones maybe ringing nonstop. The following day, spiritual Neptune goes retrograde in Pisces. When Neptune turns retrograde our feelings are more astute at picking up and perceiving the illusive. It is easier to ascertain information about issues that have eluded us while Neptune was direct. As one's perceptions become more acute during this reversal, it is important to listen to the "inner voice," so that you can see more of what is going on around you. It is essential that you talk about what you are feeling, sensing or absorbing because Neptune retrograde can produce a type of psychic overload for very sensitive people. Heightened sensitivity can be both an asset and a liability.
Our relationship focus shifts gears on June 17th, when Venus enters the emotional world of Cancer. When Venus, the goddess of love, moves into the sign of home and hearth, this brings us a time to relax and enjoy the people and parcels of home. Cancer is a sensitive, caring sign, a sign where the Venusian energy is easily expressed. Empathy comes freely and there is a real desire to provide nourishment to those around you. Unfortunately, while all this lovely dovey self-protection is taking place at home, the second Saturn square Neptune creates tests and challenges in achieving our hopes and dreams. These tests and challenges can be psychological in the form of guilt, fears and anxieties. We may also face delays and restrictions from other people or events in our lives.


This is a karmic aspect so you do experience some hardships in order to raise our consciousness and liberate ourselves of some negative karma. Time, self-discipline, patience and persistence will all help in overcoming any fears and lead to the achievement of our hopes and dreams. Neptune governs creative and artistic pursuits such as music dance and film so during this transit, its best to immerse ourselves in these areas rather than self pity and lack. Fear, paranoia and addictions are some things to avoid with this aspect. It may appear that we have to deal with more disappointment or tragedy at this time, but we can use these experiences to make us stronger in the long run.
The Full Moon this month coincides with the Sun's shift into Cancer on June 20th, making for a very dynamic day to say the least. The Full Moon at the very last degrees of Sagittarius (same sign as last month's Full Moon) will occur in the early morning hours; bringing events and situations to a culmination from the start of its cycle at the New Moon two weeks ago. Sagittarius is a fire sign and symbolizes man's spontaneous quest for knowledge; the spirit of Prometheus stealing fire from the gods in order to enlighten humanity. The sign Sagittarius governs our personal belief systems, our philosophy of life, and our spiritual search for the meaning of life. Later in the afternoon, the Sun enters Cancer and marks the Summer Solstice in the northern hemisphere.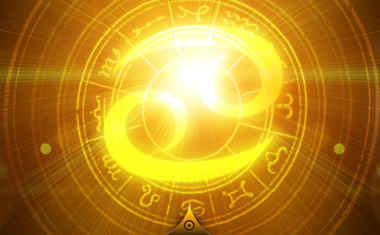 When the Sun moves into Cancer, watch the birds as they carry twig after twig to their chosen site and build a nest where they can bring their babies into the world. This is instinctive behavior, built upon many seasons of repetition. In Cancer, the Sun's ego-centered energy combines with the reflective, hidden energy of Luna. The past is important to Cancer, as is the concept of nurturing – both self and others. Cancer is a cardinal water sign, ruled by the Moon, meaning that it is active, yet runs on emotions. Think about the ocean and the tremendous depth of the water. Yet the power of the Moon pulls that water from one side of the earth to the other as she moves through the night sky.
On June 26th, one of the most favorable alignments occurs between mighty Jupiter and powerful Pluto. Transiting Jupiter will trine Pluto greatly increasing our power and influence. We have the opportunity to use this power to positively transform our own lives, our environment, and the lives of other people. We will feel in control of situations, and may find ourselves in positions of power or authority in group settings. The biggest gains during this period come from maintaining high morals, and not acting selfishly. The transitions on the way could include promotion on the career, leading to increased wealth and power. Journeys made now will also greatly transform our outlook on life, and be remembered as once in a lifetime experiences.
Our thinking turns to emotions on June 29th, when mental Mercury enters the watery realm of Cancer. Cancer is a water sign, so thoughts just pour in on their own. You'll find your mind taking a lot of logical side trips, as you bounce from river to ocean and back to a little lake before settling down on the porch. Picture the crab and how it walks sideways toward its target. Mercury is about thinking, so it's time to think sideways. It takes a little longer, but the trip is nicer.
Last but not least, Mars finally turns direct in Scorpio on June 29th, endings its two and half month retrograde period. Our motivation and desires return once again now that the warrior planet is moving forward. Mars retrogrades can be tricky periods in general, as we can be very uncertain not only about our desires, but also how to pursue them. Love relationships can be as hard to read as the people in them. Fortunately, from June 29th to August 2nd, we regain our confidence, finding that we can believe in ourselves once again and for more solid reasons than we did before.
                                  Upcoming Event in June