---
Editorial



A very special member of our community has being doing it real tough over the last couple of years. Most of you will know Trudi and remember the huge contribution she made, over the many years, to this community.

Since moving off the island things have not gone well for her, however a number of great friends continue to support her. They would very much like some assistance, or contributions to help support Trudi and make her days more comfortable. If you would like to help out, or contribute something, give them a call and seeing what you can do to help. Contact details are in the notice below.

SIRA membership renewals fall due again at the beginning of July, as does your water agreement. The new forms can be downloaded from this newsletter - see the links at the end of the newsletter in the Local Guide section. Remember you have to have up-to-date SIRA membership and a current signed water agreement to be able to book water.

It will be of interest to all city bound bus travelers and those needing to catch E buses that Church Point Post Office now sells Mybus 3 travel ten for $34.40 or singles for $4.30.

Enjoy!

---
Contents
---
Gwyn's April 2010 Calendar

To download a full version (A4 size) of this months calendar, ready for printing, just click on the calendar image.

You can contact Gwyn Perkins by email at g.perkins@gwyn.com.au


The file is quite large and in PDF format. To view PDF documents you will need the Adobe Acrobat Reader installed on your computer.

To download Acrobat Reader please

click here
---
Trudi Engler

Trudi Engler was a great contributor to the Island community over many years and generations of children benefited from her ballet classes. She is now becoming quite frail – but still bright and delighted to see anyone from the island.

Since leaving the island, she continues to live in the back of a burnt out house without electricity and heating. Now another winter has descended and the days are short and the nights very cold. Trudi is eligible to receive up to 63 days of temporary care in a Low Care (Hostel) each year. She enjoys going into a care facility and has done this in the past for short periods to recuperate.

Thérèse O'Neil and Margaret Sullivan of Waterford Partners Real Estate, have kindly donated $1,000 to be used for Trudi's care. Currently the cost of a days accommodation in a Low Care Facility is $38.65 pd – that's almost 26 nights – warmth, comfort, meals, companionship, activities and care. We will try to get care in a facility where German is spoken.

We are trying to book blocks of 2 weeks during the Winter, as well as purchasing items to improve her comfort in the home during the much delayed rebuilding.

If you can drop in and take Trudi out for a coffee, or drop in a casserole, or contribute something for her care, please contact John, Fiona or Marion.

John Saunders or Fiona Deegan Marion van der Driesschen
0433 066 000 0431 457 431
9999 4501 9979 3993
jsaunders@pobox.com marionvdd@yahoo.com


---
Pittwater Offshore Wine Syndicate


Dear Wine Lover!

We are all excited about the next Wine Tasting for our little group, due on

SUNDAY, July 4th 2010 @ 3pm



Where: At the marvelous waterfront home of George Gaal and Deryn Vokins! You know the house - now called 'The Boathouse' - fifth jetty west of Bell Wharf

Tasting notes and pricing available here.

You can invite your neighbours by suggesting they visit www.wine.hostcell.net where they can sign up to receive our quarterly 'notice of tasting'

If you want further information, you could ring:

* George Gaal 9979 9141
* Alan Gaines 9979 2070
* Julian Muir 9999 4449
* Paul Purvis 9979 9667
* Greg Roberts 9979 5228



---
200 YEARS FESTIVAL



SCHOOL HOLIDAY WORKSHOPS




September 11th & 12th, 2010



For 7 to 100 year olds!



We will be making the elements of the FESTIVAL SUNSET PARADE that will Tell a Tale from our local history......





Scotland Island Community Hall, Catherine Park





9.30 -3.30 -Tues. 13th, Wed. 14th, Thurs. 15th July





Fee:


$ 50/day - $85/2 days - $120/3 days
(family concessions available)
Little ones welcome with a parent.....

BOOKINGS:
Emmie Collins: 9997 7506/ 0405 330 781
emstar@tpg.com.au


Click image to load the Flyer




---
Island Cafe Reminder
Dear Weather Watchers,

It's turned really chilly, hasn't it? We will ensure that the tables at the cafe are out in the sun this week. Willy Weather has promised me a fine day on Sunday. Cakes on the list, so far – 'something chocolately' and an apple pie.

Just to warn you all, last week, there was quite a crowd – at one point, it was standing room only. I mean, ok, we put out another table and all was well, but you never know – you could be standing waiting for a spot for whole minutes at a time. Come down early to secure your table! Reservations taken (0404 867 768).

Let's just remind ourselves of some basics:

1. The cafe runs 10am to 12pm – it's fine to turn up at 11:56, but you will have people standing next to you, ready to tear the cup out of your hand the moment you are finished.

2. Bring your own cup! 50ct off the price of a coffee. See point 1.

3. We are in Catherine Park, by the kindy – and btw, we're just physically proximate to the kindy, we are not the Kindy Cafe

4. The Island Cafe runs every week, unless it is really rubbish weather. (Not that there's anything wrong with the Kindy.)

5. We're child friendly – up to a point. Basically, grown ups drink more coffee, so we like them. Of course, kids eat more cake, so we like them, too (including the Kindy ones).

6. There are often one or two stalls also in evidence, selling anything from secondhand books to handmade felt hats.

7. There is no point 7.

I think that about covers it. See you Sunday.
The Cafe Chicks



---

Local Council Notices

Help Attack Pittwater's Worst Weed


Pittwater Council is inviting members of the local community to help remove Pittwater's worst weed, the noxious Asparagus Fern, at Plateau Park, Bilgola Plateau on Saturday 3 July between 8.30am and 2pm.

Natural Environment & Education Manager Mark Beharrell said the event gives the community an opportunity to help conserve their local environment.

"This event provides residents the chance to pitch in and help control this weed, which is invading one of our most interesting bushland reserves," he said.

"Plateau Park is the only remaining 'Duffys Forest' Endangered Ecological Community, containing the iconic Waratah, which is rare to the Pittwater area."

"The Park also contains bandicoots, possums, micro bats and offers an ideal habitat for the threatened Squirrel Glider and Feather Tail Glider."

The reserve also forms a significant wildlife corridor linking vegetation on the Newport and Bilgola escarpment to bushland on the Pittwater foreshore.

Mr Beharrell said that eradicating Asparagus Fern from the reserve will allow the native plants in the reserve to regenerate.

The Council is being assisted in its campaign against Asparagus Fern by the Pittwater Natural Heritage Association (PNHA), DATS Environmental Services and Bilgola Public School.

Participants able to give up some time on the day should meet at the park entrance on Plateau Road, near Bilgola Plateau Public School and wear gloves, long trousers, sleeves and covered footwear.

Bookings are required for this event which includes a gourmet morning tea and lunch. To book in phone 9970 1367.

Media contact: Ben Coddington Ph: 9970 1367


---
Learn about Aboriginal Heritage in the Guringai Area




Pittwater residents are invited to find out more about Aboriginal heritage in the Guringai




area on Monday 12 July at 7.30pm.



The free event hosted by the Aboriginal Support Group – Manly Warringah Pittwater forms part of the Guringai Festival and will be held at the Mona Vale Memorial Hall.

Speakers include Aboriginal Heritage Officer David Watts and his staff who will discuss the role of the Aboriginal Heritage Office (AHO) within the eight Guringai Northern Sydney Councils area.

There are more than 1000 sites of Aboriginal culture and heritage in the areas of North Sydney, Lane Cove, Willoughby, Manly, Warringah, Kur-ring-gai, Pittwater and Ryde.

The presentation will explain how the Guringai people, who once occupied this area, left important evidence of their past and way of life before colonisation.

According to the AHO, Aboriginal sites are under threat every day from development, vandalism and natural erosion and once they are destroyed they are lost forever.

The AHO is a joint initiative of the Northern Sydney Councils with a primary goal to protect Aboriginal Heritage in the region.

Part of the Office's work is to monitor Aboriginal sites on a day-to-day basis with long term plans developed to ensure their preservation and protection.

For enquiries about this event call Lizzie Landers Aboriginal Support Group – Manly, Warringah, Pittwater on 9918 2594. Mona Vale Memorial Hall is located at 1606 Pittwater Road, Mona Vale (next to Mona Vale Library).

The Guringai Festival runs until 11 July across the Northern Sydney region. To download a copy of the 2010 Guringai Festival program visit www.guringaifestival.com.au

Media contacts:
Lizzie Landers, ASG Manly Warringah Pittwater ph: Ph: 9918 2594.
Community Relations, Pittwater Council Ph: 9970 1172
29 June 2010



---
Have your Say!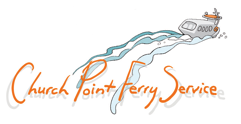 Church Point Ferry Service Survey
Do you want an extra ferry at 6 am but have never dared ask one of the drivers?
Would you like to catch a ferry to Newport?
Have you ever thought, if only the ferries ran later by half an hour……
Please let us know.
We have developed a quick online survey with only 10 questions. It wont take long to complete and we would greatly appreciate your input. The last question is open ended so that you can cover any issues or requests you have. All responses will remain anonymous, as we are running it through a third party, but general responses and results will be published with comments at the end of July.

Go to http://www.surveymonkey.com/s/J5MZ6QC to complete the survey, or alternatively drop me an email at info@churchpointferryserivce.com and I can send you the link, or call me on 0433 038 408 and I can organise to do the survey over the telephone, or send you a paper copy.

Many thanks
Penny
Church Point Ferry Service
www.churchpointferryservice.com
penny@churchpointferryservice.com
0433 038 408



---
Placemarkers Exhibition
Opening July 2, 6pm to 8pm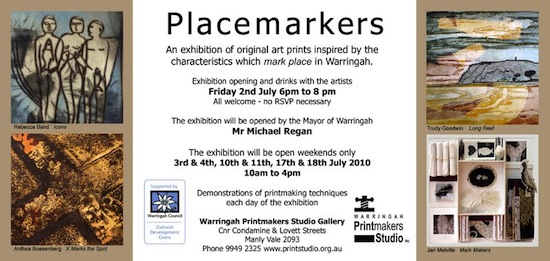 ---
Bush Regeneration Event based at the Pittwater YHA

A full house of guests and a bevy of local bush regenerators spent two mornings clearing Asparagus fern
and Mother-of-Millions from the hillslope of Morning Bay last weekend.

This was the second running of the weekend event as a partnership with the Pittwater YHA and the Pittwater Natural Heritage Association.

Support was given by the local Morning Bay Volunteer Bush Regeneration Group, the Pittwater Council with advertising and by National Parks with on-ground assistance.

A total of 60 bags of Asparagus core and mother-of-millions were loaded up and shipped out by Sunday afternoon.

The event was supported by the Hawkesbury-Nepean Catchment Management Authority with funding from the Australian Govenment's Caring for Our Country programme.



---
Scotland Island Kindy June Newsletter 2010



Winter is on us and we have been involved in activities that reflect this, during Global Wind Day we made some wind chimes out of old forks and spoons which I am sure the whole island will hear as all our children take them home and hang them up for the island to listen to on those windy days.

We have also made our own paper windmills and we have a new display of turtles on our back wall that the children have created out of paper plates for World Ocean Day.

Thank you to everyone who attended our recent Curry and Quiz Night. Once again the community joined together for lots of fun and to support our beautiful island kindy. Larry and Bill, with the help of their glamorous assistant Annette, entertained and challenged our eight teams and Lisa and her team cooked up a curry storm! So sincere thanks to everyone who helped. At this stage it looks as though about $1300 was raised which will be spent, once again, on replacing and repairing equipment at the kindy. Watch this space, as the winners of the quiz, the Shanteramblers, have taken on the challenge of writing the questions for next year's quiz.



A big thank you to Emmie

, who accompanied the children on a bush walk, to educate them about the local fauna and flora. When we got back we used our collected material to make a collage on contact paper, which is presently hanging on the front door. In addition we did some very earthy paintings on the large paper bark pieces that we collected.

Our Champaign breakfast allowed us to spend $800 on new toys and $200 on new books. We have already received some of the new toys, they include, alphabet bean bags, balls, dice, rulers, two new scooters, new story for our listening post, sushi set for home corner, new paints and we are still awaiting some games and puzzles.

The Kindy team have just finished their staff appraisals. We were able to work through our employment expectations, talk about any issues we had and decide on any actions, where SIOCS can help us reach our future goals. We have a great team currently working at Scotland Island Kindy all dedicated to the future of your children and putting their needs first. THANKS to our great TEAM. (Thumbs up for that says Jesse)



---
www.dryjuly.com
Support those of us who have chosen to go dry in July.

Petra, Paul, Tracy S, Ian and Tracy P

Many of you will remember the very traumatic years Paul and i went through when my mother, father and sister were all going through horrendous cancer treatments together. My dad Geeps who drove the Island taxi, sadly died of cancer just 5 years after my mum who also died of cancer and my sister who is a survivor but still lives with the after effects of the invasive treatments.
And to our friend Dorothy who tragically died so young leaving little Sebby.

Pledge your support for our team SIPPS (Scotland island Party Poopers) at http://bit.ly/9wMoE1



---
Scotland Island & Western Foreshore
Waste Calendars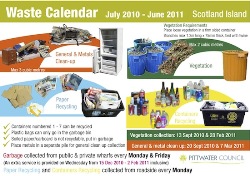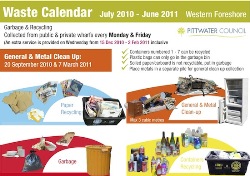 Click either image to download the pdf flyer

---
You Asked..





Work Wanted




Electrician - Wayne on Scotland Island

- 0418 229 277
s c o t l a n d i s l a n d e l e c t r i c i a n @ g m a i l . c o m
Small jobs welcomed, Smoke Alarms tested, Security lighting, Safety Switches tested,
Water Pumps repaired, Hot Water Systems repaired, Data network outlets, Additional Phone outlets,
Light fittings repaired, additional power points install
WWW.SPARKY.COM.AU



Xmas accommodation wanted


I am a former resident of Scotland Island (left in 2004 after 4 years) and am interested in renting a 3 or 4 bedroom house for a week or so over Xmas.
It would need to fit 4 adults and 4 kids under 7. We are all well behaved, house-trained and happy to look after pets and plants. Please email me on fatgirlsim@hotmail.com or phone 0428760554.
Simone Meakin



Wanted


Elly Monk (Damian Cudmore's daughter) is here from the USA for a couple of months during her summer vacation.
She is interested in doing job-experience and Community Service (which she needs to fulfil her School curriculum.)
Job-experiences of interest include Photography, Social Services, Media Arts etc.
Any ideas please phone
99994605



Work available;


Pittwater YHA is looking for live in couple or person to manage hostel from September 5th - October 7th 2010.
Please call Michael and Sarah for more details.
Ph 9999 5748 or email pittwater@yha.com.au



Wanted


Old windsurfer mast
Please call Michael 0414 983 488



---
For Sale




If you have something for sale that you think locals would like - let us know and we will put an entry in the PON at the beginning of each month..




Car For Sale


Mazda 323 Astina Hatch, manual, white - 1999, 175,000 k.
Is very reliable only $3,250
Call Michael 0414 983 488



---
The Local Guide
Community Information
What's On in Pittwater - Self Editing Event Calendar

click to go to the Calendar

Scotland Island Community Vehicle -

0404 103 700
Number, Usage & Charges

Scotland Island Rural Fire Brigade -

9999 4404
http://www.sirfb.org.au

West Pittwater Rural Fire Brigade

- 9997-3795
www.westpittwater.rfsa.org.au

Offshore Photo Gallery

http://picasaweb.google.com/offshoregallery/
Scotland Island Residents Association (SIRA) Membership Application

- click here to download
West Pittwater Community Association (WPCA)

- http://www.wpca.org.au
Scotland Island Water


SI Emergency Water Contacts and Guidelines for water: click here for information and contacts
Scotland Island 'Water Agreement' - click here to download
Scotland Island Children's Centre

- (SIOCS - Scotland Island & Offshore Childrens Services)
Catherine Park (Long Day Care Service) 8.30am - 4.30pm (Tues, Weds & Thurs)
Playgroup @ Children's Centre every Monday, 10.00am - 12 midday
Other services include: School Holiday Programme / Facility & Equipment Hire
For information call 02 9979 7856 or email: siocs@comcen.com.au
Scotland Island Community Hall Bookings:

Kez on 9999 4092 or kezborthwickbolton@gmail.com
---

Transport
---
Real Estate
---
Services, Clubs & Accommodation
---
Island Classes (Fitness, Dance, Art etc)
Pilates, Meditation and Group Fitness with Patrice

- 0408 707 679 patrice.corrie@gmail.com
Personal Training with Samantha Moore at Inspire PT

- 0415 543 131 InspirePittwater@gmail.com
Ballet & Modern Dance Classes for children

with Sophia Holland - 0412 851 890
Anusara Yoga

- Thursdays - 0421762236 dominiquemarill@gmail.com or floydcbg@ozemail.com.au
Art with Max

- Watercolour classes. Phone Max on 9997 4527
---
Groups
Gurdjieff / The Forth Way

- Call John on 9979 5584, Marion on 9979 3993 or Anne on 9999 3478
Green Group For Catherine Park

- Run by SIOCS - Emmie Collins on 0405 330 781
WOW - Women on Water

- second Wednesday of the month - contact Kerry on 9999 4092
Parents & Kids Groups Playgroup

- Run by SIOCS - email Emma trysemz@tpg.com.au
Scotland Island Players

- contact Bob or Kez on 9999 4092
Catherine Park Bush Care Group

, 2nd Sunday @ 9.30am, Sharon Kinnison @ 9997 6017
Elizabeth Park Bush Care Group

, 1st Saturday @ 9 am, Bob Bolton @ 9999 4092
---
Government Organisations
---
Airlines, Buses and Railways
---
Weather
Scotland Island Tides, Moon phases, Sun rise & set
Local Weather Forecast

Radar weather for Sydney (128k circle)
---
Emergency Contact Numbers
| | |
| --- | --- |
| ALL EMERGENCIES (Police - Fire - Ambulance) | 000 |
| Police Assistance Line & Information | 13 1444 or 9281 0000 |
| Broken Bay Water Police | 9910 7899 or 0412 162 093 |
| Scotland Island Rural Fire Brigade | 9999 4404 |
| NSW Fire Service General Information 9265 2999 | 9265 2999 |
| Rural Fire Service General information | 9450 3000 |
| State Emergency Service, Warringah/Pittwater SES | 9486 3399 |
| National Parks & Wildlife Service: 000, general information | 9457 9322 |
| Dept of Community Services: general information | 9977 6011 |
| Sydney Water | 132 090 |
| Energy Australia | 131 388, (ah) 131 909 |

---
Join SIRA
You can now join the Scotland Island Residents Association by
clicking here.
Please print the page and return the completed form to SIRA at this address:
The Treasurer, SIRA, PO Box 70, Church Point 2105.
Please NO CASH.

Contact SIRA at
sirapittwater@gmail.com
Join WPCA

To join the Western Pittwater Community Association, contact Michael Wiener at
m2wiener@bigpond.net.au
---
Archived Newsletters


A complete set of past electronic newsletters since May 2000 can be found and read at https://www.ymlp.com/pubarchive.php?sira or by clicking here or by visiting the Mona Vale Library.

The Island website is at www.scotlandisland.org.au


---
To Contribute


If you would like to contribute to this newsletter it's easy!. Send an e-mail to the editor (editor@scotlandisland.org.au) or by clicking here. Type your contribution (100 words or so would be fine) and assuming it is of general interest to the community, does not include matter of a political nature and is not offensive, it will appear next month.

Subscription Information


To get on and off this newsletter,

click here

or got to:

http://www.scotlandisland.org.au/signup .


To change your address, click the 'modify' link at the bottom of this newsletter or send an email to the

editor@scotlandisland.org.au


---

---
The Local Guide - Community Information

Click HERE to load
The views expressed in this newsletter are not necessarily the views of the Scotland Island Residents Association (SIRA), or the Western Pittwater Community Association (WPCA)

---