Mundelein Community Connection (MCC) is a not for profit organization dedicated to the economic development, historic preservation and healthy community spirit of Mundelein's central business district. Working together we provide an atmosphere where new and established businesses can grow and where families find the hometown they always wanted.
A Message from the Executive Director
I am very pleased to announce the addition of Mark Yarbrough of Tighthead Brewery to the MCC Board.  Mark was selected to fill the vacancy on the Board created when our long-time Board member and president, Sybil Schechter-Kelly, stepped down in February after 14 years on the Board and 12 years as Board President.  Mark, the tap-room manager at Tighthead Brewery and a Mundelein resident, has been active with the annual MCC Craft Beer Festival and with event management with Tighthead.  He will be a great addition to the MCC Board.
Also, at the February MCC Board meeting the MCC Officers were elected.  The Board Officers for 2021 will be:  Mike Flynn, President; Gerry Brin, Treasurer; and Nancy Piasecki, Secretary.  Ray Mullen will serve as the Park-on-Park Committee Chairman.  The other Board members are Chris Piazzi, Frank Mahar, and Mark Yarbrough.  There are two open positions on the Board.  Anyone interested in getting involved in the organization and planning of Downtown promotional events and economic development should contact me at
mundeleincc@tds.net
Meet Our New Farmers Market Manager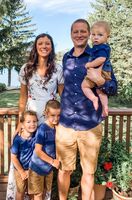 At the February meeting the Board selected Becca Merkau as the Farmers Market Manager and created the Market Manager committee to assist the Manager with promotions, sponsorships and planning.  In addition to Becca, the Market Committee includes:  Carol Levin, Mike Flynn and Terry Skriba. 
Becca replaces Gary Gunther, who served as the Market Manager for 7 years!  She and her husband have lived in Mundelein most of their lives.  They currently live in town with their 3 young boys.  Becca is a graduate of MHS and CLC; she is active in the community; a big fan of Farmers Markets in general, and the Mundelein Market in particular.  We are very happy to add Becca to our team.  We know she will do a great job and continue a great tradition.
Not Back to Normal Yet…But We're Getting There!

The uncertainty created by the pandemic continues to affect event planning for 2021.  Unfortunately, we had to cancel the Bike Rodeo and the Craft Beer Festival for the second year in a row.  The Bike Rodeo, a fun, family-event organized by Ray's Bike and Mower with assistance from MCC, is traditionally our kick-off event of the event season.  The Craft Beer Festival is our main fundraiser of the year, usually held the 2nd weekend of June, but not this year.  This is a big blow for the second year.  Mark your calendar for June 2022!  It's getting better day-by-day!
A smaller replacement event for the Craft Beer Festival is tentatively scheduled for August 19th.  We are calling it the Battle of the Beers and Pizzas.  It will feature four Lake County Breweries and local Pizzas.  There will be music, bags, and selection of the Fan Favorite winning beer and pizza as selected by those in attendance.
Finally, we are counting on the return of the Park-on-Park Car Shows which have been rescheduled to start the second Wednesday of June rather than May and extended to October.  And our popular Bingo Nights will return to Tighthead possibly in June and October.  Stay tuned.  The Mundelein Arts Festival on September 11th and 12th is in planning and should be unaffected.
MCC Business Sponsorship Opportunities Available Now
In addition to attracting participants and attendees, an important part of organizing successful community events that are free to the public, is securing business sponsorships.  By sponsoring an event business sponsors invest in the community they serve; stimulate economic development, create a vibrant community, AND obtain great exposure for their business. 
Each of the sponsorship opportunities shown here come with a wide range of exposure opportunities.  Each increase in sponsorship provides an increase in exposure.  For a full description of the benefits please contact the event chair; visit the event website; or contact Terry Skriba at
mundeleincc@tds.
net or 847-970-9235. 
Big Wheel Sponsorship - $400
Additional Sponsorships - $1,000
For additional information contact Park-on-Park Chairman Ray Mullen, 847-867-8400.
Organic Level - $100
Peaches Level - $500
Market Day Level - $1,000
For additional information contact Market Director Rebecca Merkau, 847-989-2238       
Purchase Award Sponsor - $100
Festival Fan - $100
Bronze Sponsor - $250
Children's Craft Tent Host Sponsor - $500
Gold Sponsor - $1,000
Platinum Sponsor - $1,500
Mundelein Heritage Museum Open for the Season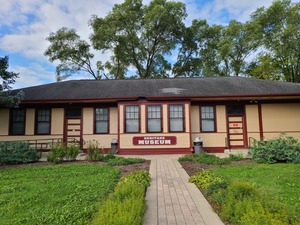 The Mundelein Heritage Museum, 601 East Noel Drive, re-opened for the 2021 season on March 20
th
.  The museum will be open Saturdays from 1pm to 4pm and Wednesdays 4 pm to 7 pm from March 20
th
through December 15
th
.   Group Tours are available by appointment.  
The Heritage Museum is a Mundelein Park and Recreation District facility and managed by the Mundelein Historical Commission.  It is housed in the former Soo Line Railroad depot (circa 1924) that was once located on Seymour Street, between Park Street and Rt. 176.  The Museum features exhibits showcasing Mundelein History including the native inhabitants, early pioneers, railroad history, one-room schools, historic churches, iconic business, and much more.  Bring the kids; win a prize taking the Junior Historian scavenger hunt.  Community Groups, Businesses, Students, Railroad Enthusiasts and anyone interested in local history is welcome.  Please call us to make an appointment 847-566-8122, or stop by Saturdays or Wednesdays. 
Watch for Presentations by The Kirk Players on YouTube

The next Kirk Players production will be "Clue: The Stay-at-Home Version" on Saturday, May 22, at 7:30 p.m. Written by Sandy Rustin, this production is based on the 1984 Paramount Pictures motion picture that was inspired by the classic Hasbro board game.  This will be another in a series of pandemic-adjusted online productions performed live on the Kirk Players YouTube channel,
www.youtube.com/c/kirkplayers1966
. While the performance is free, donations are welcome and appreciated.
Kirk Players is a not-for-profit organization whose mission is to enrich, educate, and entertain our community by providing a superior theater experience, to give back to the community with an emphasis on the arts, and to create a safe and inclusive environment. For more than 55 years, Kirk Players have used their proceeds to provide scholarships and gifts to local schools, artists, and those in- need. For more information, visit
www.kirkplayers.org
or email
info@kirkplayers.org
.
Grand Prix Bike Race July 19th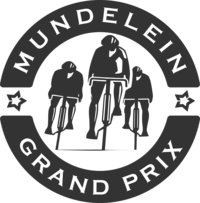 Downtown Mundelein has been selected as a host site for the prestigious Intelligentsia Cup, a day of professional and amateur bicycle racing.  The Intelligentsia Cup is a week-long series of bicycle races held across Chicagoland, with each day's races occurring in a different community.  The event draws elite racers from around the country and internationally. This race discipline, called a "criterium," involves timed races on a short loop course to maximize spectator visibility and increase excitement. Racing will take place from 9 a.m. to 9 p.m. on a closed course. Estimates indicate that the event will draw up to 800 racers and more than 1,000 to 2,000 spectators throughout the day.  Volunteers are needed.