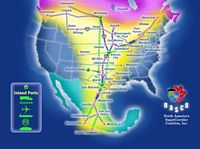 IAHF List: Please realize that I am not a Republican or Democrat, but oppose both parties for they're both totally sold out to multinational corporate interests and both are controlled by the Bilderberg Group. We must stop allowing ourselves to be divided and conquered by these people. Not familiar with the Bilderberg Group? Read http://www.thetruthseeker.co.uk/article.asp?ID=10483 http://www.amazon.com/Jim-Tuckers-Bilderberg-Diary/dp/0974548421 http://www.modernhistoryproject.org/mhp/ArticleDisplay.php?Article=FinalWarn08-3

Do you value your access to vitamins and minerals within the therapeutic range and to the most effective dietary supplements, sold in the most bioavailable food forms? Do you want to live a long and healthy life?

The FDA intends to take your supplements away via the mechanism of their Trilateral Cooperation Charter (TCC) with Canada and Mexico via which they've been creating one "harmonized" set of food and drug regulations for all 3 countries as if a North American Union already exists. This is how FDA intends to usher restrictive Codex vitamin dictates into North America (See http://www.nocodexgenocide.com/page/page/3113337.htm for more details and how to fight back.

Hopefully you realize that any action on the part of Obama that threatens to undermine US Sovereignty threatens to destroy our access to dietary supplements by ushering us into the North American Union by undermining our country. All undermining actions threaten to put us under the thumb of the harmonized food and drug regulations developed by FDA on behalf of their pharmaceutical overlords.

Currently, the Usurper in Chief is engaging in many such Sovereignty undermining actions, some of which I will identify here to assist you all in opposing them. If we fail to block his efforts to destroy America, we will fail to stop our country from being dismantled, and we will fail to defend the Dietary Supplement Health and Education Act which is the only thing blocking FDA's efforts to ban our access to dietary supplements.

US JUSTICE FOUNDATION LAWSUIT AGAINST OBAMA DESERVES WIDESPREAD SUPPORT

Obama has spent more than $800,000. so far to cover up the fact that he was born in Kenya and was therefor not eligable to run for the Presidency. This is the most outrageous coverup in American history, and if its not exposed, we won't be able to stop the planned destruction of our country.

SENATE IGNORING NEEDS OF 13 MILLION JOBLESS AMERICANS AS SCHUMER PUSHES PASSAGE OF AMNESTY FOR ILLEGAL ALIENS

It is morally repugnant that Senator Schumer wants to give amnesty to 8 million illegal aliens while 13 Million Americans are jobless, but thats exactly what he's pushing for right now. We are already bankrupt. We cannot afford to give amnesty to illegal aliens who are already breaking our backs by illegally getting food stamps, welfare, and by swamping our hospitals and school systems benefitting from programs paid for by US Citizens. Go here to learn how to oppose this mindless evil that is part of a concerted effort to destroy America and to force us into a North American Union dictatorship:

http://www.numbersusa.com/content/nusablog/beckr/may-1-2009/schumer-cant-see-13-million-jobless-americans-in-his-political-rush-to-pas

(to increase type size on this article to make it easier to read go to "View" and "Text Size". Also see this about how Speaker Pelossi is poised to give millions of jobs to foreign workers

http://www.numbersusa.com/content/news/march-7-2008/speaker-pelosi-poised-give-millions-us-j.html

I urge all Americans on the IAHF list to join Numbers USA and to act on their alerts. We can't defend our access to dietary supplements if we fail to defend US Sovereignty.

PUSH FOR PASSAGE OF HR 1207- RON PAULS BILL TO AUDIT THE FEDERAL RESERVE

This bipartisan bill which would make the maneuvers of the criminal Federal Reserve transparent now has 112 cosponsors and has a real chance to be passed into law provided we all get behind it.

See a video about the bill

here and read the bill along with clear

boilerplate instructions

on what to do to pass it so we can wrest control away from the Banksters who jerk Obama's strings and take our country back:

http://www.ronpaul.com/on-the-issues/audit-the-federal-reserve-hr-1207/

We can't get congressional oversight of the Federal Reserve unless we pass this bill. It has bipartisan support and a real chance to pass, but we can't leave it up to "the other guy" to do the work- we must EACH push for its passage. Passing this will help stop the effort to dismantle our country, and that will help defend our access to dietary supplements.

SUPPORT THOMAS MORE LAW CENTERS LAWSUIT AGAINST DEPARTMENT OF HOMELAND SECURITY SECRETARY JANET NEPOLITANO WHO HAS ISSUED A REPORT TO LAW ENFORCEMENT NATIONWIDE ARBITRARILY LABELLING MILLIONS OF US CITIZENS WHO OPPOSE THE GLOBALIST AGENDA "TERRORISTS" See http://www.thomasmore.org/qry/page.taf?id=19

Do you oppose Codex and the FDA? Do you have a bumper sticker for Ron Paul or Chuck Baldwin on your car? How about a pro second amendment bumper sticker? Do you oppose lax immigration? Do you oppose globalism, trade agreements and support the US Constitution? Do you oppose the gay agenda or abortion? Are you a disgruntled Veteran of the US Military?

If so, Janet Nepolitano is profiling you as an "enemy" right now through her report to law enforcement agencies nationwide which encourages them to put people like you under a microscope and into computer databases! Your civil rights have been grossly violated and you have been labelled a "right wing extremist" by a lesbian eugenist, a feminazi who would be very happy if you were rounded up and thrown into a concentration camp.

Nepolitano must be fired and sued. Send the Obination a strong message- assist the Thomas More law center with their lawsuit- they won't have an easy time of it, they're bucking the full power of the US Government which is arrayed against them, but they deserve our support

http://www.thomasmore.org/qry/page.taf?id=19

What would you say if I told you that the gay agenda being pushed on school children and the feminist agenda are being pushed on us by communist/ globalist front groups intent on destroying all religions, and all nations in order to usher in a satanic New World Order? What would you say if I told you there is a dedicated plan to destroy families, to radically cull our numbers and to force us off the land and to herd us into cities where we can be more easily controlled? Read up on

the Wildlands Project http://www.freedomadvocates.org/category/wildlands_project/

The UN Codex plan to block our access to healing nutrients is just one part of a much broader population control/societal control agenda that must all be opposed if we are to successfully defend the unalienable rights given to us by our Creator and enshrined in the US Bill of Rights and to defend our health and our lives against this ruling elite genocide agenda.

I'll have things to say in an upcoming alert about the

Swine Flu Hoax

and how to protect ourselves from the planned pandemic, but its important to understand the backdrop against which that hoax is being perpetrated, so please take the time to visit the websites above so you will be able to explain these things to friends and family. Til my report comes out about the Swine Flu hoax, read this

http://www.rense.com/general85/swine.htm

, watch this

http://www.youtube.com/watch?v=CSX3Gokgrkw

For the next week, every day please revisit this alert and take at least one of the suggest freedom preserving actions every day and urge more people to join you! Don't leave things to others to do, act as if your LIFE depends on taking these actions, because it DOES!

If you appreciate IAHF's efforts to help you connect the dots and to comprehensively fight the New World Order on multiple fronts in order to defend your access to dietary supplements, please donate to IAHF via paypal at http://www.iahf.com/index1.html or by sending a check or money order to:

IAHF 556 Boundary Bay Rd., Point Roberts WA 98281 USA

Please forward this alert and urge more people to sign up for IAHF's free email distribution list.

Before forwarding please remember to delete the unsub link

which accompanies each IAHF alert at the bottom. Otherwise, someone you forward this to will delete you from the IAHF list by clicking on it. Thanks for your help! Together we will defeat the New World Order and their multiple eugenics policies including Codex, but we have to see the big picture and act accordingly! I realize you're busy, but you've got to do your part or you will lose all your most deeply cherished freedoms!