Going new school on an old problem.
For decades many young kids living in the city have had to go to work on the streets of Kabul to help put food on the table for their families. Our partner organization works to identify these kids and, with the cooperation and support of an adult in theit lives, gets them back into a classroom for a nourishing meal and a half-day of reading, writing, arithmatic, hygiene, and social skills training.
We learned this morning that the city-wide school closures because of the Loya Jirga (google it) will remain in effect through the weekend. This was sad news for the team as we were really hoping to have a chance to visit the School For Street Kids in the new facility we'd only heard about and spend time with the kids themselves. But we were able to do the next best thing – visit and tour the new school building.
Until recently our School For Street Kids had been meeting in two very modest (code for "run-down") facilities -- one about 1,600 square feet and the other about 900 square feet. Recently our Afghan staff was able to secure a beautiful, relatively new 6,000+ square foot, 4-floor facility with 6 indoor bathrooms, reliable power, and room for a small playground in back. The new building is large enough to house all the students from both schools easily and with room for growth. The staff moved everything out of one of the old schools in early October and from the other just last week so now they are both combined.
Our team headed to the new building in the morning and the left-brainers spent several hours helping set up and network about 15 donated computers for a new computer lab while we right-brainers worked up plans and searched for materials to paint the basement (which serves as the new lunchroom) and decorate it with colorful and whimsical graphics that are tied directly to some of the lesson plans taught in the classrooms. (If you're familiar with the FCC Kid's Ministry, you can imagine what we've got planned!)
The team is understandably a bit bummed about the city-wide school shutdown because we had really hoped to have some interaction with the kids. But the silver lining is that we will be able to get a lot more done on the computer lab and refreshing their lunchroom and art center than we ever could have gotten done otherwise. I know the kids will be blown away when they return to the school next week… I just wish our team could be there to see the expressions on their faces!
I'd better try to get this email sent off while we still have power and an Internet connection.
Thank you once again for your continued prayers, good thoughts, and notes of support!
--Bob
PS. Whenever you receive this, please pray for the 2,500 tribal elders attending the Loya Jirga in Kabul beginning Thursday the 21st and that they will make wise decisions in the best interest of all the people of Afghanistan.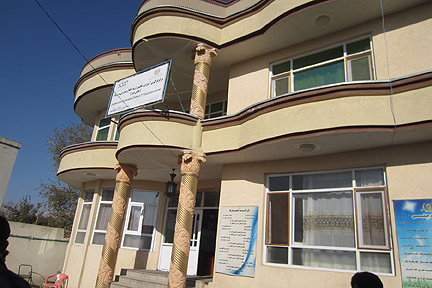 The new school for street kids in Kabul. An answer to prayer and a dream come true.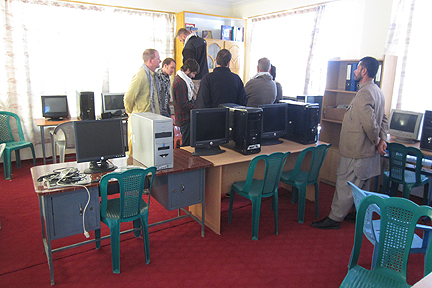 Left-brainers strategerizing in the new computer lab.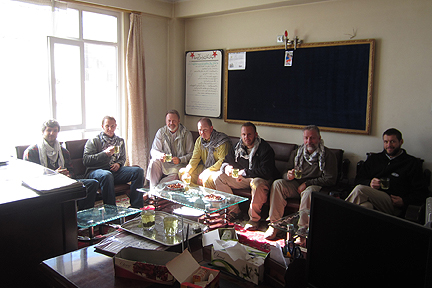 We all got called into the principal's office. Fortunately this time it was for tea.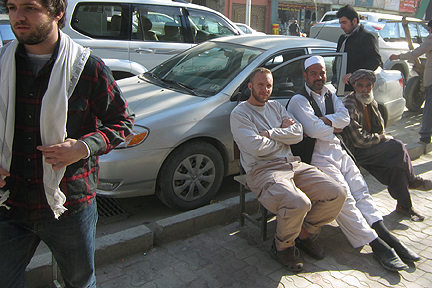 Give David 15 seconds and he'll make a new friend. He's changing
perceptions and attitudes in Kabul one Afghan at a time.