---
Offshore Residents' Community Forum
Have Your Say - Church Point Carpark (Precint 1)
Sunday March 18 from 4-6pm
-
Scotland Island Hall
Click image to load Flyer
---
IMPORTANT: Church Point Car Parking Options Survey
An online
Survey of Scotland Island and Western Foreshore Households
regarding
Church Point Plan of Management Carpark Options
has just been distributed via email to all Offshore residents.
Some residents either do not have an email address or are not registered on the mailing list. Hard copies of this Survey will be posted to those without email, however, if you would like to receive the online version, please email
cassgye@spin.net.au
to go on the list to receive this notification.
Only Offshore resident owners or tenants are eligible to complete the Survey.
Please come to the
PUBLIC FORUM AND INFORMATION SESSION
, this
Sunday, March 18 @ 4pm
in the Scotland Island Community Hall
to ask any questions
.
NOTE: THIS SURVEY WILL CLOSE AT 6PM ON MONDAY, APRIL 9, 2012
---
Pink Water Taxi

Notice




Mobile Phone Outages



Residents have noticed problems with the mobile phone networks this week. Vodafone, in particular, has been refusing to connect.



Commuters trying to reach the Water Taxi have reported trying multiple times before they finally get through and, yes, the Water Taxis are all on Vodafone (for now).



In all likelihood, two things are conspiring against us.

Firstly, as part of their $1 billion programme, Vodafone is doing an extraordinary amount of work on their Cell Sites on the Northern Beaches, upgrading them to include the new 850MHz 4G network... but that's not supposed to affect service.

Secondly, on Tuesday (March 6), two powerful X-class eruptions on the Sun (solar flares) triggered the strongest solar storm in eight years. Most recently, two more X-class eruptions on March 10 arrived on Earth today, March 12, resulting in about a two-hour disruption of telecommunications. Disruptions due to solar flare activity are forecast to continue until approximately March 16. Why one mobile phone network would to be more affected than another is almost certainly technical and boring.

So if at first you don't succeed, hit redial. Still no joy - send a text. We are there and just as frustrated as you are.

Yours aye - Pink Water Taxis



---
Beatlemania returns!




The Flaming Doghouse 'Beatlemania' extravaganza is back.



This time they're playing at

Pittwater High School on Saturday, 17 March at 7pm

as part a fundraiser for the PHS European Band Tour 2012.

Dress is '60s theme. Bring your nibbles and drinks for your table.
Doors open at 3 to 5pm to dress tables.

A great night of dance is promised to all.

Don't miss out. Get your tickets this week for Beatlemania.
Book tables now by ringing Pittwater High School on 9999 4035 and paying by cred

i

t card, or phone Melanie Marshall on 0415 440 662.

Click image to load pdf flyer



---
West Pittwater Rural Volunteer Bushfire Brigade




NOTIFICATION OF THE ANNUAL GENERAL MEETING TO BE HELD ON

SUNDAY 18th MARCH 2012 AT 10.00am





Elvina Station, South Elvina Park, Elvina Bay





AGENDA


Acceptance of Minutes from 20th March 2011 Annual General Meeting
President's Report
Captain's Report
Treasurer's Report
Secretary's Report
Training Officer's Report
Equipment Officer's Report
Environmental Officers Report
Fire Control Officer's Report

The following people are to be elected:

President
Captain
Vice President
Senior Deputy Captain
Deputy Captain 1
Deputy Captain 2
Deputy Captain 3
Community Safety Assistant /Officer
Equipment Officers
First Aid Officer
Boat Officer
Training Officer
Assistant Training Officer
Catering Co-Ordinator
Environmental Officers
Treasurer
Secretary
GROUP CAPTAINS REPORT




ANY OTHER BUSINESS



All interested parties are welcome.
Please contact Brigade Secretary – Graham Earl (E: gearl@bigpond.net.au, M: 0419 448 477) with any questions or issues



---
ASPECTS OF A LIFE:
Working with Indigenous Australians
Michael Edols
Ronin Films - Educational DVD Sales
www.roninfilms.com.au
Four films by Michael Edols
Collector's edition with accompanying book and a 40-minute interview with Edols recorded in Canberra in 2011.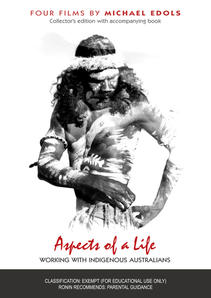 LALAI DREAMTIME


(1972, 60 mins)
www.roninfilms.com.au/video/819/60/6541.html



FLOATING … LIKE WIND BLOW 'EM ABOUT


(1975, 72 mins)
www.roninfilms.com.au/video/819/40/6543.html



WHEN THE SNAKE BITES THE SUN


(1985, 57 mins)
www.roninfilms.com.au/video/819/140/6544.html



HERE'S MY HAND


(1988, 27 mins)
www.roninfilms.com.au/video/819/40/6545.html


After 14 years in the making, the Aspects of a Life: working with Indigenous Australians is now packaged of four films. The ASPECTS collection of films and interview are on two DVD's, plus an extended essay booklet is within the package. Just released this past week, with sales already coming in and here is the link: - http://www.roninfilms.com.au/feature/6507/aspects-of-life.html

Another connect in the development of my fleeting moment of contributing to cinema histories was with a mentor and celebrated Cecil Holmes who came on as the post-production writer for THE VOYAGE OF BOUNTY'S CHILD. In the past three years I have produced a re-grade and this resulted in the E/D Cinema format and my distributor RONIN has also picked up this titles to be released by April-May 2012 http://www.imdb.com/title/tt0202662

Meanwhile, here is another link to a cheery cinema short OUT THEY GO that I made for when we had cinema shorts which was part of going to the cinema. Yes, I know this is by-gone-days however I keep telling people retro is in fashion; I am here and available http://www.youtube.com/watch?v=TYmWURmskMM



It's been rewarding to see these titles find a new audience and somehow these works have stood the test of time.

Michael Edols
26th February 2012



---
"Borrowed" Newspapers at Tennis.



Yep it's happened AGAIN!

To the person who likes to '

borrow

' the weekend Sydney Morning Herald from Tennis Wharf, please note, on occasion we cannot collect our papers till a bit later. Don't think they're free for the taking. Just take a close look, it has OUR name on it in big black letters. We want it. If you enjoyed last weekend, here is a great option to subscribe -- including free delivery to the island courtesy of our wonderful ferry drivers: go to subscribe.smh.com.au.

Iain and Tracy



---



Missed out on a Newsletter?




Go to the archives to download previous notices



A complete set of past electronic newsletters since May 2000 can be found and read at https://ymlp.com/archive_gesgjgm.php


---
The Online Local Contact Guide

Click HERE to load
The views expressed in this newsletter are not necessarily the views of the Scotland Island Residents Association (SIRA), or the Western Pittwater Community Association (WPCA)
---