AMAN ROCK THE MIC
SHOWCASE COMPETITION
TALENT AUDITION!
FEBRUARY 28, 2015 | 3PM-6PM
ENIGMA | 130 7TH STREET, PITTSBURGH, PA 15222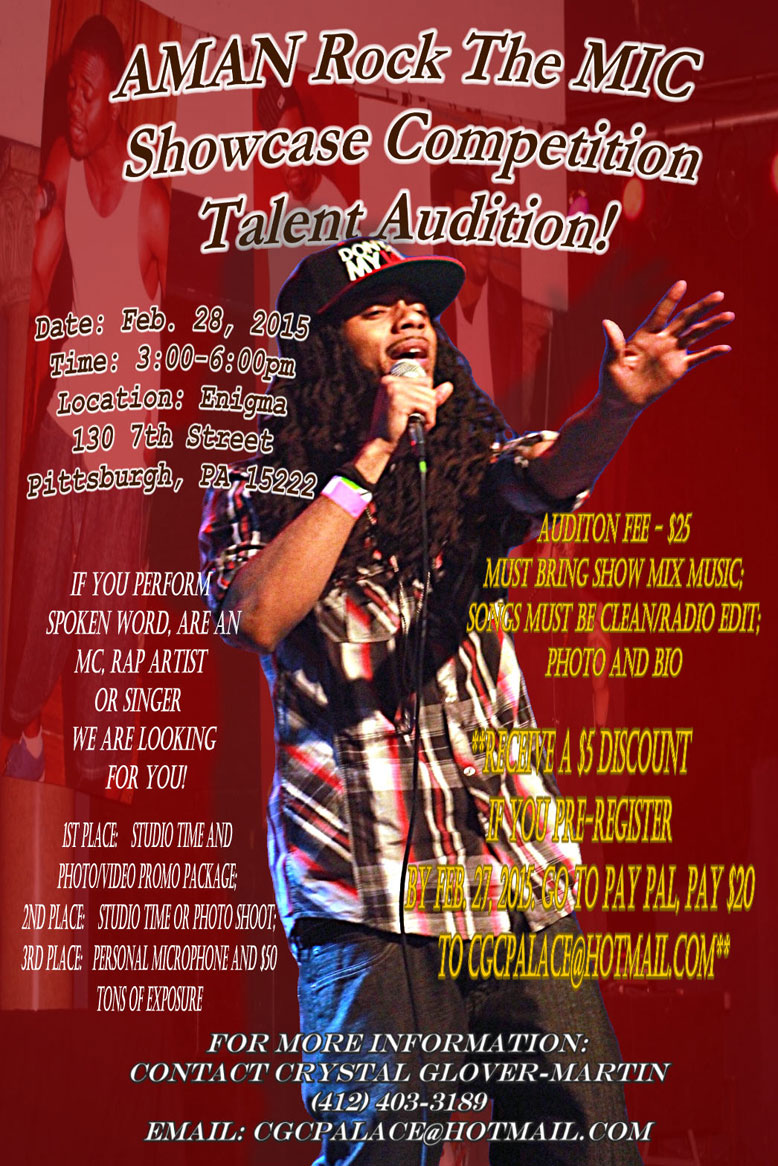 IF YOU PERFORM SPOKEN WORD, ARE AN MC, RAP ARTIST OR SING
WE ARE LOOKING FOR YOU!
1ST PLACE: STUDIO TIME AND PHOTO/VIDEO PROMO PACKAGE
2ND PLACE: STUDIO TIME OR PHOTO SHOOT
3RD PLACE: PERSONAL MICROPHONE AND $50
AND TONS OF EXPOSURE
AUDITION FEE IS $25
MUST BRING SHOW MIX MUSIC
SONGS MUST BE CLEAN/RADIO EDIT
PHOTO AND BIO
"RECEIVE A $5 DISCOUNT
IF YOU PRE-REGISTER BY
FEBRUARY 27, 2015
GO TO PAYPAL, PAY $20
TO CGCPALACE@HOTMAIL.COM"
FOR MORE INFORMATION
CONTACT CRYSTAL GLOVER-MARTIN
412.403.3189
EMAIL: CGCPALACE@HOTMAIL.COM