---
Trudi's Fairwell
Especially all on the Island who have had contact with Trudi during her life are cordially invited to a short celebration of her memory.
ON: Friday evening 22nd June at 6.30 pm
AT: The German Lutheran Church
(Corner of Goulburn St. and Elizabeth St.)
Please refrain from bringing flowers, however a candle to be light during the ceremony will be most welcome.
Afterwards there will be coffee & tea
Parking is available diagonally across the road from the church.
Regards Deiter
---
CHURCH POINT COMMUTER WHARF

WORKS UPDATE
FRIDAY 15 JUNE 2012

NO TIE UP ON SOUTHERN END OF EXISTING COMMUTER WHARF



Council's contractors have now installed over half of the new pontoon and wish to install the southern section of the new pontoon.

From Friday 15th June access to the southern section of the existing commuter wharf will be restricted to allow piles to be installed and the new pontoon section put in place. Council requests that commuter pontoon users use the new pontoon whilst new works are undertaken.

For onsite urgent matters, please contact Niall of Sydney Marina Constructions (0451 512 974) or Mark Eriksson, Pittwater Council (9970 1356) or John Berry (9970 1370).



---
Construction of NEW Commuter Wharf



... "The proposed works will entail commuter wharf users to moor at existing available pontoon space, both new and old, as it becomes available. There may be instances of double or even triple stacking of boats during....

May 27/28 - Begin site establishment
June 4-17 - Install northern piles
June 17-24- Install northern pontoon
June 24-27- Install temporary access to connect existing pontoon with the new pontoon
June 25-July 2 - Relocate existing southern wing of commuter wharf
June 25-July 9 - Install piles for southern end of new structure.
July 15-July 22 - Extend and attach approcal pontoon
July 22-29 -Relocation of existing pontoon



Avoid construction hassles




CATCH the FERRY



This winter do yourself a favour. Only $4.54 per trip (13-trip ticket).


---
Scotland Island Fireshed - Scottish Dinner Photos



Great photos by June Lahm from the hilarious Fireshed Dinner held weekend of the 9th.

https://plus.google.com/photos/116179530093004854645/albums/5753310992644621681?banner=pwa



Click images to go to online link




---
Can You Please Help with my School Assignment?



Hi my name is Amber Pye

I am a year 11 student at Riverside girls high school in Gladesville, Sydney.

I am studying geography. You may or may not know that in year 11 geo you must complete an assignment called the SGP (Senior Geography Project) which you have 3 terms to complete and can be focused on whatever you like relating to geography.

My SGP is all about what it is like to live on Scotland Island, hence the reason I am emailing :)

I have to gather both primary and secondary data about my topic so I will be making a visit or two to Scotland Island, to take photos and visit the community centre, within the next few weeks I was wondering if you could possibly get at least one name and number of an individual/family that lives on the island that I could possibly interview. (if more than one that would be great). This interview can happen in person on a weekend or over the phone if need be. These interviews are purely for me to get a better insight to everyday life on the island than web pages give. I would want my interviewee/s to know that they can be completely confidential if they wish. e.g I can change names to protect privacy.

Thanks you so much for your time,
Kind Regards

Amber Pye

If you would consent to an interview please contact me on:
Mobile: 0406 123 741
Email: amber_p95@hotmail.com.au
Geography teacher: Ms Holly Burgmann
School Contact number: 9816 4264



---
Thank you for saving our Tinnie & Kayak



We would like to say thank you to the kind people who have saved both our kayak and tinnie over the last couple of weeks. Someone tied up our kayak on Tennis Beach to stop it floating away when the tide was so high a little while ago and while we were away this week my son got a call to warn us that our boat needed bailing out as the pump wasn't working. We don't know who you are but thank you so much for your thoughtfulness.

It's very much appreciated.

Helen and Steve Webster



---
Cars Broken into a Church Point Car Park



Warning residents that last week we had my car broken into in the car park.

It's devastating and costly and would just like people to be careful of any belongings they leave in their car.

We believe that four cars where broken into.

Janette



---
Wanted - Girl/Boy Wednesday



Caring, kind person to collect and care for my five year old son.
Collection from his school in Belrose every Wednesday in term time.

From 1.00pm til 4.30pm.

Booster seat can be provided.

Payment: $60.

Please call Barbara on 0400 377 056 if you can help.



---
Lost Dinghy



The ferry service dinghy has gone missing. It is a small orange nylex dinghy with CPF in black letters on the inside. If anyone has seen it please contact Penny on 0433 038 408.

Penny



---
For Sale
Off Island Moving Sale - Everything Negotiable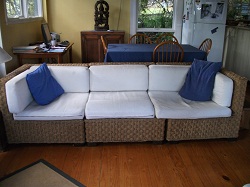 After 3 ½ great years the Chambers family are moving back to Queensland. We are getting rid of sofas, washing machine, timber bookshelves, dining table etc. Come along and make an offer on Sunday 24th from 8am – 4pm.

Pop in and have a coffee and chat even if you are not buying! Also our Polycraft boat (2 years old) which is negotiable!

Where: 30 Robertson Rd between Cargo and Tennis next to Sandy's A frame house and opposite Yamba.

Phone: 99992445 for details
See you then


---
Dining Table/Bed and More..



6 Seater Dining table
5 Dining Chairs
Timber Queen Size Bed
Matching Tallboy
Bedside tables

Contact
Victoria 0432 741 230
Richard 0403 746 259



Click image to load PDF file





---
Polycraft, 4.1 Open with 2010, 50HP, 4-stroke Yamaha
Large covered storage area, perfect for life jackets, shopping etc.
2 bilge pumps with independent float switches, new battery
Trailer - great for holidays and easier servicing
Full safety gear, including flares etc. for use up to 2nm offshore
Newly re-covered with marine carpet - comfortable and non-slip
Tennis Wharf tie-up label
Permatrim foil - softens ride, saves fuel, planes with 4 adults
Motor serviced June 2012, hull scrubbed
$12,500, or special package deal if you take our Subaru Wagon too!

For further info contact:
Kerri (0403 167360, k73suther@hotmail.com) or
Tom (0413 700617, greens@internode.on.net)



---
Missed out on a Newsletter?




Go to the archives to download previous notices



A complete set of past electronic newsletters since May 2000 can be found and read at https://ymlp.com/archive_gesgjgm.php


---
The Online Local Contact Guide

Click HERE to load
The views expressed in this newsletter are not necessarily the views of the Scotland Island Residents Association (SIRA), or the Western Pittwater Community Association (WPCA)
---