~ Home for the Holidays at Holden House ~
Join us for this magical time of year...
Take advantage of our holiday getaway packages and save!
will receive a FREE Romance Package with breakfast ensuite
of our Discount Deals through January 2020.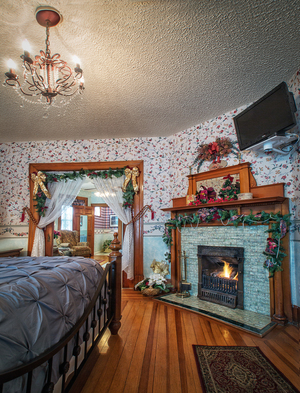 For more information and to make a reservation,
visit
HoldenHouse.com
or call 888-565-3980 to speak personally to an innkeeper.
Reservations can be made via our website 24 hours a day.
*Remember, only when you #BookDirect through our official inn website at
1 cup vegetable shortening, butter, or margarine
(butter flavored Crisco works best)
2 tablespoons white vinegar
5 cups sifted all-purpose flour
1-1/2 teaspoons baking soda
3 teaspoons ground ginger
2 teaspoons pumpkin pie spice
Cream shortening and sugar. Beat in egg, molasses, and vinegar. Sift together dry ingredients; blend together into a ball. Wrap in waxed paper and chill 3 hours in refrigerator.
Roll dough out on lightly floured surface to approximately 1/8 inch thick. Cut into shapes. You may re-roll excess dough to use to fullest quantity. Place 1 inch apart on greased cookie sheet. Bake at 375o for 5-6 minutes. Cool slightly; remove to rack. Makes about 5 dozen/more-or-less depending on size of shapes.
Sprinkles Frosting
Sift sugar & mix with water and butter to form slightly runny consistency. Add more water if needed. Add 2 drops of food coloring to desired colors. Frost cooled cookies - decorate with candies or colored sprinkles. Let dry thoroughly. Then serve.