This event is Saturday, Sept.8, 2012 at Kennard Field (Reed & Kirkpatrick in the Hill District).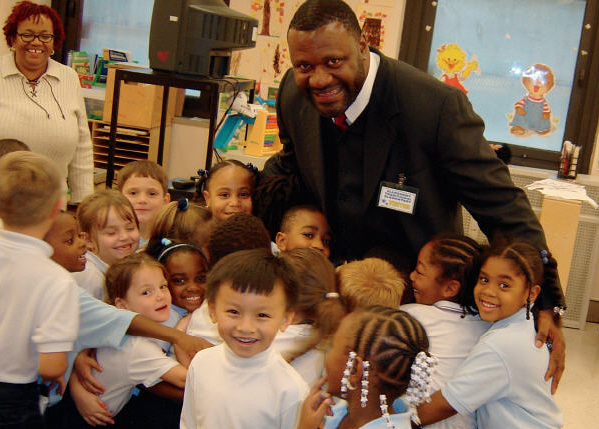 Come out and Meet other Local Elected Official and Special Guests!!! Community Information, Job Resources, Voter Registration, Vehicle Displays, and many other participants too numerous to mention\
THE PEOPLE'S OFFICE
10TH ANNUAL COMMUNITY APPRECIATION DAY
HOSTED BY STATE REP. JAKE WHEATLEY, JR.
SEPTEMBER 8, 2012 FROM 11AM TO 8PM
AT KENARD FIELD (CORNER OF KIRKPATRICK & REED STREET, HILL DISTRICT) WITH FREE FOOD, FUN AND PRIZES!!!
JOB FAIR AND HEALTH FAIR SCREENINGS 11-4PM
CHILDREN ACTIVITIES
BALLOON ARTISTS, FACE PAINTING, BOUNCE HOUSE, WILD WORLD OF ANIMALS PRESENTATION 11-5PM
DOMINOS AND SPADES TOURNAMENT 1:30PM-4:30PM
BINGO 2-3PM
INAUGURAL ULTIMATE CAKE OFF COMPETITION 12:30-1:30PM
COMMUNITY PERFORMANCES:
LIL DISCIPLES MIME GROUP, BEDFORD
DWELLINGS DANCE TEAM, SOUTHSIDE SOUL STEPPERS 3PM
DJ ROLAND FORD LINE DANCING 3:30-4:30PM
TERESA HAWTHORNE BAND 5-6PM
LILA-THE BLUE VIOLIN 6:30PM-8PM
PRIZES:
STEELERS AUTOGRAPHED FOOTBALL, PIRATES
MERCHANDISE, IPADS & IPODS, BIG SCREEN TV, $500 BILL
PAYMENTS, AND MUCH MORE!!!
For more information please call 412.471.7760.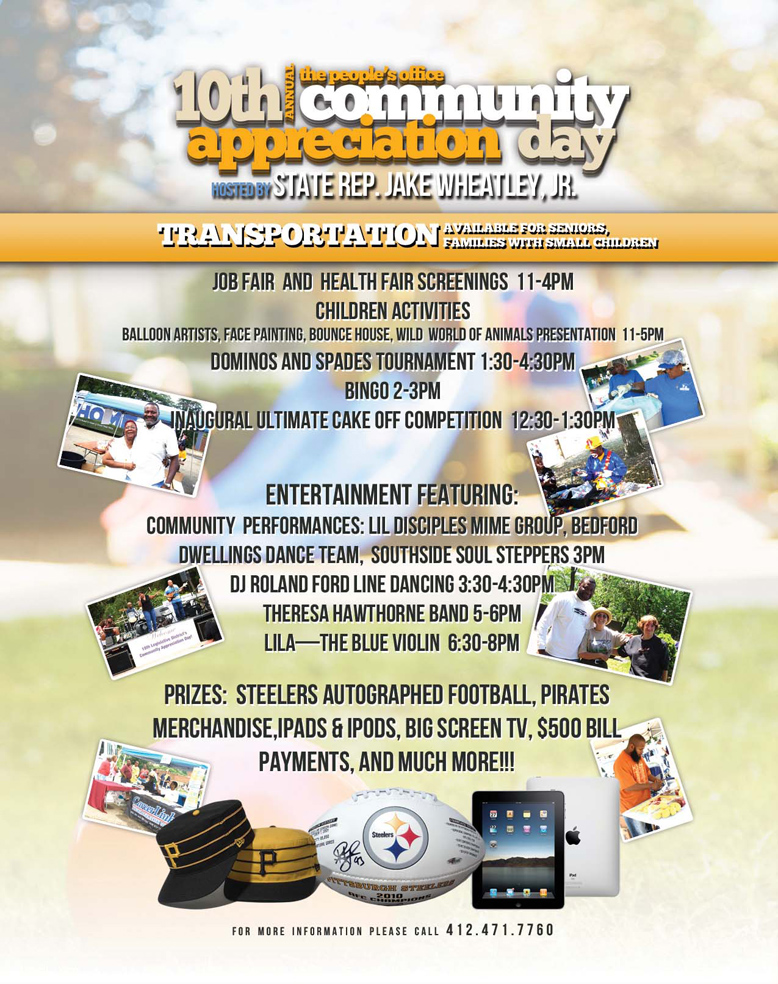 YOU DO NOT WANT TO MISS THIS EVENT!!!









CHECK OUT EXCLUSIVE PICS FROM BROTHA ASH PRODUCTIONS
2005 RIGHT HERE 2006 RIGHT HERE