Mundelein Community Connection (MCC) is a not for profit organization dedicated to the economic development, historic preservation and healthy community spirit of Mundelein's central business district. Working together we provide an atmosphere where new and established businesses can grow and where families find the hometown they always wanted.
A Message from the Executive Director
We are gearing up for the 2022 season and looking forward to a great year.  On March 19th, MCC Board Member, Chris Piazzi, presented our annual report to the Village Board.  He highlighted our 2021 successes which included full seasons for the Farmers Market and Park-on-Park; the best attended Arts Festival ever; a packed Hispanic Cultural Festival, four Bingo-at-the-Brewery events; and a modified Santa's Cottage schedule.  In addition, MCC assisted the Village with the inaugural Mundelein Grand Prix Bike Race; and the annual Holiday Tree Lighting Ceremony.  All of these events, and maybe more are in planning for 2022; AND the Mundelein Craft Beer Festival will be back after two years on June 11th! Tickets are on sale now at Tighthead, or on-line. 
If you are not an MCC member, please consider joining the MCC Family.  Help support our tradition of great community events.  Event sponsorships are also now available for all 2022 events.
After 22 years in the PNC Bank building at Seymour and Park Streets, the MCC Office has moved to the Archer Business Center, 171 N. Archer Avenue, adjacent to the Metra Station parking lot.  PNC closed its Mundelein office on March 18th.  We moved into our new office March 1st. 
The Archer Business Center, which is owned by the Village of Mundelein, is home to a variety of businesses, including Tighthead Brewing Company, Sigma Services, KSN Law, Woodland Grove Photography Studio, and others.  It is a great location for us.  We are still within the Central Business District, close to our event sites, and easily accessible to the public.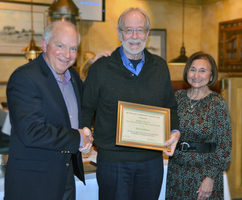 The MCC Annual Appreciation Dinner was held on March 30th at Dover Straits Restaurant.  The MCC Board for 2022 was sworn:  Mike Flynn, President; Nancy Piasecki, Secretary; Gerry Brin, Treasurer; Mark Yarbrough; Chris Piazzi; Frank Mahar; and Ray Mullen directors.
The 2021 Appreciation Awards were presented: Bob Stadlman, Volunteer of the Year; AREA Coffee, Business of the Year; and Mundelein LGBT Alliance & Allies, Organization of the Year.
President Flynn outlined MCC's goals and objectives for 2022:   returning to a full schedule of events starting with Park-on-Park on May 11th; the Mundelein Craft Beer Festival on June 11th, and the Farmers Market, June 17th; expanding membership; attracting new sponsors; adding a Winter Festival in December; assisting with Village-sponsored events like Community Days, the Mundelein Grand Prix, Summer Concerts, etc.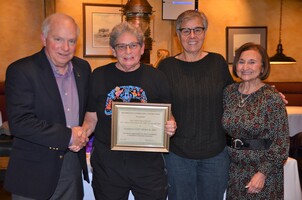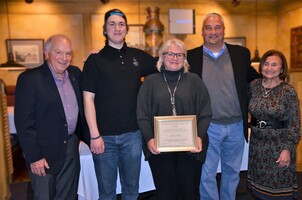 What started as a limited trial of four Bingo events in 2021 has proved so popular it has been extended for another 10 dates in 2022.  MCC and the GLMV Chamber of Commerce have combined to host Bingo at Tighthead Brewery on the 4th Monday of each month thru October 2022.  
Events average about 40 players per night.  The atmosphere is casual and fun.  We have a core group of regulars, with a nice group of new additions each month.  "As we move into the warm weather months," Mark Yarbrough, of Tighthead explained, "we will be expanding capacity to include the outside patio." 
The next bingo night is April 25th at Tighthead from 5:30 pm until 8:00 pm.  Circle the date; call your friends; bring snacks or order a pizza from Mamma Mia's wood-fired oven; enjoy a great Tighthead beer; and join the fun.
Support Downtown Mundelein:  Become an MCC Member
There are a variety of ways you can support MCC and help promote our goal to make Downtown Mundelein a great destination for fun, family-focused community events.  An easy way is to become an MCC member.  Annual memberships are available for businesses ($200); individuals/families ($45); and not-for-profit organizations ($35).  MCC currently has 25 business members, 10 not-profit members and individual members.  Membership in MCC shows a support for keeping downtown Mundelein a focal point of our community.
Fine Arts Festival Volunteers Needed
The Fine Arts Festival is still 6 months away (September 10th and 11th from 10 am to 5 pm at Kracklauer Park), but planning is underway now.  Volunteers are needed. Shifts are 2-hours.  Volunteers help with set-up, take-down, distributing water, booth-sitting, etc.  
If you are interested in helping out, please sign up at
Sign Up Genius
.
Downtown Events: April - June
A-May-Zing Mundelein: May 14th
Park-on-Park: Seymour and Park Streets, May 11th, June 8th, 4 - 8 pm
Open Mic Nights at AREA Coffee: Fridays, starting May 6th, 6 - 10 pm
Memorial Day Parade: Hawley Street, May 30th
Concerts in the Park: Kracklauer Park Gazebo, Sundays starting May 29th, 5-6:30 pm
Mundelein Craft Beer Festival: Village Hall Plaza, June 11th, 1 - 5 pm
Farmers Market: Fridays, starting June 17th, 3-7 pm
Bingo at the Brewery: April 25th, May 23rd, June 27th, 5:30 - 8:00 pm.
Rotary Club Brat and Corn Roast at Tighthead: June 26th, Noon to 6 pm.