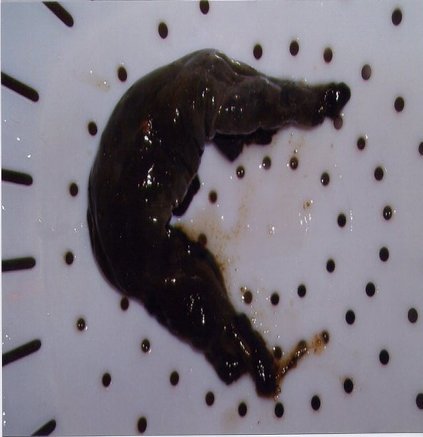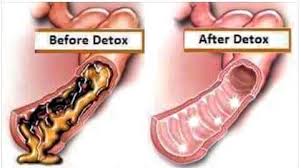 MUCOID PLAQUE: THE TOXIC WASTE DUMP LURKING INSIDE YOUR SMALL INTESTINE:
HOW TO CLEAN IT OUT TO RADICALLY INCREASE YOUR ENERGY LEVEL & PREVENT DISEASE CAUSING CELLULAR MALFUNCTION!!
In the FINAL ANALYSIS, there really is only ONE DISEASE: Cellular Malfunction. If you'd like to NOT SUFFER from Cellular Malfunction you MUST make the effort to JETTISON your long held highly toxic Mucoid Plaque, here is WHY:
(See Photo: top Left!!) Mucoid Plaque is an incredibly toxic, black, rubbery, cement like substance that builds up on the walls of our small intestines during the course of our lives, holding within it RESIDUE from all the toxins we've ever been exposed to!
It LEACHES those toxins BACK into our BLOODSTREAM, acidifying our body, wrecking our Ph Balance, creating a maladaptive chemical factory in the gut in which the opportunistic yeast candida albicans thrives, displacing the good bacteria such as sacromycees boulardii and lactobacillus that we need for proper digestive health!!
Candida has microscopic hooks that tear holes in the gut walls (gut dysbiosis) allowing undigested food particles, some of which are neurotoxic, to escape into the blood and brain! Dr. Natasha Campbell McBride identifies gut dysbiosis as a root cause for a host of different serious illnesses including autism, allergies, bipolar illness, schizophrenia and others. When your Ph is out of balance, and you develop an unhealthy microbiome in your gut, it predisposes you to every sort of degenerative disease, especially cancer!
By tenaciously adhering to the walls of our small intestine, MUCOID PLAQUE BLOCKS the proper ABSORPTION of NUTRIENTS from the foods we eat, and supplements we ingest- including Sulfur! If you want to maintain the perfect Ph balance of 7.35- 7.4 you must do two things:
1) Jettison your mucoid plaque so you can de-acidify your body and heal and seal your leaky gut and
2) You must ingest sulfur twice a day to get optimal oxygenation of your cells which pushes toxins out, and chelates heavy metals, pulling them out of the body!
Given the unprecedented level of biological ASSAULT our brains and bodies have come under from NUMEROUS vectors including CHEMTRAILS, GMO foods, Processed foods, junk foods, Pesticides, Radiation, Air and Water Pollution, etc, anyone who TRULY VALUES preventing disease and DEFENDING themselves against the New World Order's determined efforts to cull the human herd, should make the effort to JETTISON their mucoid plaque!
When I did this 7 years ago, my energy level shot up 70%, and it felt like a REVELETORY experience! In my mid 50s, I suddenly regained the ENERGY LEVEL that I last remembered having an 11 year old!
Look at the Diagram above, on the RIGHT. On the left side of the diagram you're looking at Small Intestines FOULED with TENACIOUS, black, rubbery, horrible smelling MUCOID PLAQUE!!
If you have NEVER made the effort to SPECIFICALLY JETTISON your mucoid plaque, THIS is what it looks like RIGHT NOW inside your small intestines!
Now look at the illustration of CLEAN small intestines right NEXT to it! THAT person is properly ABLE to ABSORB the Nutrients from the FOOD he or she eats, AND also any supplements (including SULFUR) that they ingest! They can absorb the Nutrients because there is no BARRIER to BLOCK the absorption! This person's cells are not malfunctioning, so they are FREE of DISEASE! This is not Rocket Science!
My cousin Tom just died from Cancer, he was only a year older than me (I'm 61). We were like brothers growing up. How many of you have lost loved ones due to cancer, or other degenerative diseases? How many of you have witnessed a loved one's BRAIN deteriorate due to ALZHEIMERS disease to the point where they're utterly helpless, totally disabled, unable to fend for themselves without 24/7 nursing care?
Our biosphere is being SPRAYED with BILLIONS of Metric Tons of toxic heavy metals via Geoengineering (Chemtrails). We're all breathing in such toxic heavy metals as Aluminum (which is causing a huge rise in early onset Alzheimers, as well as cognitive decline in anyone who isn't actively protecting themselves via detoxification! We're also breathing in Barium, Strontium, Cadmium, Arsenic from chemtrails which are causing a huge rise in CANCER! We're also breathing in WEAPONJIZED PARASITES that are boring deep into our lung tissue performing various pathological missions intended to HIJACK our natural biology to turn it SYNTHETIC to turn us into non reproducing cyborgs!
HOW TO PROTECT YOURSELF FROM CELLULAR MALFUNCTION
HOW TO JETTISON YOUR MUCOID PLAQUE
SO YOU CAN MAINTAIN A VERY STRONG IMMUNE SYSTEM DESPITE THIS BIOLOGICAL ASSAULT!!
The DETOX PROTOCOL:
1. You will need a high speed blender (Vitamix or similar), Extra Virgin Olive Oil, Filtered Water, Organic Garlic, Organic Ginger, Organic Fruits including Grapefruit, Lemons, Limes, Oranges..... You'll be making smoothies with these ingredients to which you will add 5 Tablespoons of SUPER FOOD PLUS.... (buy a jar of this for each person in your family who is doing the 5 Day Bowel Detox) ditto for the Intestinal Formula #1 and Intestinal Formula #2, read on:
2. Before you start drinking these smoothies (for a minimum of 5 days to loosen up the Mucoid Plaque and to give your Digestive Tract a Vacation from solid foods) you will: (Read Dr. Schulze Quick Start Guide and:
A) Take Intestinal Formula #1 one capsule in the evening, increasing the number of capsules by one each evening until you have 3 easy, no strain bowel movements in one day. Intestinal Formula #1 contains Cascara Sagrada and other herbs that work synergistically to cause peristalsis, muscular contractions of the bowel that help to start DISLODGING the mucoid plaque so it will eventually COME LOOSE!!
B) Once you start having 3 easy, no strain bowel movements in a day from taking Intestinal Formula #1, THEN you start taking Intestinal Formula #2 along with drinking the Smoothies! (Intestinal Formula #2 contains Bentonite Clay and a synergistic mix of herbs that pull toxic heavy metals out of your bowel, really cleaning you out so you won't get cancer or other degenerative diseases!
You will ke

ep up this regimin for at least 5 days, maybe longer if it takes longer for you to jettison your mucoid plaque! You will KNOW when it comes out because A) It stinks worse than anything that has EVER exited your body, and B) You can SEE IT in the toilet bowl! C) Your ENERGY LEVEL will shoot up 70%!
AFTER JETTISONING YOUR MUCOID PLAQUE- BE SURE TO DRINK SULFUR WATER TWICE A DAY
TO MAKE YOUR CELL MEMBRANES MORE POROUS- MORE PERMEABLE SO YOU WILL HAVE AN OPTIMAL FLOW OF OXYGEN INTO THE CELLS WHICH PUSHES TOXINS OUT AND CHELATES HEAVY METALS- REMOVING THEM FROM THE BODY!
WARNING!! Not all Sulfur is created equal! Most MSM on the market is Opti Brand. It is contaminated with Silicon Dioxide which makes it almost biologically inert, you can't grow good crystals with it. Its the crystals that apply surface tension to the cell walls, pulling them open so oxygen can flood in.
My Sulfur is not contaminated with Silicon Dioxide, so you get much better oxygenation when you use it. I wouldn't recommend Opti Brand (often private labelled so you can't always tell what you're getting) for anyone who has an autoimmune disease such as Cancer or Hepatitis C, and I also wouldn't recommend Opti for endurance athletes who want to stay out of oxygen debt, or for anyone wanting to have the best possible detox protection from chemtrails.... but MINE you CAN COUNT on to deliver the RESULTS you WANT! (At this link scroll past the article to see ordering options.... Save money by buying in bulk, 10 or 20 lbs.... I drop the price from $40/ lb down to $32/ lb if you buy 10 lbs and offer free shipping for 10 lbs, if you buy 20 lbs I drop the price down to $22/ lb)
Questions? 1-800-333-2553 H&W Pacific Time or jham@iahf.com
(Silicon Dioxide (ground up quartz) is used as a flow agent and anticaking ingredient used to flow powdered supplements into capsules so the filling machines won't jam. It should NEVER be used in a facility that ALSO manufactures powdered MSM, but Bergstrom Nutrition, manufacturers of Opti do that, unfortunately, and this ruins makes their MSM much less biologically active because sulfur has 16 unpaired electrons in its outer shell, it COMBINES with silicon dioxide which largely neutralizes it!
I use all the supplements I sell myself and amy very particular about what I ingest. If you aren't familiar with my personal story of recovery you'll see that I recovered from a life threatening illness more than 40 years ago via orthomolecular medicine, a suppressed nutritional approach to treatment, so I'm very careful about things like this!
Be sure to see my archived Newsletters for additional information about Detoxification, and news about UN Agenda 21, Codex, Chemtrails, and other ruling elite plans for population control!
QUESTIONS? I can be reached at 1-800-333-2553 H&W Pacific Time or via jham@iahf.com
For Optimal Health and Healing,