Contents

---
---
SIRA

Notices
It is that time of year again. Payment for Church Point Parking Permits is due during August.
The Council
does not send personal reminders
about this.
A new 2019-20 sticker should be displayed on your car by 1st September to avoid fines.
The cost of a permit this year is $510.
---
COUNCIL BULKY GOODS CLEAN UP
STARTS WEEK BEGINNING MONDAY, 2nd SEPTEMBER
The main points you need to know:
collection is from the roadside only; do not place materials at public or private wharves or jetties
up to 3 cubic metres per household
make sure nails are not protruding from material
remove doors from items such as fridges and furniture
put whitegoods and metals in a separate pile
ACCEPTABLE ITEMS
frames with glass removed (break glass down, wrap in newspaper and put in ordinary garbage)
paint tins and fuel containers with the lids off and no liquid in them
manageable quantities of non-branded delivery pallets
hot water systems (empty)
UNACCEPTABLE ITEMS
TVs and computers
building/renovation materials
car parts, tyres and batteries
gas bottles and extinguishers
vegetation
cardboard and paper
windows, glass, mirrors
The waste collection team will greatly appreciate your co-operation

---
There will be an interruption to supply on Tuesday, 3rd September from 7.30am to 5.30pm to allow Ausgrid to rectify cables that are touching trees.
See the below map of affected properties.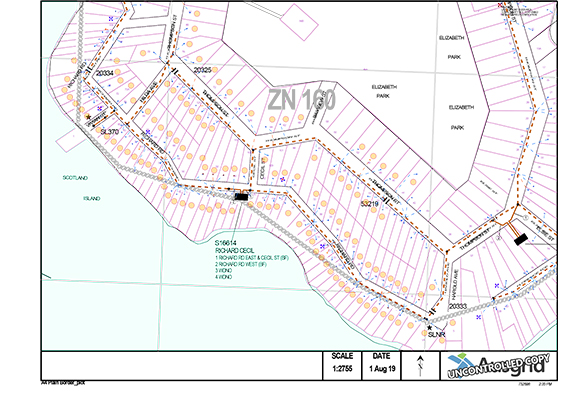 The locations are:
Hilda Avenue – road will be blocked at the intersection of Hilda Avenue and Thompson Street to attend to tree half way up the road
99 Thompson Street – road will be blocked from Cecil Street to the pole at that property
The light at the top of Bell steps has again been reported as out and it is anticipated that this will be rectified at the same time.

Any queries, contact: Glen Maldonado 8569 6379


---
COUNCIL GARDEN ORGANICS ROADSIDE COLLECTION
STARTS WEEK BEGINNING MONDAY, 30th SEPTEMBER
The main points you need to know:
maximum amount is 2 cubic metres, similar to a small box trailer
Place garden organics in a hard sided container
Branches to be max 1.2m long and 75mm thick tied with twine
Material presented in plastic, nylon or hessian bags, cardboard or foam boxes or untied bundles will not be collected
Fines apply for illegal dumping
ACCEPTABLE
grass cuttings
large branches no wider than 75mm
cut up palm fronds
tubers without soil
twigs
leaf litter
UNACCEPTABLE
plastic bags
general waste
food scraps / kitchen waste
painted & treated timber
soil
large tree stumps and roots
Council encourages home composting and worm farming. Food scraps and kitchen waste are 100% recyclable if treated properly.

100% of the garden organics collected will be recycled at Kimbriki Resource Recovery Centre.

Click image below to load a copy

---
 Scotland Island Fireshed Dinner
Curry Quiz Night
Saturday 14 September from 6:30

---
Notes on the Recent Elizabeth Park Hazard Reduction (25th August 2019)
As a recent CFU member (Community Fire Unit) – the blue gear, I volunteered to be involved in the recent hazard reduction at the top of the Island – Elizabeth Park.

I was amazed, and impressed, with the organisation required to conduct a safe and effective exercise – the big fire truck with its own tank, 2 support vehicles carrying gear and people, some 1000 metres of 38 and 25 mm hose (to completely surround the fireground, off-take lines with special nozzles at many points, 2 of the major tanks at the top of the island, all to do with safety and managing the 'burn' so as to reduce all the ground cover to ash and prevent flare-ups and ensure that the trees did not ignite.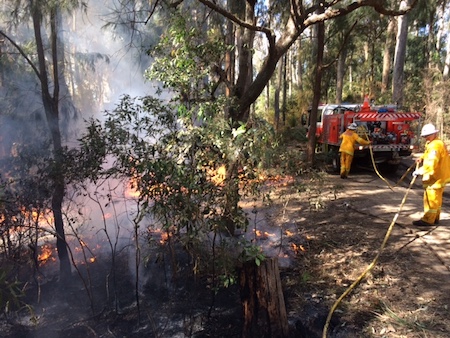 There were about 15 of us – yellow and blue.

If you go for a walk up there you will see the result.
It was hard, concentrated work, especially for the 3 leaders, but very satisfying, and we learnt a lot about safety and fire management.

Then back for some excellent food and a couple of beers.

As we were told, we now have a big safety area which will be valuable in managing a bush fire attack if one occurs during this predicted hot summer fire season.

I thoroughly recommend getting involved in the RFS – either the blue CFU (we stay on the Island and defend it and our homes) or the yellow fire fighters (who will do that and also go off the Island to fight bushfires in other areas).
The RFS has 5 Fire Cabinets dotted around the Island, all containing the gear needed to put out spot fires and defend local areas.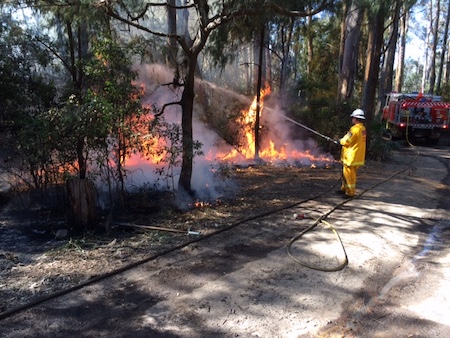 Further courses for the CFU will be organised as required and you can simply contact Peter Lalor (Brigade Captain) by email at sirfb@sirfb.org.au or by phone on 9999 9904.

If you do join up, you will be learning to defend your home and the homes in your area.

Greg Roberts
Community Fire Unit Sector Leader – Tennis Sector



---
Short Term Residential Letting Reform

The Department of Planning Industry and Environment has recently published proposed legislation regarding short term rental accommodation reform.  

Have your say on short-term-rental accommodation reforms
We are seeking feedback on the draft instruments and Regulations that will introduce the state-wide planning framework and mandatory Code of Conduct for short-term-rental accommodation (STRA).




One aspect of this which will have an effect on Scotland Island and the Western Foreshores is that this will not be permitted where the renter is not present at the premises and the premises are in a bush fire zone.   All of Scotland Island and the Western Foreshores are designated as a bush fire zone.

As escape from our area is easily accomplished by boat this does not seem to be a necessary safety precaution in our particular circumstances.   If people would like to comment on this the website has provision for this and the Minister responsible is our own member Mr Ron Stokes but submissions close

11th September.





---
Fund Raising dinner - Helping Nepalese families rebuild after the Earthquakes in 2015
Waterfront Cafe 11 September

---
ISLAND DAZE - MUSIC ART COMMUNITY FESTIVAL
Celebrating 50 years

WOODSTOCK MUSIC & ART FAIR
1st,2nd, 3rd  November 2019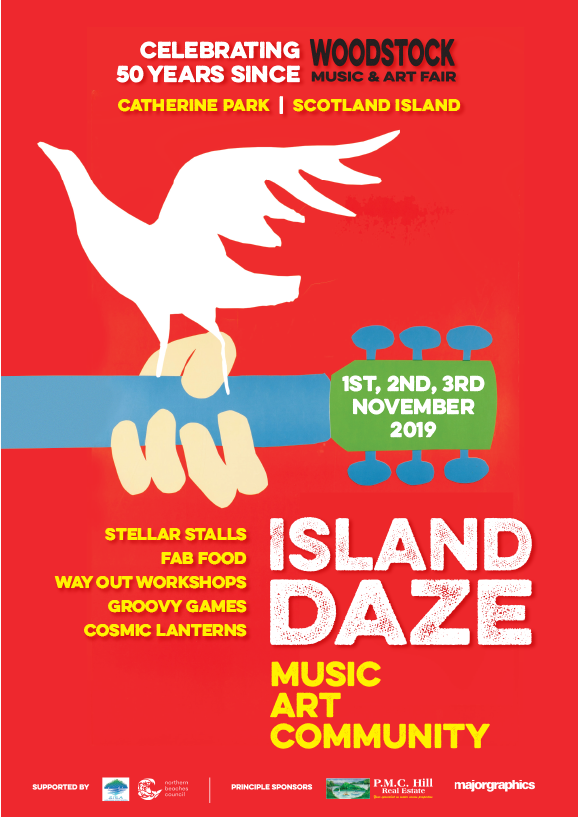 ---
Island Daze Artists plan to re-purpose old watercraft
There is a forest of old watercraft at Carols wharf that the artists are planning to repurpose.  Old canoes, kayaks , surf boards, row and sailing boats just hanging around? 

The artists would like to create an installation at the Island Daze Festival. Decorating the watercraft as a sculptural event.

We will be placing stickers on the ones that are obviously not being used or are not identified as being owned and then the following weekend they will magically disappear and will reincarnate as art.

Be Warned  - Please Label your Watercraft to prevent it being used.

---
The Co-Op Club Presents
September 2019 Bookings
Church Point Cafe -  Artists play between 3:30 - 6:30pm
Sun September 1st:  Nothing Too Serious (Fathers Day)

Famous local Party Band from Avalon.. NOTHING TOO SERIOUS will be joining a very happy crowd for Fathers Day at the Co-Op Club.  This cool bunch of party cats play a great mix favourite songs from the 70's onward.  Think The Fabulous Thunderbirds meets the Rolling Stones.  Lots of Blues, Rock'nRoll and a great mix of dance songs.  There are several main vocalists in the band, horn players, percussion, great guitar playing and they bring a whole bunch of fun.  It would definitely be wise to book a table in advance.   Seriously, don't miss Nothing Too Serious. 






Sun

September

8th: Backbeat

BACKBEAT!…. hailing from Sydney's own Northern Beaches, Backbeat have The Co Op Club hopping with an always surprising and eclectic set list that ranges from laid back ballads to full tilt rock n roll. Come and join us for an afternoon of classic tunes, and if you feel like dancing... Backbeat will rock your socks off! Featuring Jeff Longhurst on Guitar, John Stone on Keyboard & Guitar, Tim Barber on Bass and Josh Wiles on drums.






September 15th

: The Fukers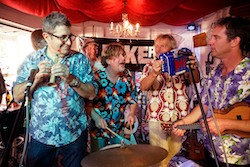 That's right, quirky crowd favorites The FUKERS will be back with their crazy bunch of Ukuleles to warm up your winter blues. Bring your friends, bring the kids, bring Grandma & Grandpa but most importantly bring your dancing shoes for yet another afternoon of great tunes and madness. Their last few shows here have packed the joint, so make sure to book a table early, you wouldn't want to miss out on the fun!!

September 22nd
: Rick Melick and The Self Made Men
Special entertainment with internationally acclaimed Rick Melick. His latest
album features some incredible new work which he has now toured, headlining at a number of festivals like Thredbo Blues Festival. Be assured that there will be some fabulous music from this great man on Sunday afternoon!

Rick worked and toured in the U.S. for 6 years with #1 Blues Rock artist Joe Bonamassa which enabled him to play every major festival in the world from North Sea Jazz and Montreaux Jazz Festivals W.O.M.A.D and The East Coast Blues and Roots and to work with incredible artists such as Eric Clapton, John Denver, B.B.King, John Hiatt, Paul Rogers & Beth Hart. He has played live with Larry Carlton, Kenny Loggins, Ian Anderson, Steve Lukather, Ricky Medlocke (Lynard Skynard), Bernie Marsden (Whitesnake), the late blues greats Hubert Sumlin and Bobby Parker,
September 29th
: (NLB) Narelle Lewis Band
The Co-Op's sell out brand spanking new house band The NLB are back! Fronted by Narelle Lewis (former songstress with The Sly Dogz) this band puts Narelle in the spotlight with her soulful R&B gospel blues voice covering some of her favourite artist, from Bill Withers to Beth Hart. Narelle is backed by Jason Crouch on guitar and vocals, Jason Smith on bass guitar, Aiden Danser on the Nord/keys, and Chuck Bradley in the engine room.  No doubt tables will fill quickly, so grab yours & join us for a fabulous afternoon of great music!
The Waterfront Café's Co-Op Club presents the finest live music North side of the bridge from 3.30pm every Sunday. Come and immerse yourself in some wonderful music by the waters edge with great friends, your favourite beverage, some wonderful music and a huge range of delicious menu specials. 
1860 Pittwater Rd Church Point – bookings 99796633
www.facebook.com/thecoopclubchurchpoint
www.waterfrontstore.com.au

---
Apple Tree Therapy Workshop

Having emotions is what makes us human, sometimes they can bring feelings of pleasure and at other times tension and anger. This workshop is about honouring all emotions that flow through us and forming a more intimate relationship with them.



As the famous Poem 'The Guest House' by Rumi says:

 

"Welcome and entertain them all,

Treat each guest honourably,

They may be clearing you out for some new delight."




This workshop provides a safe and nurturing environment to explore emotions that arise. Your child will gain tools on how they can express their emotions in creative and life enriching ways.

It will provide a beautiful beginning to their life-long relationship with their emotions.



---
Pittwater Offshore Wine Syndicate
Sunday October 13 from 3-5pm
Pittwater's Only Wine Syndicate Newsletter
All the Wine that's fit to Drink :)
Greetings
IT'S ON AGAIN
This is the biggy. This is the important one. This means summer is approaching. This means the thirst can be quenched. This means the Christmas holiday season is approaching.
Sunday 13th October 2019 at 3pm
is our next tasting. Your editor has no idea about the wines but we really wanted to make sure you put this date in your diary.
We will be in touch as soon as a tasting and price list arrives. Start now on reducing your fluid intake :)
Friends signup
HERE

---
Meat from Merrifield Farm
Hi all,
 
Just wanted to share this one with you. I recently have been a little more conscious of where I source my meat from, and came across this farm (which I have also visited myself and had a farm tour, when attending their butchery and sausage making classes).
 
https://www.merrifieldfarm.net.au/
 
I'm a big fan of their membership, and get 5kg of assorted meats (pork, lamb and beef) for $90, which gets delivered once a month. But you can choose larger amounts to accommodate larger families. The way the membership works is that you rate your preferences (1, 2 or 3), and they pull your order together based on those, different each month.
 
You can also order specific packs from their online shop if that works better for you.
 
Cheers
Iza



---
Fully Furnished House for Rent - Scotland Island
3 Bedrooms, 2 living areas, dining, 2 decks
Fully furnished, well looked after
Great location, close to Cargo, 5 mins to Bells
Water, electricity, Wi-Fi, Netflix included



Available from 1/10 till mid Feb or open to discussion

For more info contact Edita on 0403942825



---
Free Piano
Max Dreyer. Made in Berlin.  Good working order, but needs a tune.

Pick up Little Lovett Bay
Must go asap

Contact Tim 0418 619700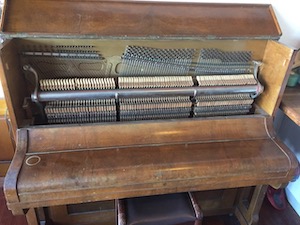 ---
Furniture Items for Free

Contact Carolyn Andrew
carolynavrilandrew@gmail.com



---
Fully Furnished Waterfront House to Rent - Elvina Bay
This tidy 2 bedroom fully furnished waterfront House is  available to rent for a 12 month lease  with a 12 month option .



The house has  polished floorboards ,  modern kitchen  with all essentials , 2 bath rooms , laundry , carpeted bedrooms , combustion stove , large deck with new bbq , sunny court yard , mains water , big back yard full of wallabies , birds and nature .  It also includes a boat spot on a pontoon jetty.

Located close distance to the ferry wharf.

Suit a local couple or a couple who wish to "try before you buy " or people who need accommodation if doing building renovations to there own home in the area .

This home is a not for pets.

Rent - $750 pw  neg

Please  feel free to call. Mick  0427043867 to discuss.




---
---
The Local Guide
Community Information
Scotland Island Web Site -
www.scotlandisland.org.au
Scotland Island Residents Facebook Page -
click to go to Page
Scotland Island Rural Fire Brigade

- 9999 4404 - http://www.sirfb.org.au
West Pittwater Rural Fire Brigade


http://www.westpittwater.com.au/rural-fire-brigade/WPRFB-contacts - 9997-3795
Offshore Photo Gallery - offshore gallery
Scotland Island Residents Association (SIRA) Membership details - click here for details
West Pittwater Community Association (WPCA)

-
www.westpittwater.com.au
Scotland Island Emergency Non-potable Water
Agreement for Sale of Non-potable Water
SIRA Membership Application
Emergency Non-potable Water Guidelines
General Information, Map & Contacts
http://www.scotlandisland.org.au/community/emergency-water/
Scotland Island & Offshore Children's Services (SIOCS)
Long Day Care at The Island Kindy in Catherine Park
Days of operation: Monday, Tuesday, Wednesday & Thursday
Times: 8.00am - 6.00pm
Before & After School Care
8.00am until walked to school ferry - collected from school ferry until 6.00pm
Vacation Care, Casual Care and Playgroup on Fridays
Hire the Kindy for Birthday Parties
Please call

02 9979 7856

or email SIOCSdirector@gmail.com
Facebook: https://www.facebook.com/theislandkindy
Website: http://scotlandislandkindy.business.site/
Scotland Island Community Hall Bookings

:  Lucy Gregg M: 0424 233 674  or hall@sira.org.au
Pittwater Online News

-  http://www.pittwateronlinenews.com
Tick Fact Sheet
TUG Waitlist   (Tennis User Group) - Application Form
---
Transport
---
Real Estate
---
Services, Clubs & Accommodation
Justice of the Peace

- Bob Mitchell (Mackerel Beach) - 0419 745 628
Justice o

f the Peace

- Tony Hendel - 0419 242723
Justice of the Peace

- Andy Derijk - Elvina Bay 0418 613 890
 

Justice of the Peace  - 

Lexie Le Blang 0418399674 or 99992574
Justice of the Peace  - 

Graham Stenner - 0407216405
J

ustice of the Peace  - 

Carolyn Milani - 0409914699
Pittwater Community Arts Inc.

 - Enquiries Lorrie Morgan 9997 8079  lorriemay@bigpond.com
Peninsula Music Club

- enquiries Janice Tuynman - 99991937 - jt@swift dsl.com.au
Woody Point Yacht Club

-  http://www.wpyc.com.au   commodore@wpyc.com.au
Royal Prince Alfred Yacht Club

-

02 9997 1022

  http://www.rpayc.com.au/  
Royal Motor Yacht Club

- http://www.royalmotor.com.au/ 02 9997 5511
Scotland Island Lodge

- Bed & Breakfast - 02 9979 3301 or  http://www.scotlandislandlodge.com.au 
Pittwater Youth Hostel

 - (02) 9999 5748 (8-11 am and 5-8 pm)
http://www.yha.com.au/hostels/nsw/sydney-surrounds/pittwater/ 
Handy Service

- "No job too small"  - Call Alan 0447 775 541
Electrician Wayne

on Scotland Island 0418 229 277 - offshore community sparky - www.sparky.com.au
David Walsh

-

Graphic Design

-

Custom Made Sculpture

- 0404 239 212 - ital2@optusnet.com.au
Dog Wash & Grooming

- Call Jenni: 0450 444 100 or Email: jena50@hotmail.com
Free Pump Outs for Boats

- Council with RMS installed a pump out at Careel Bay wharf
Top water purification system installed for offshore homes:

  Call Juliette 0418349448
Solicitor - Rachel Carter - Carter O'Neill Legal - 0406 239 946
Island Based Domestic Cleaner

 - Kath - 0405097424 - kathando@yahoo.com
Building Design and Drafting Services

  - Samuela Madej – Murphy ph. 0450331573
email: samuelamadej@gmail.com
Architect / Drafting / 3D sketches / Council submissions services

- Sabrina Phillips, NSW Architect 0426223407  - sabrinaaphillips@gmail.com
Qualified Deep Tissue & Swedish Massage

- Mona 0490701213
Island Based Cleaner - Uses predominantly Organic & Natural Products

- Mona 0490701213
Broken Bay Barges & Sydney Commercial Diving Services

 - Brent Taylor - 0409 269 404 - taylordmarine@gmail.com

---
Island Classes (Fitness, Dance, Art etc)
Pilates, Meditation and Group Fitness

with Patrice -  0406 483 036 patrice.corrie@gmail.com
Art Classes

- drawing and painting in oils, acrylics and mixed media - Marion 0431 457 431
Dru Yoga

- Tuesday 9.00 to 10.30 Tuesday morning - Phone Katya on 0414 187 916
Outdoor Circuit Training Classes on Scotland Island

-

Lowri Dwyer

- 0450 201 650 - lowri_89@icloud.com - https://www.facebook.com/lowri.dwyer/
Dynamic Yoga

Saturdays from 8.30am - 10.00am.


Drop-In Easy Hatha Yoga

- Monday Evenings 7:00pm - 8:15pm

---
Groups
Green Group For Catherine Park

- Run by SIOCS - Emmie Collins on 0405 330 781
Parents & Kids Groups Playgroup

- Run by SIOCS - email Emma trysemz@tpg.com.au
Catherine Park Bush Care Group

, 2nd Sunday @ 9.30am, Sharon Kinnison @ 9997 6017
Island Thinking Group

-

Roy Baker, 9999 6891, roybaker99@yahoo.com
---
Government Organisations
---
Airlines, Buses and Railways
---
Weather
Pittwater Weather
Scotland Island Tides, Moon phases, Sunrise & Sunset
Local Weather Forecast
Radar weather for Sydney (128k circle)

---
Emergency Contact Numbers   
ALL EMERGENCIES (Police - Fire - Ambulance)
000
Police Assistance Line & Information
13 1444 or 9281 0000
Broken Bay Water Police
9910 7899 or 0412 162 093
Marine Rescue Broken Bay - Weekend
(02) 9999 3554 - (02) 8411 1121
Marine Rescue Broken Bay - VHF Radio channel
VHF Radio Channel: VHF 16
27MHz Radio Channel: 86 or 88
Scotland Island Rural Fire Service 
9999 4404
Elvina Bay Rural Fire Service
9997 3795
Lovett Bay Rural Fire Service
9979 1612
Mackerl Beach Rural Fire Service
9974 1162
Rural Fire Service Headquarters Terrey Hills
9450 3000
NSW Fire Service General Information 9265 2999
9265 2999
Rural Fire Service General information
9450 3000
State Emergency Service, Warringah/Pittwater SES
13 25 00 9486 3399
National Parks & Wildlife Service: 000, general information
9457 9322
Dept of Community Services: general information
9977 6011
Sydney Water
132 090
Energy Australia
131 388, (ah) 131 909

---
---
A complete set of past electronic newsletters since May 2000 can be found and read at https://ymlp.com/archive_gesgjgm.php  or by clicking here or by visiting the Mona Vale Library.


The Island website is at www.scotlandisland.org.au




---
To Contribute
If you would like to contribute to this newsletter it's easy!. Send an e-mail to the editor (editor@scotlandisland.org.au) or by clicking here. Type your contribution (100 words or so would be fine) and assuming it is of general interest to the community, does not include matter of a political nature and is not offensive, it will appear next month.
Subscription Information
To get on and off this newsletter,

click here

or got to:

http://www.scotlandisland.org.au/signup .


To change your address, click the 'modify' link at the bottom of this newsletter or send an email to the

editor@scotlandisland.org.au


---
Follow the PON
---
The Online Local Contacts Guide
Click HERE to load
---
T

he

Editor

and the publisher disclaim responsibility for any injury to persons or property resulting from any ideas, articles or products referred to in this publication. Further, t
he views expressed in this newsletter are not necessarily the views of the Scotland Island Residents Association (SIRA), or the Western Pittwater Community Association (WPCA)
---