PRESS STATEMENT
Hollywood star Kal Penn wins MasterChef and donates prize money to UN Agency for Palestinian refugees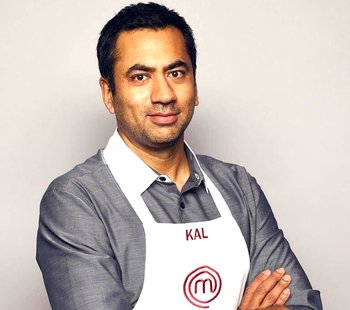 04 January 2017 | http://tinyurl.com/j369kdy
The Palestine solidarity and human rights organisation BDS South Africa welcomes and celebrates the winning by Hollywood actor
Kal Penn
of the recent MasterChef celebrity showdown. We warmly salute Penn for choosing to donate his prize money to the UN's agency for Palestinian refugees, UNRWA. (
Click here to watch video
)
At the time of winning the competition Penn stressed the importance to assist Palestinian refugees and specifically those living in Gaza and Syria. Penn explained that: "[US] Secretary of State, John Kerry recently discussed in his speech that Gaza is home to one of the world's densest concentrations of people enduring extreme hardships with few opportunities [...] 1.3 million people out of Gaza's population of 2 million are in need of daily assistance – including food and shelter. I'm honored to have the chance to cook on behalf of UNRWA USA." (
Click here for UNRWA press statement
)
Penn is well known for his various acting roles in movies including Harold & Kumar, The Namesake, Van Wilder, A Lot Like Love and Superman Returns. Penn also recently served in the White House under US President Barack Obama as Associate Director of Public Engagement.

----------
As a result of Israel's occupation and apartheid policies over 5 million Palestinians live as refugees in neighboring areas and are denied (by Israel) their right (enshirened under international law) to return to their former homes. They were expelled from their towns and villages by Israeli forces starting in 1948.
Palestinians constitute more than
40%
of the worlds refugee population.
Israel's apartheid system allows any person of Jewish origin to gain automatic citizenship and nationality because they are Jewish. Once they get this automatic citizenship they often then occupy the former homes of Palestinian families who still wish to return but are denied entry (let alone citizenship and nationality) because they are the wrong ethnicity under Israel's racist regime. (
Click here for more info on this issue.
)
ISSUED BY KWARA KEKANA ON BEHALF OF BDS SOUTH AFRICA
BOYCOTT, DIVESTMENT AND SANCTIONS AGAINST ISRAEL IN SOUTH AFRICA (BDS SOUTH AFRICA)
5thFloor
|
Mishumo House
|
77 De Korte Street
|
Braamfontein
|
Johannesburg
PO Box 2318
|
Houghton
|
2041
|
Johannesburg
T:
+27 (0) 11 403 2097
| M:
+27 (0) 74 054 3826
| F:
+27 (0) 86 650 4836
W:
www.bdssouthafrica.com
| E:
kkekana@bdssouthafrica.com
www.facebook.com/bdssouthafrica
|
www.twitter.com/bdssouthafrica
|
www.instagram.com/bdssouthafrica
BDS South Africa is a registered Non-Profit Organization. NPO NUMBER: 084 306 NPO
BDS South Africa is a registered Public Benefit Organisation with Section 18A status. PBO NUMBER: 930 037 446