Kids!
As I mentioned in the last update, I'm staying behind in Kabul for a couple more days for meetings. One side benefit is that today I got to go back to the school for street kids this morning and the kids are back!
As I walked through the gates of the school I could hear that the building was litterally buzzing... it was alive with children! It was great to walk inside and immediately see teachers and staff and the classrooms full of kids.
The school has 6 classes in the morning session and 6 in the afternoon serving a total of 440 students in grades 1-4. These are kids from the streets of Kabul who have never attended school or have been pulled out to work the streets to earn money to buy food for their families. Our goal is to get them up to speed with their education and help them reintegrate into the public school system. Last year we graduated 35 students from the 4th grade and when they took the entrance exam for entry to public school, they all passed and most entered at the 6th grade level! What an amazing tribute to the hard work and dedication of the teachers and staff.
I then got a chance to visit some classrooms and hand out the notebooks our team had brought from Colorado. The notebooks have a cartoon on the cover with several dozen blank ruled pages the kids can use to write out their lessons. Before we left Colorado, kids from the Flatirons Kid's Ministry colored the cover and wrote personal notes of encouragement and love inside that the kids and teachers in Kabul noticed immediately. It was a real treat to hand these notebooks out to all the kids in the school… I only wish the rest of the team could have been here to be a part of it.
I then got to go down to the dining room as the kids filed in for their hot lunch and watch as they discovered their new colorful lunchroom mates – the cartoon characters our team had painted on the walls last week. Our host pointed out that they were the same animals on a chart in their classroom they use to learn their colors and numbers in English… only bigger and funnier!
It was so much fun to be a part of providing a more healthy, stable, and loving learning environment for these precious kids who have lived such a hard life begging or selling on the streets.
Well… that's all for today. It's time to prepare for one last meeting tomorrow morning and pack for the trip home. My flight out of Kabul leaves tomorrow afternoon so this will probably be my last note from Afghanistan. I'll drop you a note when the team arrives at DIA and again when I do, hopefully 48 hours later.
I can't thank you enough (again) for the prayers and constant support. I'm looking forward to seeing as many of you as possible in the coming weeks and months to tell you more about our trip and to thank you in person.
--Bob
PS. I just received word from Dan that the rest of the team is back on U.S. soil in Denver International Airport. Let the reunions begin!! Hopefully mine is only 48 hours away! Welcome home, guys! Job well done!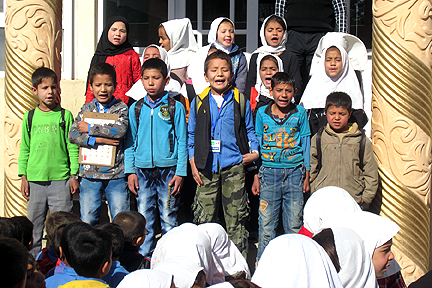 The kids line up to lead their classmates as they all sing the Afghan National Anthem.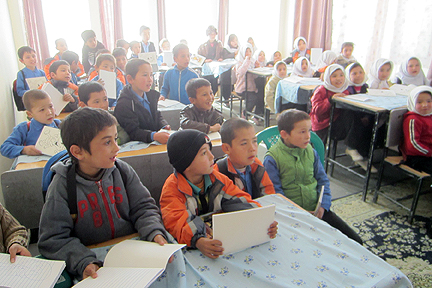 At last... classrooms full of kids!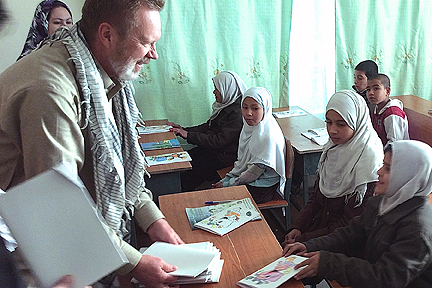 Something as simple as a little notebook means the world to a child who grew up with nothing.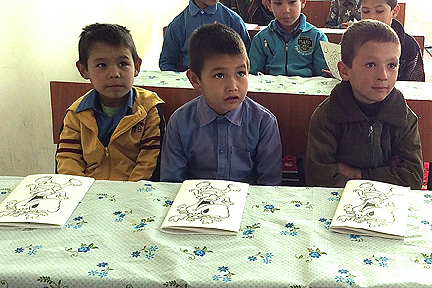 Ready and eager to learn.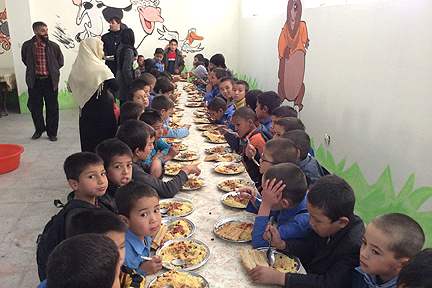 Gobbling down their lunch (most likely their only meal of the day)
under the watchful eyes of their new animal friends.