---
West African Fundraiser
Film / Photography / Food / Music
SATURDAY NOV.29th - 6pm on….
SCOTLAND ISLAND COMMUNITY HALL: $15 Adults / $5 children
click image to load pdf flyer
All money raised to Oxfam's Ebola Appeal
Enquiries: 0405 330 781/
emstar@tpg.com.au
---
Meet the Artists, Artisans, Photographers & Writers of Scotland Island
December 6th & 7th 10am to 4pm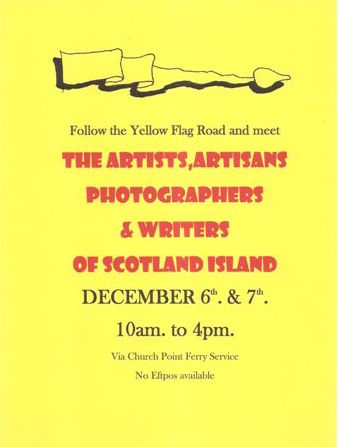 ---
Standing Tall - Keeping you on your feet
HOME-BASED EXERCISE PROGRAM TO IMPROVE YOUR BALANCE
Are you:




If you are interested in participating or for more information, please contact the Standing Tall Research Team at (02) 9399 1888 or email us at standingtall@neura.edu.au



---
Hi there Honey people !
I have some delicious honey for sale, collected by a friend in Mt Colah who tends his bees and takes them along to where the flowers are most juicy.

I have Heath Banksia, Stingy bark, Orange Blossom and Tea Tree varieties, the Tea Tree being very light in colour this season but full of those bushy, cleansing flavours.

Let me know via email or text on 0405097424 if you would like some, I can deliver or you can collect from me.

500 gm jars are $10, 1 kg jars are $16.

Happy days



---
Spring Clean Sale

NEC MICROWAVE (hardly used)……………………$55
DARK GREEN IKEA COUCH……………………….. $30
TWO MATCHING HIGH BACKED CHAIRS…..$15 ea
TWO WOODEN FOLDING CHAIRS……………..$10 ea
BREVILLE TOASTED SANDWICH MAKER…...$8
TV WITH SET TOP BOX……………………………..$60
ASSORTED COUCH THROW CUSHIONS……..$5 ea
AN OLD BAR HEATER…………………………………$10
ASSORTED NICK NAKS……………………………..$5 ea
SECOND HAND LADIES CLOTHING ITEMS…$5 ea
6 LEAF PATTERN GLASS PLATES……………..$15
VERY LARGE GLAZED BLUE POT WITH
ROSEMARY BUSH……………………………………..$70

Located near Tennis Wharf on Scotland Island
Phone Natalie on 0415 221 239


---
Wanted
A new place to call home on Scotland Island for myself and my 19 month old daughter.

I am looking for a 2 or 3 bedroom house / granny flat / house-sit for around $400 pwk (neg).

I can be contacted on 0415 221 239.



---
Lost
My name is Miss Salty Mill and I've lost my identical twin brother, Master Pepper Mill.

Our parents, Mr Jon Duhig-Mill and Ms Barbara Labram-Mill took him to the fire shed dinner a fortnight ago.
I begged him not to go and, you guessed it, they came home without him (that's another story !)

He is black with a silver cap on his head and has 'PEUGEOT' stamped on his back.

PLEASE, call me if he has wandered into your cupboard.

Annette Ritchie
0410 007 501

Friends of the Mill family



---
Job Opportunity

Job Opportunity for Transport of child from Newport School in the afternoons



I am looking for a responsible caring adult that wants to pick up Liam (6 year old) from school in the afternoons Monday to Friday.

School finishes at 3.25pm and we are wanting him transported back to the island (Bells Wharf) and on some days Church Point as negotiated.

If you are interested, please call Tanya on 0418209956 or Wags on 0418209004.

This is a paid opportunity.



---
Help with House Cleaning
We will be moving back into our renovated house end Nov, beginning Dec. and need to do a big clean prior.

Is there anybody wanting to make a bit of extra Christmas cash, who doesn't mind cleaning?

Please give me a call on 0414922199. Andrea



---
Wanted
Do you have a spare car?
A strange question, perhaps. But we're selling our (sporty, wonderful but not baby or pram-firendly) car.
We won't get another one until March.

Just wondering if anyone has a car they're not using.
We'd cover insurance and running costs, of course.

Please call Jon on 0418 655 129, if you have such a thing as a car you won't/can't use for a few months.


---
Island Accommodation Wanted 2nd & 3rd Jan
Are you away over the New Year?



I am looking to rent a couple of nights accommodation for visiting family over the 2nd and 3rd of Jan. If you would like to earn some extra money or have some pets needing extra love while you're away, please get in touch.

Nadine
nadineomara@gmail.com.au



---
Engine For Sale
Perkins Diesel - 60 horsepower Engine For Sale
Came off 30 foot boat.
Has Borg Warner Transmission and extras - both reconditioned.

Spent $6500.
Want $2000.00 ONO -
Phone Eric: 0409 991 697





---
---
Missed out on a previous Newsletters - HERE
A complete set of past electronic newsletters since May 2000 can be found and read at https://ymlp.com/archive_gesgjgm.php


---
To Contribute
If you would like to contribute to this newsletter it's easy!. Send an e-mail to the editor (editor@scotlandisland.org.au) or by clicking here. Type your contribution (100 words or so would be fine) and assuming it is of general interest to the community, does not include matter of a political nature and is not offensive, it will appear next month.


Subscription Information
To get on and off this newsletter, click here

or got to:

http://www.scotlandisland.org.au/signup .


To change your address, click the 'modify' link at the bottom of this newsletter or send an email to the

editor@scotlandisland.org.au


---
Follow the PON
---
The Online Local Contacts Guide
Click HERE to load
---
---
The views expressed in this newsletter are not necessarily the views of the Scotland Island Residents Association (SIRA), or the Western Pittwater Community Association (WPCA)
---