---
Contents
---

---
Message to People Stealing Fuel from Tinnies.





Over the last while, more than a few of us have had quite a lot of petrol stolen from our tinnies.



After long conversations, talk fests, arguments, yelling matches and down right fisty-cuffs, a group of us have come up with a solution.

Our message to all those who want to steal fuel is:



PLEASE STEAL MORE OF OUR FUEL!



We'd really like you to get in there and make a proper go of it--go for your life and steal as much as you can!

Just for you, we have sprinkled amongst the tinnys a whole bunch of petrol containers with a special additive--yes we may not be able to make as many cakes as we would normally like but we're prepared to sacrifice our sweet tooth, for the sake of ensuring there is more than enough sugar in each tank! And, we haven't just limited ourselves to spare tanks, we've got a fine selection of engine tanks as well.

So, go for your for your life boys and girls--we wait with anticipation and look forward to the entertainment--and, if you need a tow, just yell--we'd be happy.


Phil Pryor and Rob Adams
Joint Presidents and Chief Head Honchos of the SIFAC (Scotland Island Fuel Additive Committee)



---
ANZAC Day Images


By June Lahm



Full size images can be seen at the Offshore Photo Gallery HERE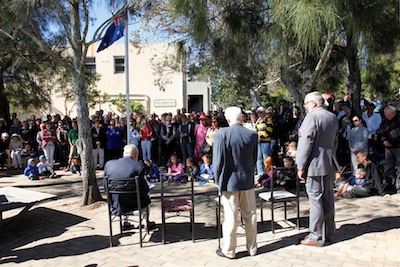 ---
Scotland Island Winter Fire Shed Dinner
Saturday May 5th, 7pm
French Cuisine by Nathalie & the Crew
Includes Dessert
Live Music Joe's Garage
Adults $20
Children under 12 $5

---
Women on Water


Autumn Meeting





Thursday May 10th 12.30 at Audrey Cross's house just past Pathilda reserve on the waterfront.



Please phone Audrey on 0407924129 or 99978820 for specific directions.

The topic will be "What Makes Your Heart Sing".

Please bring a plate and a drink. Tea and coffee will be served.

All Offshore residents are welcome.



---
Asparagus Weed-out at Morning Bay

Once again the Pittwater YHA, in conjunction with the Pittwater Natural Heritage Association, held its weekend dedicated to volunteers staying and joining with locals to further the removal of Asparagus Fern at Morning Bay in the Ku-ring-gai Chase National Park. This was the fifth Asparagus weed-out weekend to be held at the hostel The work site was a continuation of the previous area that focused on the ridge east of the hostel. Primary removal was completed in one area and a new area was started further down from the ridge line.



In the week before, six girls from Killara High School staying at the hostel as part of their Gold, Duke of Edinburugh Award carried out follow up removal of Asparagus over the ridge where previous primary removal had been done.

The event was sponsored by the Hawkesbury Nepean Catchment Authority with funding from the Australian Govenment's Caring for our Community Programme. Project: Pittwater Estuary Care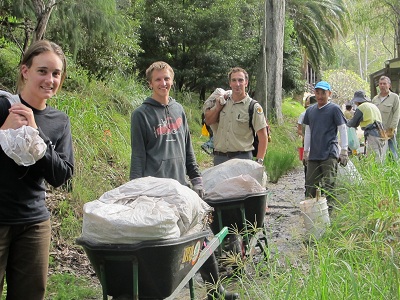 Thanks to all the volunteers. It is wonderful to see the difference!

Please watch out in the PON for the dates of the 2013 Weekend Weed-out Event.


Thanks,
Sarah and Michael
Pittwater YHA



---
Letters to the Editor

Thank you to all the wonderful people who have offered support and help.

To Andy Broome, Skip and Betsi, and Sharon and Tom for offering boats whilst ours is in repairs.
Thanks also to Carrey, John Saunders, Jia, and Iza Foster for offering to give petrol tanks to Skip and Betsi.

This is the true value of living here. When the going gets tuff .....we gather round and support one another.

Cheers Tracy and Paul



---
History Corner with Leicester Warburton
Scotland Island will forever be associated with the name Andrew Thompson although his ownership lasted a little under nine months.

Thompson, born in 1773, was the son of poor parents and, when he was 16, was transported for the heinous crime of theft of a 10 pound bolt of cloth.

According to the noted historian, Maybanke Anderson, through dint of hard work and shrewd business acumen, Thompson soon began to make his mark on the colony and first caught the eye of Governor King. With the arrival of convicts sentenced for their part in the Irish Rebellion of 1798 the fears and prejudices of the Protestant settlers were aroused.

Governor King described the Irish as "ruthless, violent and turbulent characters". To control order, William Balmain, a surgeon on the First Fleet, was appointed commandant of armed men in Sydney and Andrew Thompson as emancipist commandant in Parramatta. When fears subsided they were disbanded only to be recalled for a week in 1802 when more Irish arrived.

King's successor, Governor Lachlan Macquarie, also came to notice the ambitious and energetic Thompson. Macquarie lauded the "rehabilitation of successful men who had been originally sent as convicts." In particular, he named Mr. D'Arcy Wentworth, principal surgeon; Mr. William Redfern, assistant surgeon, Mr. Andrew Thompson, described as "opulent farmer and proprietor of land", and Mr. Simeon Lord, merchant. He appointed Andrew Thompson a Justice of the Peace and a magistrate for the Hawkesbury area. Later, Thompson was appointed a trustee and commissioner for the turnpike road to be built between Sydney and the Hawkesbury.

NEXT TIME: Thompson's link with the Island



---

Local Council Notices

Celebrate Pittwater's 20th Birthday



Several community events will be held during May to celebrate Pittwater's 20th year as the first independently formed council in NSW in 100 years.

Proclaimed in May 1992, Pittwater Council was formed in response to strong community lobbying for a local government that would represent the unique needs of the area.

Mayor Harvey Rose said the birthday celebrations will be a mix of history as well as looking to the future.

The biggest community event is the Pittwater Food and Wine Fair on Sunday 6 May at Winnererremy Bay, Mona Vale.

"The event will see children's rides, live music, food and wine stalls and a 'sustainability lane,' – in fact there will be something for all ages," said Mayor Rose.

Pittwater's councillors will plant native eucalypts in the grounds of Winnererremy Bay Reserve foreshore 'as a lasting tribute to the local community' as well as share a communal birthday cake.

Eight local schools are joining in the celebrations with a ceremonial tree planting to mark Pittwater's 20th birthday during May.

Mona Vale Library will host a Pittwater - Now and Then photo display charting the changing face of Pittwater between 1992 and 2012. The exhibition includes intriguing memorabilia from the early nineties when Pittwater broke away and formed its own Council.

Residents are also invited to upload their own memories onto a 'virtual memory wall' by posting photos, videos or comments on their thoughts about 20 years on www.pittwater.nsw.gov.au

Other 20th birthday events include the Volunteer Awards, which this year will have a special category for volunteers with 20 or more year's service to Pittwater.

More information about upcoming celebrations



---
Pittwater Food & Wine Fair





The Pittwater Food & Wine Fair will take place at Winnererremy Bay Reserve in Mona Vale on Sunday 6 May

.

The Fair will be held next to the Flying Fox Café and children's playground between 10am and 4pm on the day.

Ten wineries and 4 Pines Brewing will be at the Fair for tastings, along with gourmet food stalls. Visitors can also choose from a selection of hot food including Thai, Mexican, Spanish and German.

Wineries include Wynwood Estate, Mount Pleasant, Petersons Wines and Champagnes, Cooks Lot, Savannah, Peppertree and First Creek. Gourmet food on offer to try and buy includes freshly baked breads, biscuits and cakes, olive oils, roasted nuts, jams and chutneys. Brian Lizotte from Lizottes Resturant will hold cooking demonstrations throughout the day.

Live music from the 2 Shots Classic Rock Band will play throughout and a range of kids entertainment will be available, including a climbing wall, bungee jump, super slide, dodgem cars, teacup rides, a uni-cyclist, arts & craft and face-painting.

Also on show are a live animal display and the chance to help build a Lego map of Pittwater.

"As part of Pittwater's 20th birthday celebrations, Councillors will plant 20 eucalypts during the Food and Wine Fair along the Winnererremy foreshore as a lasting tribute to the local community," said Mayor Rose.

Winnererremy Bay Reserve is located at Mona Street, Mona Vale. Parking is available at the Council car park adjacent to the reserve (pay and display) or at Pittwater High School for a gold coin donation.

More details HERE



---
Firewood


Firewood for next year - Numerous large branches are currently lying on the roadside on Robertson Rd,
south end of Yamba property, and is free for the taking! It does need cutting into smaller pieces but is quite manageable.

This wood comes from a fallen branch on reserve land during stormy weather.
Hubert, Maria



---
Gloucestor Gull Looking for New Home

….need to make room in the boatshed.



17' Dory - Locally made from marine ply with a fibreglass sheath

Rows well

Includes 1 pair of oars & rowlocks
2 rowing stations & a passenger - can easily carry 3 people

Ready to row away…nothing to pay!

Contact Paddy Broughton: 0411 251 311.
Elvina Bay.



---
Wanted


Short Term Rental Required


Dear fellow offshore community,
We are shortly about to embark on some house renovations and need to relocate for 4-5 weeks. We are seeking a place to stay from mid may to mid June. If you are interested in having your home looked after whilst you go away or if you have a home available for short term rental could you please contact

Rosemary and Dimitri Lihachov
99971502 or 0403961367



---
The Local Guide
Community Information
Scotland Island Web Site

www.scotlandisland.org.au

What's On in Pittwater - Self Editing Event Calendar

click to go to the Calendar

Scotland Island Community Vehicle -

0404 103 700
Number, Usage & Charges

Scotland Island Rural Fire Brigade -

9999 4404
http://www.sirfb.org.au

West Pittwater Rural Fire Brigade

- 9997-3795
www.westpittwater.rfsa.org.au

Offshore Photo Gallery

http://picasaweb.google.com/offshoregallery/
Scotland Island Residents Association (SIRA) Membership Application

- click here to download
West Pittwater Community Association (WPCA)

- http://www.wpca.org.au
Scotland Island Water


SI Emergency Water Contacts and Guidelines for water: click here for information and contacts
Scotland Island 'Water Agreement' - click here to download
Scotland Island Children's Centre

- (SIOCS - Scotland Island & Offshore Childrens Services)
Catherine Park (Long Day Care Service) 7.30am - 5.30pm (Tues, Weds, Thurs & Friday)
Other services include: School Holiday Programme / Facility & Equipment Hire
For information call 02 9979 7856 or email: siocs@comcen.com.au
Scotland Island Community Hall Bookings:

Kez on 9999 4092 or kezborthwickbolton@gmail.com
---

Transport
---
Real Estate
---
Services, Clubs & Accommodation
---
Island Classes (Fitness, Dance, Art etc)
Pilates, Meditation and Group Fitness with Patrice

- 0406 483 036 patrice.corrie@gmail.com
Anusara Yoga

- Thursdays - 0421762236 dominiquemarill@gmail.com or floydcbg@ozemail.com.au
Art with Max

- Watercolour classes. Phone Max on 9997 4527
Art Classes

- drawing and painting in oils, acrylics and mixed media- Marion 9979 3993 or 0431 457 431
@ Nathalie's Table - Cooking Classes

- Mediterranean cooking fortnightly - Nathalie - 9999 4449
Dru Yoga

- Tuesday evenings - Phone Katya on 0414 187 916
---
Groups
Gurdjieff / The Forth Way

- Call John on 9979 5584, Marion on 9979 3993 or Anne on 9999 3478
Island Kinesiology Clinic

- Mondays on SI Phone Jen Cudmore 0425 212 849
Green Group For Catherine Park

- Run by SIOCS - Emmie Collins on 0405 330 781
WOW - Women on Water

- second Wednesday of the month - contact Nila on 9999 2445
Parents & Kids Groups Playgroup

- Run by SIOCS - email Emma trysemz@tpg.com.au
Scotland Island Players

- contact Bob or Kez on 9999 4092
Catherine Park Bush Care Group

, 2nd Sunday @ 9.30am, Sharon Kinnison @ 9997 6017
Elizabeth Park Bush Care Group

, 1st Saturday @ 9 am, Bob Bolton @ 9999 4092
Island Thinking Group -
Roy Baker, 9999 6891, roybaker99@yahoo.com
Offshore a capella choir

– Saturdays at 2:30 pm, SI Community Hall. Call Gordon on 9997 2035.
---
Government Organisations
---
Airlines, Buses and Railways
---
Weather
Scotland Island Tides, Moon phases, Sun rise & set
Local Weather Forecast

Radar weather for Sydney (128k circle)
---
Emergency Contact Numbers
ALL EMERGENCIES (Police - Fire - Ambulance)
000
Police Assistance Line & Information
13 1444 or 9281 0000
Broken Bay Water Police
9910 7899 or 0412 162 093
Marine Rescue Broken Bay - Weekend

(

02) 9999 3554 - (02) 8411 1121



Marine Rescue Broken Bay - VHF Radio channel

VHF Radio Channel:

VHF 16


27MHz Radio Channel:

86 or 88



Scotland Island Rural Fire Brigade
9999 4404
NSW Fire Service General Information 9265 2999
9265 2999
Rural Fire Service General information
9450 3000
State Emergency Service, Warringah/Pittwater SES
9486 3399
National Parks & Wildlife Service: 000, general information
9457 9322
Dept of Community Services: general information
9977 6011
Sydney Water
132 090
Energy Australia
131 388, (ah) 131 909

---
Join SIRA
You can now join the Scotland Island Residents Association by
clicking here.
Please print the page and return the completed form to SIRA at this address:
The Treasurer, SIRA, PO Box 70, Church Point 2105.
Please NO CASH.

Contact SIRA at
sirapittwater@gmail.com
Join WPCA

To join the Western Pittwater Community Association, contact Michael Wiener at
m2wiener@bigpond.net.au
---
Archived Newsletters


A complete set of past electronic newsletters since May 2000 can be found and read at https://ymlp.com/archive_gesgjgm.php or by clicking here or by visiting the Mona Vale Library.

The Island website is at www.scotlandisland.org.au


---
To Contribute


If you would like to contribute to this newsletter it's easy!. Send an e-mail to the editor (editor@scotlandisland.org.au) or by clicking here. Type your contribution (100 words or so would be fine) and assuming it is of general interest to the community, does not include matter of a political nature and is not offensive, it will appear next month.

Subscription Information


To get on and off this newsletter,

click here

or got to:

http://www.scotlandisland.org.au/signup .


To change your address, click the 'modify' link at the bottom of this newsletter or send an email to the

editor@scotlandisland.org.au


---
Follow the PON
---
The Online Local Contacts Guide
Click HERE to load
The views expressed in this newsletter are not necessarily the views of the Scotland Island Residents Association (SIRA), or the Western Pittwater Community Association (WPCA)

---