Dutch, Dogs & Charity
<![if !supportLineBreakNewLine]>
<![endif]>
Remember last newsletter? Where I wished we could skip spring with its awful weather and go to summer right away? Well, my wish was granted and I learned to be careful what you wish for ;)
However:
<![if !vml]>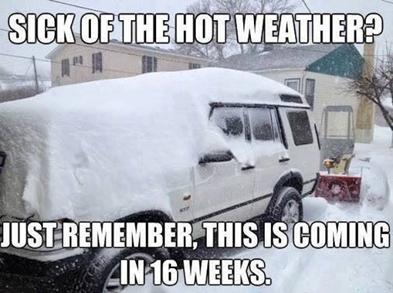 <![endif]>
So I decided to just enjoy this weather for as long as it will last and share my favourite summer activity with you all: a long walk in the forest with my dog Mister. (I will call my next dog 8k, so I can walk 8k every day ;-)
Here is the plan:
Dutch & Dogs, Thursday August 1st in Hilversum
8 k walk
10:00 - ?
Minimum: 3 participants
For dogs, dog owners & dog lovers
€5,- pp (which will be donated to Sandy, a helping dog to be) + your own drinks at a cafeteria halfway, where the dogs can drink water as well.
No speaking assignments, just free conversation.
Full goodie bag for dog & owner afterwards!
There will be two groups: one group of people who would like to speak Dutch (native speakers and students) and one group for English speakers (native and students)
Will you join us?
<![if !supportLineBreakNewLine]>
<![endif]>
<![if !vml]>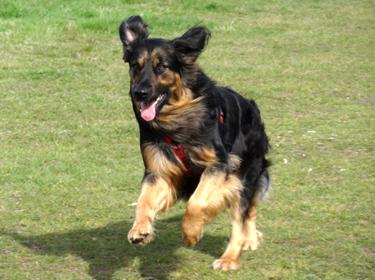 <![endif]>
If you can't make it this time, but you would like to do something for Sandy, you can register for a fun day with your dog in Naarden (August 25th). This day is not organised by me, but Mister and I will join the brain work part.
One last tip for dog owners: this year will be your last chance to swim with your dog in the outdoor swimming pool in Laren (de Biezem). Exact date will depend upon the weather. And you & your dog can swim all year long at Erkemederstrand.
A walk with (Dutch and/or English) speaking assignments but without dogs:
August 6th, 10:00 - ?
Walk along Naardermeer from Bussum to a nice restaurant, where we will take a taxi or bus back to Bussum.
€15,- pp of which €7,50 will be donated to Prince Fluffy Kareem
+ your own meal & travel expenses
Minimum: 3 participants
Bring your backpack and walking boots  ;-)
There might even be a goodie bag!
For those of you who don't like to/cannot walk, I have organised a Game Night (August 6th) in "our" restaurant in 's Graveland (19:15 – 21:30):
A professional game player will bring his favourite games for more advanced speakers
I will have a board game about Holland/Dutch for more beginners and New Amigo's for a mixed language group (Dutch/English)
The chef will provide a simple meal that is suitable for eating while playing, but you can of course have a regular (delicious) dinner in the restaurant before the games start.
Minimum: 3 participants
€5,- + your own meal
Please register before showing up, so I can notify the chef ;-)
<![if !supportLineBreakNewLine]>
<![endif]>
You can find more courses here. Of course, the lessons will be outside as much as possible:
<![if !supportLineBreakNewLine]>
<![endif]>
Posted on my Facebook Page:
<![if !vml]>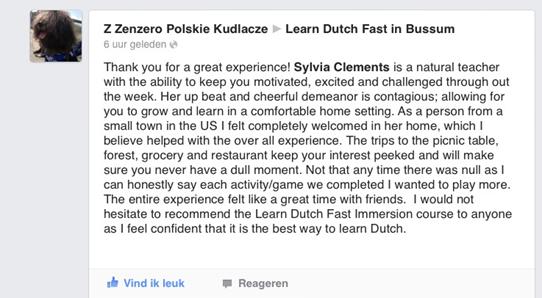 <![endif]>
Enjoy your summer!
Met vriendelijke groet,
Sylvia Clements