Dear Wine Lover!


 Something to take the chill off winter. Some lovely sunshine at the home of Greg and Louise Roberts on

Sunday 28th June 2009

to taste another excellent selection from the Wine Syndicate. We have been assured of a sunny and warm afternoon and we look forward to your company.

The wines? Absolutely wonderful as the list will show. Please download the tasting notes, PRINT them to bring with you, together with a tasting glass and some of your delicious nibblies for us all to share.

Please, download the list from here: CLICK

If you already have a copy of the tasting notes/price list/delivery instructions, remember to add 'Pittwater Offshore' as the place where you tasted the wines. We ask this because it means that at the next tasting we get a plentiful supply of tasting bottles...

We are looking forward to your company.

But please pop an entry in your diary for SUNDAY, June 28th 2009. If you are on Scotland Island, please walk around if possible. If coming from the Western Shores, gather your mates together and come in one boat to avoid congestion at the Robert's jetty.

Best Wishes - your committee

If you want further information, you could ring Greg Roberts  9979 5228, George Gaal  9979 9141, Julian Muir 9999 4449, Paul Purvis  9979 9667 or Alan Gaines  9979 2070


---
Catherine Park Bushcare and Mini Beast Survey


Too good to miss.

 
Fun for the whole family. You are invited to join us for
 
Catherine Park Bushcare and Mini Beast Survey.
 


Sunday 1pm to 3.30


 
Sonja Elwood (Council's Threatened Species Officer) will join us from the mainland to assist in an invertebrate survey for our Spotted Gum Forest. So in addition to regeneration we can assist her with monitoring for life in the leaf litter. Should be lots of fun. Participants will look for and help to make a record of life in the forest assisted by digital camera and computer. 
 
Note  -  The activity is fun and appropriate for families so please help spread the word. 
Sharon Kinnison


---
RFS Corner....




Welcome, once again to the monthly RFS Corner, notices, updates and musings of the West Pittwater Rural Fire Brigade. A few updates on various points





Check Your Fires


With winter almost on us, many people will be lighting their solid fuel fires, after a long period of non-use. It's a dangerous time for fires, as this initial use can cause some problems. While we'd recommend getting someone to service your fire and flue, at the very least take the time to check there is nothing in the flue that could either block it, or set fire to it. While summer is the bush fire season, winter is the house fire season, with all the heating appliances running full tilt.



Community Engagement


You may have seen some of the things happening on Scotland Island, with all the door knocking and discussions on fire preparedness and awareness, plus how to plan and prepare for a bushfire emergency. While West Pittwater isn't at this stage, we view engagement with the wider community as a key to what we do, so be prepared for some initiatives coming from us.



Preparation for the Bushfire Season


It's never too early to start thinking about the preparations you can do, to make your property safer. I know it seems a long way off, with this being winter, especially with all the rain that's been coming down lately, but a lot of the preparations don't happen that quickly and aren't the sort of things that you want to be thinking of at the last minute, such things as:

If you have a pump and all the associated equipment, give them a test. Getting them serviced, could take a while;
Think about getting flammables away from the house. Better still, give them some permanent storage (shed, lean to, etc.) well away from the house;
Check the connections on water tanks. Actually it's now compulsory from the council, to put storz fittings (let us know if you don't know what one of these is) onto any new water tanks. Apart from being compulsory, it's really good idea, as the quicker you or the RFS can get connected to water, the easier it's going to be.
Brigade Training


We've been pretty active on the training front and it's always a good idea for RFS members to keep their skills up to date, We've had – in no particular order – people completing or scheduled on:

Advanced Firefighter;
Crew Leader;
Senior First Aid;
Advanced Oxygen Resuscitation;
Rural Fire Driver
Village Firefighter
Chainsaw - Crosscut
New Fireboat

Well the plans for the new fire boat are well underway and if the end result matches the amount of thought going into it, it should be very, very nice. All the bells and whistles and everything short of the kitchen sink. Well maybe one of those too.

Drop us an email
We're always keen to hear from people, so drop me an email (Gearl@bigpond.net.au) with any ideas of what you'd like to see in RFS Corner, or even that you'll be in South Elvina and would like a quick tour of the station.

Anyway, all for now.

Graham Earl,
Secretary,
West Pittwater Rural Fire Service
Mobile: 0419 448 477
Email: Graham.Earl@sun.com
http://www.westpittwater.rfsa.org.au/


---





Weed Control Workshop




Learn how to identify and control weeds to reduce bushfire risk.




Sunday, June 21, 2009




9 am - 12 noon




Catherine Park



Meet near Community Centre at 9am or come along to Catherine Park (in the bushland area west of Community Centre) between 9am and12 noon. Please wear covered shoes and long pants.

Council staff will demonstrate correct weed removal techniques; explain slip issues and requirements for works within endangered Pittwater Spotted Gum Community.

The Rural Fire Service will be continuing visits to residential properties on Scotland Island to explain bushfire risk and asset protection zones.

Enquiries: Ph 9450 3000 or visit Scotland Island RFS Centre


---
An On-Site Sewage Management Strategy


An On-Site Sewage Management Strategy has now been drafted in accordance with the requirements of the Department of Local Government, state legislation and environmental guidelines which have been developed to ensure effective management and monitoring of on-site sewage management systems throughout NSW.

The draft On-Site Sewage Management Strategy:

Outlines aims, objectives, goals, actions, legislative requirements, environmental, public health and amenity issues, performance standards for on-site sewage      management, enforcement measures plus on-site system ownership responsibilities.
Details the risk assessment based inspection program and approval to operate processes.
Provides a framework for implementation of ecologically and socially sustainable on-site sewage management practices. It is intended that this will be achieved as far as possible by a process of community and user education and by implementation of appropriate operating requirements.
Establishes links with Council's 2020 Strategic Plan, Management Plan and the Water Management controls contained within Development Control Plan 21.
Includes provision for regular evaluation and continuing improvement.
The draft On-Site Sewage Management Strategy is currently on public exhibition and any submissions are to be received at Council by close of business on 22 June 2009. Please note that all submissions in their entirety will be treated as public documents and may be made available on request.

During the exhibition period copies of the draft On-Site Sewage Management Strategy will be available for viewing at Council's offices at 1 Park Street, Mona Vale and 59A Old Barrenjoey Road, Avalon and on Council's website via the following weblink: http://www.pittwater.nsw.gov.au/council/documents_on_exhibition

Submissions are to be emailed to pittwater_council@pittwater.nsw.gov.au, or; submitted using an electronic web form (attached to the exhibition document web page) or forwarded in writing and addressed to: The General Manager (Attention: Robina Warburton, Principal Environmental Health Officer) Pittwater Council, PO Box 882, Mona Vale, 1660, or faxed to (02) 9970-7150. Submissions are to be clearly marked with the Document Exhibition Name "Draft On-Site Sewage Management Strategy".


---
Technology Skills Course for Women


Mona Vale Library and the Northern Sydney Institute of TAFE have joined forces to offer local women the chance to update their technology skills for the workplace and the home.
The first five week course will conclude next Monday with 16 women ranging in age from 35 to over 50 taking part. Another is planned to begin in a few weeks time hosted by the Library, with teachers from TAFE presenting and providing laptops for use during the course.

Coordinator Marketa Vacek from the Library said the course was suitable for women of all ages.
"The first step in the course is an assessment process to see where each student is at in terms of skills," she said.

"The course is divided into several components, including using the Internet, various software applications, tips and tricks, open-source and free software and an introduction to graphic design."

"TAFE have also included a segment on buying a computer, so students have a better idea of what applications they really need and avoid unnecessary costs as a result."
Ms Vacek said the students attending the course had all improved their computing skills and confidence as a result.

Local MP Rob Stokes will attend the final class of the current course on Monday 15 June to meet students.
The new course is already open for bookings and costs $150 per person for a five week course of 3 hours a week. For bookings and further details contact Robyn Woolley at TAFE on 9448 4429 or Robyn.Woolley@det.nsw.edu.au
 
Media contacts:  Marketa Vacek Mona Vale Library Ph: 9970 1600
Robyn Woolley Northern Sydney TAFE  Ph: 9448 4429


---
Western Foreshores Waste Calendar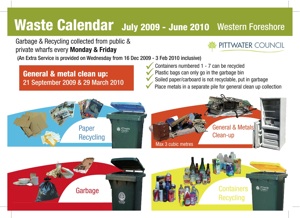 Click to load flyer
---
Queen's Honours for local residents

;
Margaret Molloy OAM


Ian Leslie OAM




Anne (Erin) Mountstephens OAM


Congratulations to local residents who have been awarded the Medal (OAM) of the Order of Australia !

Little Lovett Bay resident Margaret Molloy received her OAM for services to the community of West Pittwater, and North Lovett Bay resident Ian Leslie received his OAM for service to the media, particularly current affairs journalism, and to the community. Elvina Bay resident Anne (Erin) Mountstephens for charitable organisations, particularly through fundraising for Vision Australia.



Medal (OAM) General division




Mrs Margaret Anne MOLLOY,




'Nunyara', Lovett Bay NSW 




For service to the community of West Pittwater.





South Coast Register




Former resident receives honour




8/06/2009 9:38:00 AM



OLDER residents of the Shoalhaven will know of Mrs Margaret Molloy of Lovett Bay, who was awarded the Medal (OAM) of the Order of Australia, in the Queen's Birthday Honours.
She grew up at Nowra, where the family lived from 1900 when her grandfather Henry Rauch bought the Shoalhaven Telegraph newspaper.

He later published the Shoalhaven and Nowra News, as did her father Cecil who was mayor of Nowra in 1926.

Mrs Molloy completed her education at the Nowra Intermediate High School, and in March this year returned for a reunion of the class of 1945.

Following in the footsteps of her forebears, she was a prolific writer, and during the 1990s was  responsible for books on the history of the Sydney Flying Squadron (A Century of Sydney's Flying Sailors) and Diabetes Australia (And Not To Yield).

However this honour is principally for her service to the community of West Pittwater, which has included involvement in many organisations since the early 1970s........................end

Margaret would like to convey the following message of thanks to our community :

"No community award can be given unless the community supports the organiser.
 
My thanks go to the communities of Western Foreshores and Scotland Island for giving me full support for all my efforts."



Medal (OAM) General division




Mr Ian Craig LESLIE,


Church Point.
For services to media, particularly current affairs journalism, and to the community.



Services to media earns Ian Leslie OAM




AAP




June 8, 2009



Ian Leslie is glad his journalism career came before the demanding deadlines and risky immediacy required in the contemporary industry.

Boasting a 45-year media career, including 11 years as a 60 Minutes reporter, Leslie, 66, now runs his own communications business and regularly appears as a keynote speaker.

"I always wanted to be a journalist when I was at school and I lived my dream," Leslie, now a grandfather, told AAP.

Reporting for 60 Minutes has been the highlight of his career, Leslie said, and made him realise how lucky Australians are to have such open access to information.

However, the accuracy of Australia's media was at risk because of "challenging" conditions, Leslie said.

"The immediacy of media means journalists have to work much faster, work to tighter deadlines and think much quicker," he said.

"That's great but risks the balance of truth and research because I don't think journalists these days have as much time to check important facts.

"That's robbed some of the quality of journalism and I'm glad my time came before now."

Leslie has been awarded the Medal of the Order of Australia (OAM) in the Queen's Birthday Honours list, in recognition of his services to the media industry.



Medal (OAM) General division




Mrs Erin Anne MOUNTSTEPHENS,




Elvin Bay




For services to charitable organisations, particularly through fundraising for Vision Australia





Erin shows charity's in the family




North shore times 8 June 2009



Mrs Mountstephens is an only child, and her father William Morck also received an OAM for his charitable work.

Mrs Mountstephens said she saw her OAM as a way of continuing her father's legacy.

"That's why I'm thrilled," she said.

Mrs Mountstephens, 70, who has volunteered with Vision Australia, formerly the Royal Blind Society, since 1975, said her father also worked extensively with support organisations for the vision impaired.

"He volunteered with St John's college, St Lucy's school for the blind and St Edmund's school for the blind."

Mrs Mountstephens worked as an event co-ordinator with the Autistic Association and is deputy president of the Black and White committee.

"We have a major fundraising function every month."

At their next function, Women of Achievement, she said she expected 600 to 700 people to attend.

Mrs Mountstephens said she strongly supported women achievers.

"When people have worked very hard at something they are passionate about, have achieved, and are recognised in the end, it's very good," she said.

But she said she was surprised by her OAM.

"I'm very happy to have helped charitable organisations over the years. I've made very good friends," she said.



With thanks to BaysNews




---
Pittwater High School presents…
OKLAHOMA!

Wednesday 24th June – 7.30pm


Friday 26th June – 7.30pm




Saturday 27th June – 1pm Matinee ($5 off tickets)




Saturday 27th June – 7.30pm




Wednesday 1st July – 7.30pm




Friday 3rd July – 7.30pm




Saturday 4th July – 7.30pm



TICKETS:
$10 CONCESSION (Students and Pensioners)
$15 ADULTS
$40 FAMILY (2 Adults + 2 Children)

call Pittwater High School on 99994035






                 Click to load flyer




---
For Sale..

 


1995 Barina


Ellin Christie is selling her 1995 Barina, $1500 ONO. Please contact her on 0415 638 185


---
You Asked...




Septic Tank Inspection


If anybody requires an inspection on their septic system for council, I have a licensed plumber coming over to the island next Tuesday, 16th June. The cost will be $60.00 per household. If you would like to use the plumber please contact me. Phone number is 99972405 Phillippa Thomas.


---