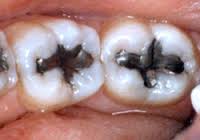 If you read through to the end, you'll see how you can get 2 free pounds of sulfur if you will help me with the research that I'm doing for an article I'm writing for Dental Truth Magazine, and you will also see a way you can earn $220. towards having your dental amalgam fillings removed!!
If you have any amalgam fillings in your mouth, you should know that they are 50% mercury. These are the hidden triggers to Alzheimer's, Parkinson's disease, cancer and a slew of other diseases that 75% of people carry! Toxic mercury vapor negatively impacts your brain, and every organ system in your body!
You should know that the only reason mercury amalgam fillings haven't been banned in the USA is that FDA Commissioner Margaret Hamburg used to be paid millions of dollars for being on the Board of Henry Schein, a huge fortune 500 company that sells toxic amalgam fillings to dentists.
Please join me in signing this petition calling for a ban on mercury amalgam fillings in America.

You should know that every time you grind your teeth at night while sleeping, every time you brush them, every time you drink a carbonated beverage or drink anything acidic such as kombucha, or anything hot like tea or coffee that highly toxic mercury vapor is being released from your amalgam fillings, and that this is getting into your bloodstream, into all your internal organs including your liver, kidneys, heart and brain, and could even kill you!

I am researching all of this right now as I write an article about mercury detoxification that will soon be published in "Dental
Truth", the publication of DAMS (Dental Amalgam Mercury Solutions). I am SHOCKED by what I've been learning about the immense danger we're all in if we have any amalgam fillings in our mouths, but I've also got a lot of ideas in this alert on how we can best protect ourselves against this huge threat to our health and our lives!
I interviewed a courageous dentist located in Illinois named Diane Meyer. Diane comes from a whole family of dentists, and her exposure to mercury began while she was still in high school when she began working as a dental assistant. Over time, her exposure as a dentist to mercury from installing amalgam fillings, and from drilling to replace them, from spilling mercury onto the carpet in her office, and from tracking it into her home on her shoes nearly destroyed her health.
She suffered from a
laundry list of debilitating chronic symptoms
including

mental confusion

,

irritability, short temper, memory loss, uncontrollable bursts of anger, tingling/numbness in her hands and feet, muscle spasms, knife stabbing rectum and vaginal pain, carpel tunnel, sore throats, urinary infections, ulcerated esophagus, reflux, irritable bowel, acne, varicose veins, hemorrhoids, tremors, overwhelming fatigue, slurred speech, neck & shoulder pain, depression, anxiety attacks, low self esteem, hearing problems, blurred vision, headaches, heart palpitation, irregular menstruation and a miscarriage at 5-1/2 months while in her senior year of dental school.
The moronic doctors she went to seeking help for these problems had the nerve to tell her that it was "just her hormones" causing all these problems. Well it was NOT "just hormones" it was the

MERCURY

in her amalgams, and the mercury she'd been exposed to as a dentist that was killing her and destroying her health! As soon as she had her amalgams removed, most of the symptoms diminished immediately, then it took her five years to fully detox all the rest of the mercury!
She joined IAOMT, got certified in the procedures for safe amalgam removal, and started undoing all the harm she'd previously unwittingly been causing people by removing their toxic mercury fillings and by replacing them with safe composite fillings using only safe dental materials containing no BPA or fluoride or anything else unsafe!
She started learning all about holistic medicine and began working closely with an irridiologist, a biofeedback specialist, Naturopaths, and MDs who specialize in chelation therapy and other methods of detoxification. She has a hyperbaric oxygen chamber to help her members detox.

Last December she was attacked by the Illinois State Dental Board which stripped her of her license, but she ignored their treacherous action by starting a private club. So she no longer can accept insurance, and she no longer treats "patients", she only "sees members" of her private club. The State Dental Board attempted to go after her for "practicing dentistry without a license", but as she told them "I'm NOT "practicing", I'm operating a PRIVATE club!!!" They went away and left her and her very devoted club members alone!
In her club, she uses a dental dam, and special suction to keep you from swallowing any pieces of amalgam as she removes it from your teeth. She has a negative ion generator, and special collection system to trap any mercury vapor in the air, and she has club members swallow certain detox supplements to protect them as she extracts their amalgams.She and her associates custom tailor a detox regimin to suit an individual's specific biochemical needs.

HOW TO DEFUSE MERCURY- THE TICKING TIME BOMB INSIDE YOUR MOUTH,
RIGHT NEXT TO YOUR BRAIN!!

Mercury is a neurotoxin that

causes cell membranes to leak, inhibits key enzymes your body needs for energy production and removal of toxins, and can lead to major inflammation and a slew of chronic illnesses including

Cancer, Alzheimer's, Parkinson's, Diabetes, Multiple Sclerosis, Autism, Depression, ADHD, Asthma, Allergies, Arthritis, ALS, Arthritis, Fibromyalgia, Chronic Fatigue Syndrome, Lupus, Tachycardia, Heart Problems, Hair loss, Eczema, Psoriasis, Cataracts, Macular Degeneration, Candida, Urinary and Prostate Problems, Birth Defects and Developmental Disorders in infants, Antibiotic resistant infection, and numerous other ailments!!
To have it safely removed, and replaced with safe composite fillings that don't contain any dangerous BPA, fluoride or any other unsafe material, don't go to a regular dentist. They lack the proper equipment and training to safely remove your amalgams, and if you have one of them remove your fillings you could be made very sick from ingestion of mercury coming from an unsafe, improper removal process! That actually happened to Dr. Joseph Mercola!
He wishes he'd gone to a biological dentist from either IAOMT or IABDM who specializes in the safe removal of mercury because the dentist who removed his amalgams made him very sick for a long time and he had to then detox!
A certified IAOMT or IABDM mercury removal specialist employs the following safeguards in his office while removing your amalgam fillings:
There are a slew of published studies on Pub Med attesting to sulfur's ability to chelate mercury such as:
Extracorporeal excretion of the mercury from organs by sulfur-bridged complex[iii]
Development of low-concentration mercury adsorbents from biohydrogen-generation agricultural residues using sulfur impregnation[iv]
These papers specifically discusses the usefulness of removing mercury from people with autism by using sulfur:
A prospective study of transsulfuration biomarkers in autistic disorders[v]
Novel metabolic biomarkers related to sulfur-dependent detoxification pathways in autistic patients of Saudi Arabia[vi]
---