---
| | |
| --- | --- |
| | Local Council Notice |
Church Point 2014-15 Parking Permits Now Available
Council advises that the 2014-2015 Church Point Parking Permits are now available from Council's Customer Service Centre at Mona Vale.

Application form can be downloaded HERE.
 
Any residents using the Church Point Reserve without a permit should obtain one as soon as possible to avoid a possible fine.



---
Big Island Picnic
Fund Raiser for Camp Quality
Sunday 14th September
Catherine Park from 11:00 am
---
Marty reaches reaches his target!
Marty and his family would very much like to thank all those people who supported him in his efforts to raise $3300 to participate in the Special Olympics National Games in October in Melbourne. He has now reached his target.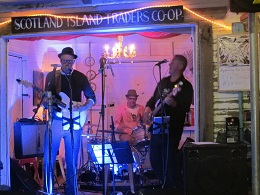 The pizza day, the donation tins, the lunch at the Bayview tennis club and the dinner at Church Point on 29 August all went towards this goal. He raised over $2000 last Friday night. The generosity of Mary and Joe in agreeing to host this night so willingly was very much appreciated. The Sly Dogs lived up to their reputation of a social conscience and great music.

Special thanks:

    to Jan Sindel-Hand for donating one of her lovely marine paintings—TACTICS (Adrian Matthews got a beautiful bargain),
    to Chuck Bradley for his art piece (photograph) of the Making of Midnight Oil (which will adorn Matt Gardner's walls),
    to Stuart Veitch for his day sail for 8 on Sun Odyssey (bought by Sally),
    to Mary and Joe Romero for their $100 voucher (Julian and Nathalie) and
    to the Marina restaurant at the Quays for their $50 voucher (Geoffrey Bullock).
The fun generated by Tim Byrne in the auction process was  great. He encouraged ridiculous bids - so that the $50 voucher went for $150 to Geoffrey and then he gave it back to Marty! Thanks to those who so willingly opened their hearts and wallets.

Maria, Mary's daughter, and her husband also donated a voucher which went as a lucky door prize.

It was a really lovely night and it reinforces the warmth and caring to be found in this community.

I must also mention Brian, in the Post Office, who came up with the idea of asking for a donation each time he had to get someone's mail for them (20-30 times a day). He will now continue this practice for the Fragile X Association of Australia. So keep forgetting your keys!

Warm regards
Robyn



---
Re the Stolen Boat
I see in the latest newsletter yet another stolen boat & I recently came across the datadot technology for protecting boats, bikes, cars etc. against theft. Thought it would worth bringing it to the notice of Scotland Islanders.

Here is the link

http://www.datadotdna.com/au/datadot_buy_for_marine.php 

I have suggested to The Quays Marina that they should join the list of suppliers in Sydney ??

John Thixton



---
Scotland Island Winter Fire Shed Dinner
at the Fire Shed
Saturday September 13 from 7.00 pm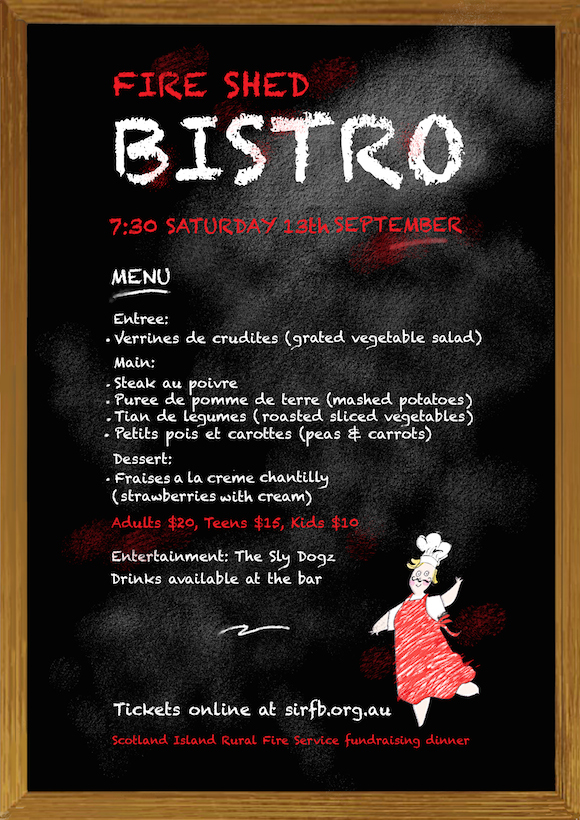 ---
WOW Meeting
SATURDAY 18 TH OCTOBER 2014 @ 12 30 for lunch.
THE NEXT WOW is to be HELD @ Angela Cooney's home Elvina Bay North Wharf  - house on the right as you disembark


Hi everyone

Spring has sprung and 3 x months has flown by and Angela who is a zoologist has very kindly offered her home and her interest zoologly. Living in the semi wild as we do life is not the same as in the suburbs as we live at a very close proximity with nature and at times it can drive us mad but unless we humans learn to live with the animals , the plants and the elements, we will devour our very planet that sustains us all.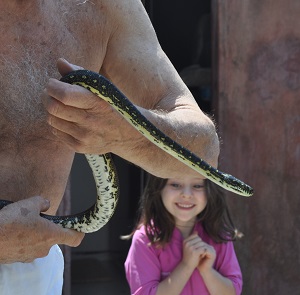 Angela and her colleague  are going to demonstrate how to live with and handle snakes, particularly  the python which is harmless, and we all have our snake stories.

So come with food / wine and  curiosity.

Antonia Hoddle
P: + 61 02 9999 4201
M: 0410 594201



---
Scotland Island Rural Fire Brigade
OPEN DAY
Saturday 13 September
Fire Station 9AM – 2 PM
---
---
Missed out on a previous Newsletters -  HERE
A complete set of past electronic newsletters since May 2000 can be found and read at https://ymlp.com/archive_gesgjgm.php


---
To Contribute
If you would like to contribute to this newsletter it's easy!. Send an e-mail to the editor (editor@scotlandisland.org.au) or by clicking here. Type your contribution (100 words or so would be fine) and assuming it is of general interest to the community, does not include matter of a political nature and is not offensive, it will appear next month.


Subscription Information
To get on and off this newsletter, click here

or got to:

http://www.scotlandisland.org.au/signup .


To change your address, click the 'modify' link at the bottom of this newsletter or send an email to the

editor@scotlandisland.org.au


---
Follow the PON
---
The Online Local Contacts Guide
Click HERE to load
---
---
The views expressed in this newsletter are not necessarily the views of the Scotland Island Residents Association (SIRA), or the Western Pittwater Community Association (WPCA)
---