We are proud to announce that today sees the release of MF/MB/ - Colossus Premixed. A prequel album with remixed tracks that will appear on MF/MB/'s second album "Colossus" out 1 March (20 February in Sweden).

Here's where we get the money:
Spotify
Here's where you download the files for free:
Soundcloud
Here's where you get the file if you wanna show us support:
iTunes
Feel free to play in your radio, write on your blog, DJ on your dance floor. Let the music float!
MF/MB/'s follow up to the debut album "Folded" will be released the 1st of March (20th of February in Sweden). It will be called "Colossus". Before that we will see the release of this prequel remix album called "Colossus Premixed", maybe the first time a remix album is released before the original tracks, a way to open your ears for a preceding masterpiece and a work of art in itself. What is a remix? What is an original? What is music? Is it important?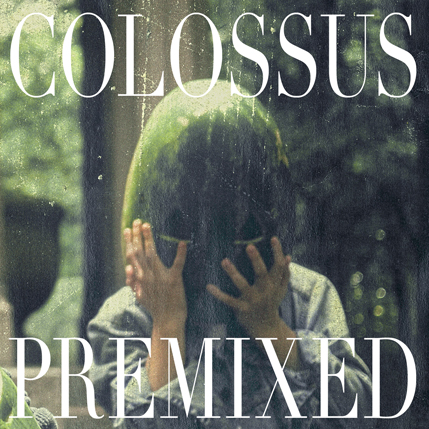 Some early press on the remixalbum:
MF/MB/ - acids (kriget remix)
MF/MB/ - your suitable glitter (noe spagato remix)
1.cocktail kid (vegpher remix)
vegpher.com
Japan has a long tradition of electronic music that seems to exist in a parallel universe. Other sets of rules are at work and other senses. Vegpher is a perfect example. Due to massive touring all over the world Keiichi Sugimoto is one of the best known electronic artists outside Japan. He releases under monikers like FilFla and FourColor and are member of groups like Minamo and Fonica on labels like 12k in New York, German Tom Lab and Headz of Japan. Just recently in august 2012 he released a new album under the name Vegpher; a perfect blend of techno, house and dub step. We are glad that he took his time to deliver this creepy reptile remix of the MF/MB/ track "Cocktail Kid", made out of stems from the demo version of the track.

2. art & soul (diskJokke remix)
www.facebook.com/pages/diskJokke/91357383501
Norway's contribution to the electronic disco scene can't be underestimated. We have Lindström, Todd Terje, Prins Thomas and we have diskJokke. At first a little reluctant to do the remix because he's schedule is super busy, then he heard the track and fell in love. The twist here is that the remix is done with stems from this demo version.

3. casualties (publicist remix)
publicistmusic.com
Sebastian Thomson is a true legend. The contributions he has done as drummer in Trans Am and Weird War would be enough, but he continues. As Publicist he travels around the world with his sequencing synths, playing drums in the middle of the dance floor. Causing a kraut party with his vocoder everywhere he puts on his necklace. The near future includes drumming for the singer of Interpol's solo project and this remix for MF/MB/, that he made out of stems from a demo version of the original track.

4. the worst dreams (boeoes kaelstigen remix)
boeoeskaelstigen.co.uk
In late 2010 Boeoes Kaelstigen released their debut album – Tanum Teleport. Gammy nominations, great reviews and praise from the government was the result of this black and white techno post-apocalypse. The singles Kantillo and Desolate View (feat. Stefan Storm of Sound of Arrows) gained a lot of air play. Since then the two boys has done several remixes that has risened their star. In this remix of MF/MB/'s The Worst Dreams there are space ships flying by.

5. drums along the mohawk (alexander palmestål remix)
iberiamusic.tumblr.com
Some years ago Alexander Palmestål was living in Sweden playing in the monstrous Pistol Disco. When the band was playing in Stockholm he saw descriptions of the band as "your new kraut darlings", and he instantly flew to Berlin.

When not re-working Drake or Beyonce under the Die Neue Mythologen alias, designing artwork for Jens Lekman, The Embassy and Ikons for the Service label or working on new musical project Iberia, Swedish born / Berlin based Alexander Palmestål also finds the time to create stunning life affirming remixes. His latest offering is for the Swedish group MF/MB/ .

"Drums Along The Mohawk" is an anthem for the dawn breaking over a sweat soaked warehouse party. An ethereal opus; all other worldly chants and heavenly synth pads that are counteracted by the arms aloft rave up that rumbles along at break neck speed. A much welcomed dose of Balearic sunshine from the cold Autumn flecked streets of Berlin.
Rich Thane/The Line Of Best Fit

6. the chant (diegors dub)
www.facebook.com/elpropiodiegors
Straight from Santiago, Chile we give you Diegors. He resides on one of the best labels around the world right now, the South American Cómeme, home of other artists like Matías Aguayo and Rebolledo and many more. With a little help from German Kompakt, the label is now also taking over all summer parties here in Europe with their sunny, kraut influenced 80's flavored techno. Diegors blends together opposites in a mix that's just sensational.

7. our next rendezvous (richard rossa remix)
www.facebook.com/richardrossamusic
One of the brightest rising stars on the Swedish and European krautish disco scene is Richard Rossa. He is already traveling around Europe DJ'ing his own material in shitty ware houses and glamorous east European palaces. With one foot in the funky postpunk scene, and the other in analog disco, Richard Rossa has created his own rough sound and style of handling his vintage music gears. This instrumental take on MF/MB/'s Our Next Rendezvous was done with stems from an old demo version of the track witch fitted the sound just perfectly.

8. your suitable glitter (noe spagato remix)
Here's something really special. It might be hard for someone outside Malmö to really grasp how special it is to have this Noe Spagato remix onboard. The myth behind the moniker is Fredrik, known by many names. He has been in the techno, synth and trance scene in Malmö longer than everyone. His contributions is enormous, still there isn't any words hardly anywhere online of his work. His work is fluent, progressive, hazy and improvised. Not much has been put on tape during the years. The Malmö based label Psychic Malmö did an effort some years ago when they released a 7" with 2 tracks. 2 instant classics. (Listen here: soundcloud.com/psychicmalmo/noe-spagato-the-space-between) . This might be his first remix ever and it was recorded all analogue and delivered to us on a cassette tape.

9. acids (kriget remix)
kriget.com
Kriget are a trio from Stockholm consisting of bass, drums and furious saxophone. They take inspiration from a place where music, mystery and noise always will be perfect bedfellows. They are releasing their 3rd album in 2012 on the hyped label Ingrid (Owned by Miike Snow, Peter, Björn & John, Lykke Li etc) . According to Kriget, their remix is far better, edgier and more intense than the original. A trashy GBH/Discharge minimalism electro cut. Compare for yourself when the original comes out later on from MF/MB/.