Good morning, members of the Library Minyan!
Our High Holy Day Art Project is well under way! As you can see, we are having lots of fun!
Tuesday morning's session: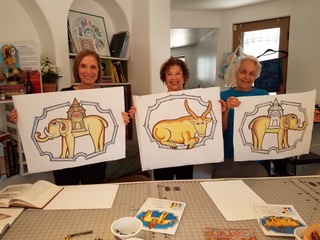 Tuesday afternoon's session: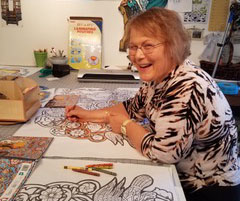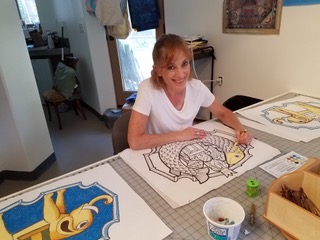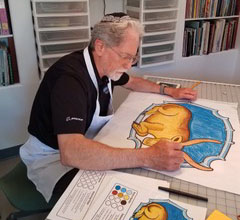 If you haven't signed up yet, please click  
here
to sign up
! 
TWO SPOTS ARE OPEN TODAY at TWO!  
Please join us for 

our THIRD COLORING SESSION!
Available dates and times for coloring sessions:
Wed. July 18
2 PM - 4 PM
7 PM - 9 PM
Tues. July 24
10 AM – Noon
7 PM - 9 PM SOLD OUT
No sessions. July 25, July 31 and Aug 1st
Tues. Aug. 7
10 AM – Noon
2 PM - 4PM SOLD OUT
Wed. Aug. 8
2 PM - 4 PM
7 PM - 9 PM SOLD OUT
Each 2 hour session is limited to four adults.
Please don't bring any food or refreshments to the art studio.
Location: Wanda's Art Studio
9343 Sawyer Street in Beverlywood
On Sunday, August 5, Wanda will host an open house for adults (LM members only) for coloring from 11 AM – 3 PM (reservations not required), with no more than four people working in her studio at a time. When you are not coloring, you can hang out in her backyard, look through Wanda's collection of books on Polish-Lithuanian Wooden Synagogues, and enjoy your own brown bag lunch. This session will videotaped to create a documentary of our Library Minyan Community Summer Art Project.
Additional sessions may be added as needed.
Installation of Panels will take place the week before Rosh Hashanah (date to be determined).