---
SIRA
Notice
---

Scotland Island Rural Fire Brigade AGM Reminder



Sunday,

16 MARCH 2014





Date: 16 March 2014




Time: 13:00 (1 PM)




Place: Scotland Island Fire Station (near Catharine Park)



The meeting will be followed by drinks and finger food, provided by the brigade.
All members are encouraged to attend.



---
The Great OffShore Shave
Fundraiser for the Leukaemia Foundation.
Friday 14th March at Church Point 5pm - 7pm
What's on offer?
BBQ
Cupcakes
Live Music
wash off funky Colour Hair spray
Our Island Hairdresser is Julie Rodgers
Raffle: come buy a raffle ticket …..
Prizes include:
Dinner for 2 at Church Point Restaurant
Art work donated by Nettie Lodge
Climbing Lesson at Northern Beaches Rockhouse
48 Litre Hiking Pack from OSPREY
Camping Chair
Who's getting their head shaved??
Our Councillor and Fire Brigade Chief Ian White is willing to shave his head if he can raise $500 by 6pm Friday 14th March

Amy Roberts
Zac Wagner
Jenny Winterton is colouring her hair
To sponsor us you can rock up on the day or go NOW to http://www.worldsgreatestshave.com
click SPONSOR and type in a participants name or "Offshore Shave"



HI Friends, family work mates and our Offshore community...



We're all doing the World's Greatest Shave! Please sponsor our team and help us raise big bucks to help the Leukaemia Foundation to fund its important work – providing practical and emotional support to people with blood cancer, as well as investing millions in research.

Thanks,
Amy, Jenny and Zac!




---
Renovation Sale
Free Kitchen Counter
Free Children's Timber Wardrobe
Free Oak Wardrobe
Pine Dresser $80 negotiable
All these items are at a house near Tennis Wharf. You are welcome to view them if interested.

Download More images HERE


Michelle
thomsonmichelle@hotmail.com
mobile 0402437962



---
Wanted




House Wanted



We are a family of 4 looking for a fabulous 3 or 4 bedroom house to rent on the Island.
Please contact Fiona on 0402 471 595



---
Stolen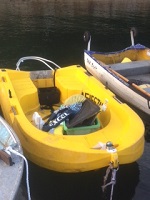 Boat Motor



Last week I found our yellow polycraft with 15 hp Yamaha motor stolen ( padlock had been cut).
Also taken was bilge pump and fuel tank.
If you saw someone acting suspiciously in the commuter wharf area, please contact

Wayne on 0418229277







---
---
Join SIRA
You can now join the Scotland Island Residents Association by
clicking here.
Please print the page and return the completed form to SIRA at this address:
The Treasurer, SIRA, PO Box 70, Church Point 2105.
Please NO CASH.

Contact SIRA at
sirapittwater@gmail.com
Join WPCA

To join the Western Pittwater Community Association, contact Michael Wiener at
m2wiener@bigpond.net.au
---
Archived Newsletters


A complete set of past electronic newsletters since May 2000 can be found and read at https://ymlp.com/archive_gesgjgm.php or by clicking here or by visiting the Mona Vale Library.

The Island website is at www.scotlandisland.org.au


---
To Contribute


If you would like to contribute to this newsletter it's easy!. Send an e-mail to the editor (editor@scotlandisland.org.au) or by clicking here. Type your contribution (100 words or so would be fine) and assuming it is of general interest to the community, does not include matter of a political nature and is not offensive, it will appear next month.

Subscription Information


To get on and off this newsletter,

click here

or got to:

http://www.scotlandisland.org.au/signup .


To change your address, click the 'modify' link at the bottom of this newsletter or send an email to the

editor@scotlandisland.org.au


---
Follow the PON
---
The Online Local Contacts Guide
Click HERE to load
The views expressed in this newsletter are not necessarily the views of the Scotland Island Residents Association (SIRA), or the Western Pittwater Community Association (WPCA)
---