Over 25 Spanish and Basque municipalities endorse BDS boycott of Israel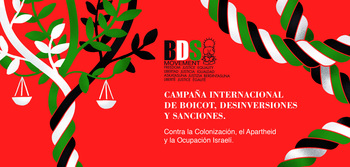 One year ago Palestine solidarity organisations, human rights NGOs and BDS organisations in the Spanish State jointly launched the Apartheid Israel Free Municipalities campaign.
Other recent BDS related victories in Spain, including in the Basque Country and Catalunya, are:
BDS South Africa has completed a two week speaking and work tour of Spain, including the Basque Country. The trip was initiated and largely organized by Mundubat and included a
conference
in Donotsia titled
"The global movement for a campaign of boycott, divestment and sanctions. Against colonization, apartheid and the Israeli occupation"
. The conference was attended by Palestinians, Israelis and BDS representatives from the UK, Brazil and elsewhere.

While in the Spanish State, BDS South Africa also held several meetings with various organisations (BDS Madrid, Rescop etc.), municipalities, government officials and diplomats including the South African and Palestinian Ambassadors in Spain.
The non-violent Palestinian-led boycott, divestment and sanctions (BDS) against Israel campaign is indeed an international one. Being in the Spain and the Basque Country and learning of their campaigns, victories and achievements in the boycott of Israel as well as sharing our BDS successes from South Africa has motivated, energised and inspired all parties. We will indeed be entering 2016 more confident knowing that our movement spans various continents and includes peoples of all faiths and ethnicities from across the globe.
ISSUED ON 21 NOVEMBER BY KWARA KEKANA ON BEHALF OF BDS SOUTH AFRICA.
BOYCOTT, DIVESTMENT AND SANCTIONS AGAINST ISRAEL IN SOUTH AFRICA (BDS SOUTH AFRICA)
10th Floor | 23 Jorisson Street | Braamfontein Centre | Braamfontein | Johannesburg
PO Box 2318 | Houghton | 2041 | Johannesburg
T: +27 (0) 11 403 2097 | M: +27 (0) 74 054 3826 | F: +27 (0) 86 650 4836
BDS South Africa is a registered Non-Profit Organization. NPO NUMBER: 084 306 NPO
BDS South Africa is a registered Public Benefit Organisation with Section 18A status. PBO NUMBER: 930 037 446