---
---

Community
Vehicle

Out of

Service
from

Monday 27, June to Thursday 30, June
---
SIRA NEWS
Tuesday, 21 June 2016
SIRA NON-POTABLE EMERGENCY WATER PRICE CHANGE
During this year's financial planning cycle for 2016-2017 the SIRA committee has determined that there is a need to increase the charge for non-potable emergency water.



For water bookings starting on 1 July 2016 and thereafter,

the price for buying non-potable emergency water will increase from $4 per 1000 litres to $ 5 per 1000 litres. In the interest of keeping cost of living for members low, the $10 booking fee will remain as is.



The reasons for the increase are:

Increase in Sydney Water charges: The charge for water has been $4 per 1,000 litres since 1984 and the price has not been adjusted for increases in cost. SIRA currently pays the Sydney Water usage charge of $2.28 per kilolitre, causing a depletion of the reserve (see below). Sydney Water has indicated it will reduce their charge to $1.97 next financial year and will increase again correcting for inflation over the next 4 year





Maintenance Cost:




The current reticulated water infrastructure on the Island is 10 years old and maintenance costs have started to increase. These costs are borne by SIRA and are drawn from the water sales income. We anticipate that costs will continue to increase.





Self- insurance reserve:




The self-insurance reserve is in existence so that SIRA will be able to replace large parts of the system in case of a disaster, for example a bush fire. The reserve is currently $87,000 and held in a term deposit which has been built up over the last 10 years. SIRA is currently reviewing the size of the fund and may have to increase it. If there were no price increase for water sales, a projection shows that the fund would decrease over time. The price increase will prevent this decline, at least in the short to medium term.



In case you have any questions regarding the price change, please contact the SIRA treasurer by email on: treasurer@sira.org.au

Note:

The original water price was set by Warringah Council in 1984 and remained at that price under Pittwater Council from 1992. In 2005 SIRA took over the responsibility of the emergency water line as an alternative to it being turned off and continued to maintain this price. The line was upgraded and has been maintained since with funds as they became available from water sales income.



---
Thank you to the Scotland Island Rural Fire Brigade
The past few weeks have seen our Island once again battered by storms.
As usual our Brigade have been on standby 24 hours a day.
They have left their homes to clear roads so we can pass safely. They've cut trees off power lines and tarped roofs. You name it, they were there, day and night.



Ian White
Graeme Crayford
Peter Lalor
Stewart Hassel
Hubert van Mierlo
Wayne Gluyas
Craig Laslett



Thank you gentlemen from all of us.
Annette Ritchie



---
Scotland Island Kindergarten
and
Out of School Hours Care
aka "SIOCS"
The Kindy has been a valuable part of our island and offshore community for many years.

We would like to continue to be at the heart of our community - whether you have kids or not we appreciate your input as we develop our service.

Please kindly fill in our Survey once per household, thank you!




Draw prize of $100 voucher for a meal at The Church Point Café can be won.





---
The Island Paradise
Brenda Gottsche of Number 1 The Chase Lovett Bay has written a play inspired by her experience living in an offshore community in the Pittwater.
Any resemblance to people you may know….is….purely accidental! …
ALMOST NEARLY PARADISE played to sold out performances in Balmain….now is your chance to see it closer to home in Manly..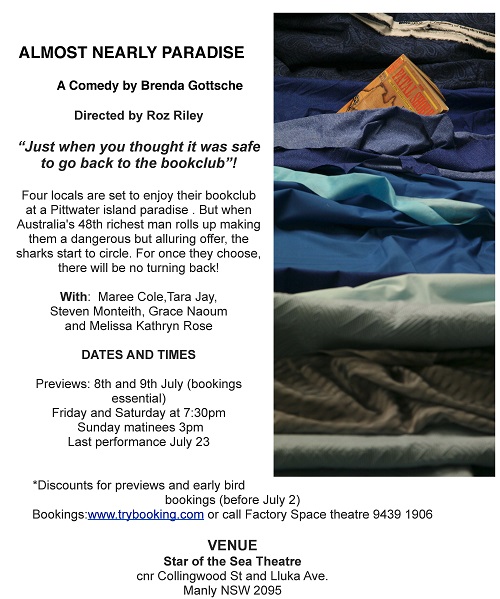 ---
Free to a Good Home
2.5 new bags of tile adhesive
Free to a good home 2.5 new bags of tile adhesive (wall) if your are planning some tilling.

Please Call l Thad 0416 137 860 can also deliver at weekend



---
Island Cleaner
Island cleaner available, have good references and charge $25 an hour.

You can contact me on 0424912173



---
iPod Nano Found
Last Saturday I found a iPod nano near bells wharf

Give me a ring if it's yours
Kathleen 0407829656



---
For Sale
YAMAHA 60 HP 4 STROKE OUTBOARD
2001 MODEL, REGULAR SERVICES – GOES WELL
$1,500.00
CALL CASS
0418 220 107
---
Boat for sale
Quintrex Freedom Sport 500
Yamaha 90 hp Long shaft
Great condition
$6,000

Call 0424 555 382





---
---
A complete set of past electronic newsletters since May 2000 can be found and read at https://ymlp.com/archive_gesgjgm.php or by clicking here or by visiting the Mona Vale Library.

The Island website is at www.scotlandisland.org.au


---
To Contribute
If you would like to contribute to this newsletter it's easy!. Send an e-mail to the editor (editor@scotlandisland.org.au) or by clicking here. Type your contribution (100 words or so would be fine) and assuming it is of general interest to the community, does not include matter of a political nature and is not offensive, it will appear next month.
Subscription Information
To get on and off this newsletter,

click here

or got to:

http://www.scotlandisland.org.au/signup .


To change your address, click the 'modify' link at the bottom of this newsletter or send an email to the

editor@scotlandisland.org.au


---
Follow the PON
---
The Online Local Contacts Guide
Click HERE to load
---
---
The views expressed in this newsletter are not necessarily the views of the Scotland Island Residents Association (SIRA), or the Western Pittwater Community Association (WPCA)
---