June's in bloom, so join us to make love blossom!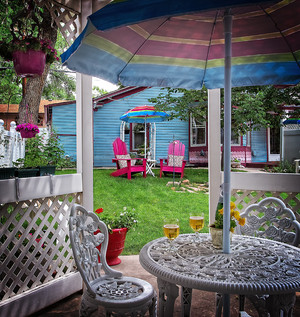 For more information and to make a reservation,
visit
HoldenHouse.com
or call 888-565-3980 to speak personally to an innkeeper.
Reservations can be made via our website 24 hours a day.
*Remember, only when you #BookDirect through our official inn website at
---
Colorado Springs' Holden House 1902 Bed & Breakfast Inn meets high standards of excellence by receiving the AAA Inspector's Best of Housekeeping Award in 2019! — The historic
Holden House 1902 Bed & Breakfast Inn
, located in Colorado Springs, Colorado, recently received the 2019 AAA Inspector's Best of Housekeeping hotel award. The inn, celebrating its 33rd anniversary in June of 2019, was notified by AAA Executive Director, Stacey Barber, on May 16 of this hospitality honor. "Congratulations! Holden House 1902 Bed & Breakfast Inn has been named a 2019 AAA Inspector's Best Of Housekeeping hotel, an award that indicates your property's cleanliness and condition rank in the top 25% of the 27,000 AAA Inspected & Approved hotels. We know it takes tremendous commitment from your entire team to keep your property ready for AAA's discerning members, which reinforces our commitment to drive more AAA business to your property", Barber said.
Read more on our Blog...
---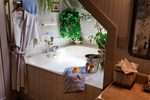 ROMANCE PACKAGES 2019 -
Your special June Getaway is made even more special by taking advantage of our add-on romantic packages! Imagine an ensuite massage, a breakfast served in the privacy of your room or a package that includes fresh roses, breakfast ensuite, rubber ducky and our signature wine glasses. These and more can be yours for an additional fee when you book your stay directly with us at HoldenHouse.com. Reserve now to guarantee availability.
---

EVENTFUL EVENTS -
June 27th –
Moonlight on the Mountain
Kick off your summer with Cheyenne Mountain Zoo during the first adults-only event of the season!
Enjoy all-inclusive samples of beer, wine, spirits and soft drinks while tasting delicious eats from area restaurants. Local musicians will set the mood throughout the Zoo and have you dancing the night away until 10 p.m.! All event proceeds benefit the care of Cheyenne Mountain Zoo's animals.
Through June 16, Wednesday-Sunday.
Join the circus with Barnum, The Circus

Musical at the Colorado Springs Fine Arts Center at Colorado College through June 16. Step right up and experience the spectabcle that transports you to to a world like none you've ever seen before-jugglers, clowns, trapeze artists and Mr. P.T. Barnum! Wednesday-Sunday and a free guided backstage tour will take place on June 6. Only a short drive to the Holden House, the Fine Arts Center is a great location to visit or take in The Greatest Show on Earth!
Nested Eggs with Mushrooms
This recipe is a twist on eggs-in-a-basket with hash browns and baked eggs using muffin tins!
2 large (2 lb.) packages frozen hash brown potatoes
2-12 cup muffin tins (makes 24)
7 eggs (or 2 8 oz. containers egg beaters-thawed)
3 cups milk (nonfat or 2% can be used)
Fresh Parsely chopped finely (dried can be substituted if necessary)
2 packages mushroom sauce mix or 2 cans of condensed mushroom soup
1 small can of mushroom pieces
1/4 cup of crumbled bacon
Paprika and parsley for garnish
Directions: Preheat oven to 375-400 degrees. Generously spray muffin tins with non-stick coating and set aside. Thaw hash browns and evenly place into muffin tins, making an indentation in the center of each tin. Mix the eggs, milk and flour and pour mixture into the muffin tins just to slightly below the top of each tin. Sprinkle with fresh parsley, reserving some for garnish. Prepare mushroom sauce mix as directed on package, add can of mushrooms and keep warm.
Temp. & Time: Bake for 25-30 minutes or until hash browns are slightly brown and egg mixture is solid. Remove from oven and let cool slightly. Remove from muffin tins with fork, being careful not to break nests apart. Set two on each plate, generously drizzle mushroom sauce over the tops of each nest, garnish with fresh parsley, paprika, salt, pepper and crumbled bacon. Garnish plate with colorful fruit and serve.
June is a wonderful time to visit Colorado Springs as we kick off the summer months. Whether you want to experience hiking, biking, horseback riding, shopping, dining, culture, art, theatre, sightseeing and more, our area offers it all! Check out VisitCOS.com and PeakRadar.com for all the latest information...

Whether you're celebrating something special,

joining us for a holiday vacation or looking for adventure,

Romance Package with Breakfast EnSuite

Couples Massage at the Inn

Ducky Bubbles and Breakfast
1102 West Pikes Peak Avenue
Colorado Springs, Colorado 80904
719.471.3980 888.565.3980
Join Holden House on Social Media!