We hope you, your family, and your friends are safe and sound. We look forward to seeing you soon at the Library Minyan! Here is this week's Library Minyan Weekly Update for November 26, 2021.
If you have questions, suggestions, or want to include something in a future Weekly Update, please email me at
JKrautman@sbcglobal.net
or reply to this email. 
Shabbat Shalom,
Jerry Krautman
Rosh Minyan
---
Shabbat Services, Saturday, Novermber 27th, 9:45 a.m.
Masks required for persons who are not vaccinated.
No Mishnah Study, Saturday, November 27th
In the Haftarah Plethora for Va-yishlaḥ the boys ponder just who Ovadia was, whether Ovadia was his name or description, why he only wrote one brief chapter, and why he had it in for Edom and Esau. Larry notes that we recite the final verse of the haftarah daily at the end of P'sukei d'Zimra while Rick breaks into a Beatles tune. 
We Light These Lights - Hanerot Halalu
Temple Beth Am and the Judaic Sacred Music Foundation presents a Live Presentation of a new Hanukkah piece by Bob Remstein featuring Bob Remstein on piano and vocalist Cantor Rachel Goldman. Enjoy refreshments on Ziering Family Field as we listen to brand-new compositions by premier Los Angeles composers. Please see below!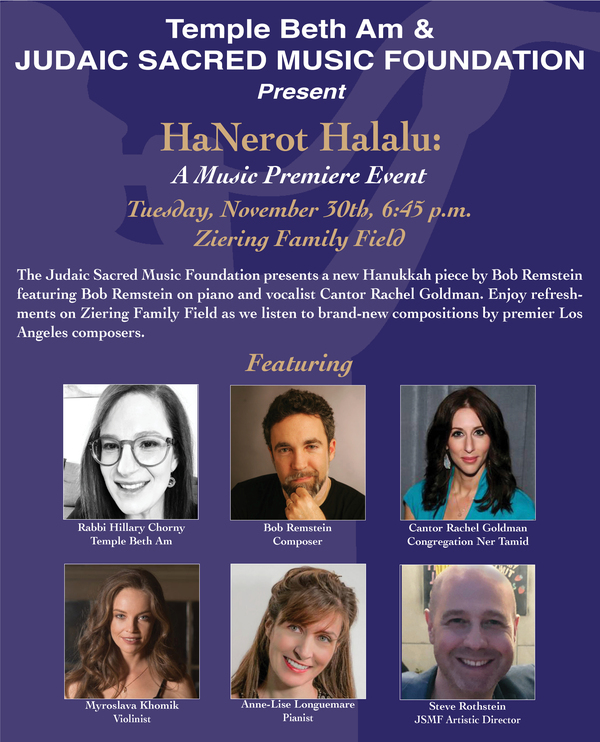 Our fabulous 20s and 30s youngins will be meeting for the last night of Hannukah Sunday, December 5th!