Contents

---
---
Welcome to 2020

---
Island Fire Brigade Goodwill Christmas Lunch
Thank you to our helpers


This is a little thank you note for all the wonderful people who helped with this last Christmas Goodwill Lunch at the Scotland Island Rural Fire Brigade.

It was a small one, but a very convivial and rewarding one indeed.

Both Julian and I were so thankful for the help from Gail Mackenzie, Jillian Delamoneche, Sue Armstrong and daughter Jade, Colin and Rosemarie Haskell who were extraordinary helpful and didn't even join us at the table, and a very generous donation from Lexie Leblanc was very much appreciated too.

All of these people gave their time and efforts to make this time of the year a little bit more special for other people and that's really nice!

The reward from all this generosity, wonderful community spirit and generous donations made on the day, is given back to the Fire Brigade to help support our wonderful Rural Fire members in this difficult time.
 
Again, thank you so much all of you for your help.

Nathalie and Julian Muir

Happy New Year!



---
2020 Offshore Waste Calendars
Scotland Island


---
Scotland Island Reliability Project
Project Update -  Newsletter
 Complete Project Update -
HERE
Click image above to download the full PDF file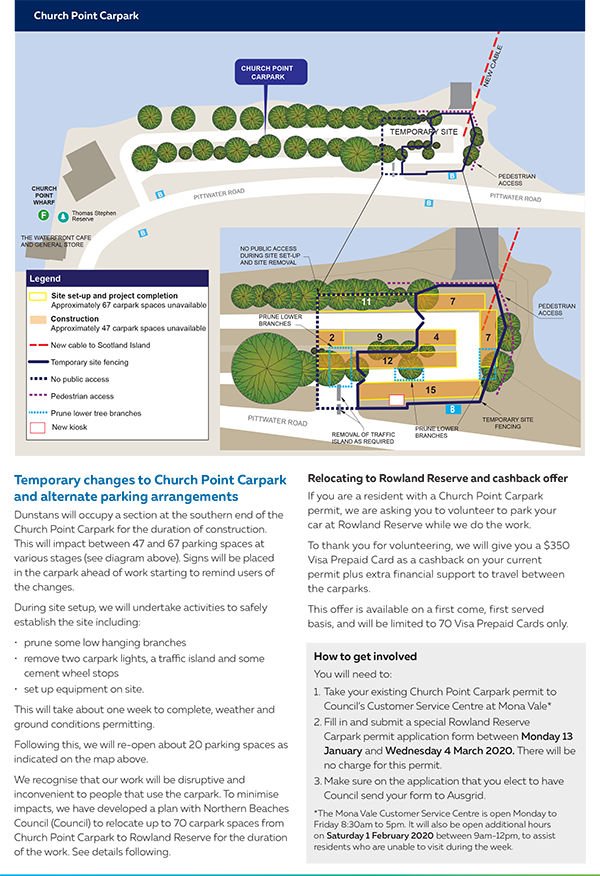 Click image above to download the full PDF file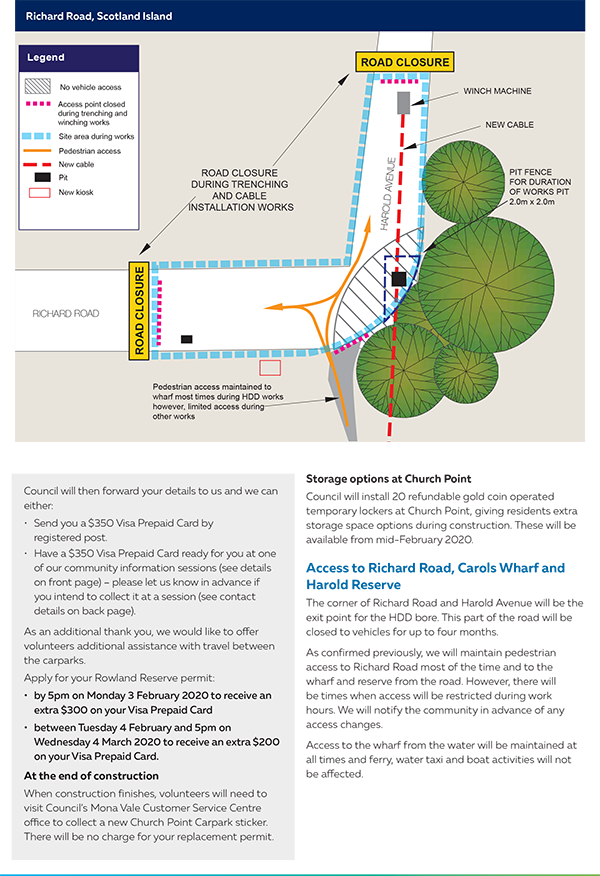 Click image above to download the full PDF file
Click image above to download the full PDF file

---
How Good is Saving the Planet? A new monthly column.
Is Climate Change preying on your mind?
Are you anxious about the future?
Do you wonder what can be done?

IT'S TIME FOR ACTION.
Every little thing we can do will help.
And if we join with other people and take action together, we can make even more of a difference - and it makes us feel a lot less helpless.

January Tip: how to Reduce Plastic Waste.

REDUCE

: challenge yourself to buy less, and buy quality items instead of cheap flimsy plastic. Ask yourself 4 questions,
Do I need it? Where does it come from?  How long will it last? Where will it go?

REUSE: Plastic bags can be washed out in the sink with your dishes and reused. (Ok, maybe not the ones from the butcher.)



RECYCLE YOUR SOFT PLASTICS:

did you know you can collect your unwanted plastic bags and old packaging and take them to the special 'Redcycle' bins at Woolworths or Coles? If it can be scrunched into a ball it can go in these bins (but NOT in your kerbside recycling). They will be made into plastic furniture and other useful things. Get on board and save a turtle! More info: www.redcycle.net.au



JOIN US!

The Offshore Climate Action Group meets every

4th Saturday of the month in Catherine Park or the SI Hall at 2.00pm

. Next meeting is 25/01. Bring yourself, your kids & dogs, and your ideas for Climate Action, local and global.

Contact Jess on 0422 474 279 for more info.



---
The Co-Op Club Presents
January 2020 Bookings
Church Point Cafe -  Artists play between 3:30 - 6:30pm
Sun Jan 5th:  LOS SKELETONE BLUES
One of Sydney's Premier (Aust. Blues & Roots) Charting Blues bands.  They deliver a varied original twist to the Blues with Rock'nRoll Classics, Surf rock and Rockabilly - If you love to dance this is a Sunday at the Co-Op you won't want to miss. 

Formed in 2002 to play original and cover versions of the best and most influential music there is… BLUES…  They have since turned their hand to numerous successful original albums and bring a fantastic band with Tommy Grules on Guitar and vocals, Hedley Paul on Bass, Keith Hunter and Dave Shaw on Drums!

Sun Jan 12th
: Liza Ohlback - New Orleans Blues/Jazz/Funk with Leanne Paris
Liza Ohlback with special guest Leanne Paris
With a stunning voice somewhere between Etta James and Aretha Franklin and the soulful "cry" of Gladys knight...... Self penned songs and classic songs with a New Orleans Jazz/Funk flavour drenched with a Gospel spirit and a down to earth sense of humour.
Between Greg Ohlback, her husband Producer/engineer and drummer on all Liza's albums, they have won 3 Chain awards. Liza was also a finalist for Australian Blues Artist of the year in 2016.  In 2019 Liza's new CD "Mercy Train" reached no 1 on the Aust Blues charts, No 2 on the US Blues Aussie Charts and no 5 on the US Blues charts.
Joining her on the day is the wonderful Leanne Paris on keys/vocals, Mick Malouf on Bass/Double Bass and Vocals and Greg Ohlback on Drums/Percussion and Vocals..
Sun Jan 19th: SOLD OUT! The Black Sorrows Tickets
THE BLACK SORROWS!!
An Aussie blues-rock band known worldwide, get ready to dance the night away to their classic hits, such as NEVER LET ME GO, and CHAINED TO THE WHEEL.  Featuring the amazing Joe Camilleri on Vocals, Electric and Acoustic Guitar and Sax as well as Claude Carranza on Guitar and Vocals, Mark Gray on Bass and Vocals, James Black on Keys and Vocals and Antony Floyd on Drums and Vocals.  The boys will sadly be 'sans' Vicka and Linda however will bring old and new favourites from their past and brand new albums 'Citizen John' in two great sets.
Sun.
Jan 26th
: The fabulous House Band - The NLB
AUSTRALIA DAY -  The Co-Op's sell out brand spanking new house band The NLB are back! Fronted by Narelle Lewis. This band puts Narelle in the spotlight with her soulful R&B gospel blues voice covering some of her favourite artist, from Bill Withers to Beth Hart. Narelle is backed by Andrew Snow on guitar and vocals, Jason Smith on bass guitar, Aiden Danser on the Nord/keys, and Chuck Bradley in the engine room. No doubt tables will fill quickly, so grab yours & join us for a fabulous afternoon of great music!


The Waterfront Café's Co-Op Club presents the finest live music North side of the bridge from 3.30pm every Sunday. Come and immerse yourself in some wonderful music by the waters edge with great friends, your favourite beverage, some wonderful music and a huge range of delicious menu specials. 
1860 Pittwater Rd Church Point – bookings 99796633
www.facebook.com/thecoopclubchurchpoint
www.waterfrontstore.com.au

---
FOR SALE BY OWNER

'GEEPS'
49 Robertson Rd, Scotland Island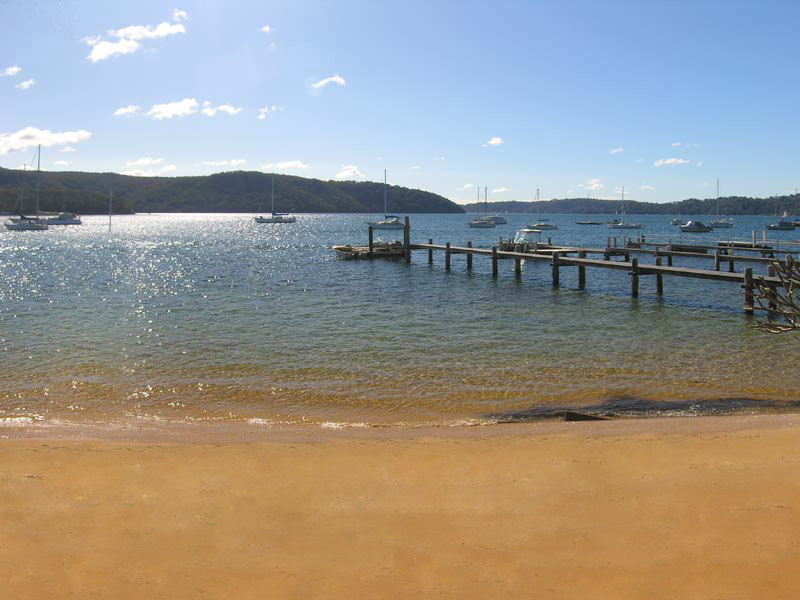 Expressions of Interest closing 21 January 2020 unless sold prior
PRIME NORTH FACING WATERFRONT WITH PRIVATE JETTY AND SANDY BEACH
AMAZING VIEWS
EXCELLENT DEVELOPMENT POTENTIAL
Light filled and private cottage with cosy wood fireplace and open plan lounge/dining/kitchen
Retain as a weekender or easily demolish to build your dream home.

Architectural plans / initial drawings for Alterations and Additions or New Home and Boat Shed and scale model of property are available to view

Instant income - highly sought after as a rental and currently operates as a profitable Air B & B. 

Deep water jetty and pontoon

Mooring directly in front of the property can be included in the sale upon request.

Additional cabin with beautiful views and private balcony that can be used as second bedroom, guest accommodation, studio, or home office.

Level beachfront entertaining area with sandstone sea wall that is the perfect site for a future boatshed or cabana.

Inclinator rail in position that runs from the jetty to the cottage and deck.

Beautiful stone terraces with landscaped gardens and flagstone paths.
 
Large entertaining deck with panoramic views over Pittwater.

This property has sun all year round and collects cool afternoon sea breezes while the position of nearby headlands protect it from strong winds. 

Five minute walk to hall, park, kindy, ferry.

Viewings by appointment only

sophie_hay@hotmail.com
0432611976

 



---
---
The Local Guide
Community Information
Scotland Island Web Site -
www.scotlandisland.org.au
Scotland Island Residents Facebook Page -
click to go to Page
Scotland Island Rural Fire Brigade

- 9999 4404 - http://www.sirfb.org.au
West Pittwater Rural Fire Brigade


http://www.westpittwater.com.au/rural-fire-brigade/WPRFB-contacts - 9997-3795
Offshore Photo Gallery - offshore gallery
Scotland Island Residents Association (SIRA) Membership details - click here for details
West Pittwater Community Association (WPCA)

-
www.westpittwater.com.au
Scotland Island Emergency Non-potable Water
Agreement for Sale of Non-potable Water
SIRA Membership Application
Emergency Non-potable Water Guidelines
General Information, Map & Contacts
http://www.scotlandisland.org.au/community/emergency-water/
Scotland Island & Offshore Children's Services (SIOCS)
Long Day Care at The Island Kindy in Catherine Park
Days of operation: Monday, Tuesday, Wednesday & Thursday
Times: 8.00am - 6.00pm
Before & After School Care
8.00am until walked to school ferry - collected from school ferry until 6.00pm
Vacation Care, Casual Care and Playgroup on Fridays
Hire the Kindy for Birthday Parties
Please call

02 9979 7856

or email SIOCSdirector@gmail.com
Facebook: https://www.facebook.com/theislandkindy
Website: http://scotlandislandkindy.business.site/
Scotland Island Community Hall Bookings

:  Lucy Gregg M: 0424 233 674  or hall@sira.org.au
Pittwater Online News

-  http://www.pittwateronlinenews.com
Tick Fact Sheet
TUG Waitlist   (Tennis User Group) - Application Form
---
Transport
---
Real Estate
---
Services, Clubs & Accommodation
Justice of the Peace

- Bob Mitchell (Mackerel Beach) - 0419 745 628
Justice o

f the Peace

- Tony Hendel - 0419 242723
Justice of the Peace

- Andy Derijk - Elvina Bay 0418 613 890
 

Justice of the Peace  - 

Lexie Le Blang 0418399674 or 99992574
Justice of the Peace  - 

Graham Stenner - 0407216405
J

ustice of the Peace  - 

Carolyn Milani - 0409914699
Pittwater Community Arts Inc.

 - Enquiries Lorrie Morgan 9997 8079  lorriemay@bigpond.com
Peninsula Music Club

- enquiries Janice Tuynman - 99991937 - jt@swift dsl.com.au
Woody Point Yacht Club

-  http://www.wpyc.com.au   commodore@wpyc.com.au
Royal Prince Alfred Yacht Club

-

02 9997 1022

  http://www.rpayc.com.au/  
Royal Motor Yacht Club

- http://www.royalmotor.com.au/ 02 9997 5511
Scotland Island Lodge

- Bed & Breakfast - 02 9979 3301 or  http://www.scotlandislandlodge.com.au 
Pittwater Youth Hostel

 - (02) 9999 5748 (8-11 am and 5-8 pm)
http://www.yha.com.au/hostels/nsw/sydney-surrounds/pittwater/ 
Handy Service

- "No job too small"  - Call Alan 0447 775 541
Electrician Wayne

on Scotland Island 0418 229 277 - offshore community sparky - www.sparky.com.au
David Walsh

-

Graphic Design

-

Custom Made Sculpture

- 0404 239 212 - ital2@optusnet.com.au
Dog Wash & Grooming

- Call Jenni: 0450 444 100 or Email: jena50@hotmail.com
Free Pump Outs for Boats

- Council with RMS installed a pump out at Careel Bay wharf
Top water purification system installed for offshore homes:

  Call Juliette 0418349448
Solicitor - Rachel Carter - Carter O'Neill Legal - 0406 239 946
Island Based Domestic Cleaner

 - Kath - 0405097424 - kathando@yahoo.com
Building Design and Drafting Services

  - Samuela Madej – Murphy ph. 0450331573
email: samuelamadej@gmail.com
Architect / Drafting / 3D sketches / Council submissions services

- Sabrina Phillips, NSW Architect 0426223407  - sabrinaaphillips@gmail.com
Qualified Deep Tissue & Swedish Massage

- Mona 0490701213
Island Based Cleaner - Uses predominantly Organic & Natural Products

- Mona 0490701213
Broken Bay Barges & Sydney Commercial Diving Services

 - Brent Taylor - 0409 269 404 - taylordmarine@gmail.com

J&M Property Care

- Jamie - 0488665 685, Michelle - 0402 942 063 - Brochure - michellesala00@gmail.com

---
Island Classes (Fitness, Dance, Art etc)
Pilates, Meditation and Group Fitness

with Patrice -  0406 483 036 patrice.corrie@gmail.com
Art Classes

- drawing and painting in oils, acrylics and mixed media - Marion 0431 457 431
Dru Yoga

- Tuesday 9.00 to 10.30 Tuesday morning - Phone Katya on 0414 187 916
Outdoor Circuit Training Classes on Scotland Island

-

Lowri Dwyer

- 0450 201 650 - lowri_89@icloud.com - https://www.facebook.com/lowri.dwyer/
Dynamic Yoga

Saturdays from 8.30am - 10.00am.


Drop-In Easy Hatha Yoga

- Monday Evenings 7:00pm - 8:15pm

---
Groups
Green Group For Catherine Park

- Run by SIOCS - Emmie Collins on 0405 330 781
Parents & Kids Groups Playgroup

- Run by SIOCS - email Emma trysemz@tpg.com.au
Catherine Park Bush Care Group

, 2nd Sunday @ 9.30am, Sharon Kinnison @ 9997 6017
Island Thinking Group

-

Roy Baker, 9999 6891, roybaker99@yahoo.com
---
Government Organisations
---
Airlines, Buses and Railways
---
Weather
Pittwater Weather
Scotland Island Tides, Moon phases, Sunrise & Sunset
Local Weather Forecast
Radar weather for Sydney (128k circle)

---
Emergency Contact Numbers   
ALL EMERGENCIES (Police - Fire - Ambulance)
000
Police Assistance Line & Information
13 1444 or 9281 0000
Broken Bay Water Police
9910 7899 or 0412 162 093
Marine Rescue Broken Bay - Weekend
(02) 9999 3554 - (02) 8411 1121
Marine Rescue Broken Bay - VHF Radio channel
VHF Radio Channel: VHF 16
27MHz Radio Channel: 86 or 88
Scotland Island Rural Fire Service 
9999 4404
Elvina Bay Rural Fire Service
9997 3795
Lovett Bay Rural Fire Service
9979 1612
Mackerl Beach Rural Fire Service
9974 1162
Rural Fire Service Headquarters Terrey Hills
9450 3000
NSW Fire Service General Information 9265 2999
9265 2999
Rural Fire Service General information
9450 3000
State Emergency Service, Warringah/Pittwater SES
13 25 00 9486 3399
National Parks & Wildlife Service: 000, general information
9457 9322
Dept of Community Services: general information
9977 6011
Sydney Water
132 090
Energy Australia
131 388, (ah) 131 909

---
---
A complete set of past electronic newsletters since May 2000 can be found and read at https://ymlp.com/archive_gesgjgm.php  or by clicking here or by visiting the Mona Vale Library.


The Island website is at www.scotlandisland.org.au




---
To Contribute
If you would like to contribute to this newsletter it's easy!. Send an e-mail to the editor (editor@scotlandisland.org.au) or by clicking here. Type your contribution (100 words or so would be fine) and assuming it is of general interest to the community, does not include matter of a political nature and is not offensive, it will appear next month.
Subscription Information
To get on and off this newsletter,

click here

or got to:

http://www.scotlandisland.org.au/signup .


To change your address, click the 'modify' link at the bottom of this newsletter or send an email to the

editor@scotlandisland.org.au


---
Follow the PON
---
The Online Local Contacts Guide
Click HERE to load
---
T

he

Editor

and the publisher disclaim responsibility for any injury to persons or property resulting from any ideas, articles or products referred to in this publication. Further, t
he views expressed in this newsletter are not necessarily the views of the Scotland Island Residents Association (SIRA), or the Western Pittwater Community Association (WPCA)
---