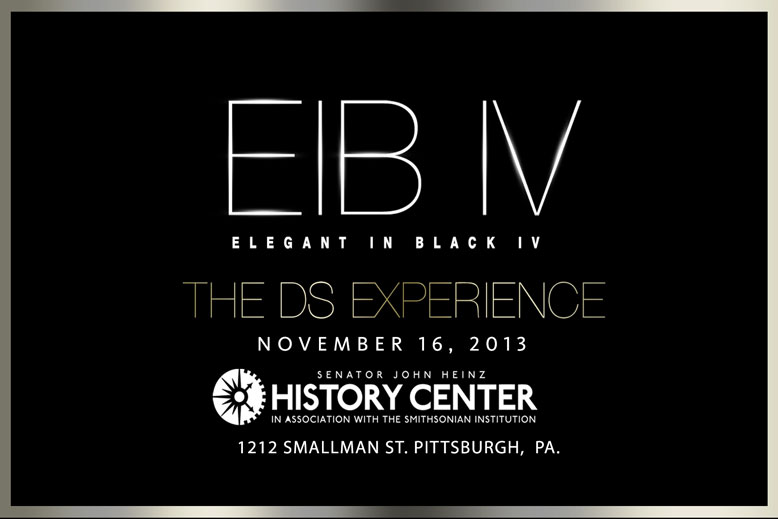 On November 16, 2013, Distinct Sophistication will be hosting our fourth annual Black Tie Charity event called
"Elegant in Black"
at the Senator John Heinz History Center, Downtown Pittsburgh.
In keeping with the DS tradition of partying with a purpose Elegant in Black IV (EIB IV) will be raising awareness for this years non profit beneficiary The Center for Organ Recovery and Education (CORE). Attendees will be able to register with CORE to become an organ donor as well as donate through our Chinese Auction where 100% of the proceeds will go directly to CORE.

$30.00 admission tickets are available and includes: Entry to the Heinz History Center, cash bar, hand crafted desserts and candies, red carpet with paparazzi, Chinese auction, and special guest DJ (Lyvwyr from Orlando FL).
If you have any questions feel free to contact us. We are looking forward to this event and hope that you decide to not just attend, but also consider becoming an organ donor in the near future.
| | |
| --- | --- |
| | |
| | |
Elegant In Black IV
Sponsorship Packages
Silver Sponsorship Package – 500.00
- Logo on official EIB IV T-shirt
- Logo on shared banner
- Logo and business info on press package
- Mentions during the event and intermission
- 2 VIP tickets

Gold Sponsorship Package – 1000.00
- Logo on official EIB IV T-shirt
- Logo on shared banner
- Logo and business info on press package
- Mentions during the event and the intermission
- Weekly Video Clip/Update Sponsorships (mentions)
- 4 VIP tickets

Platinum Sponsorship Package – 2500.00
- Logo on official EIB IV T-Shirt
- Logo on shared banner
- Logo and business info on press package
- Mentions during the event and the intermission
- Weekly Video Clip/Update Sponsorships (shown logo & mention)
- Exclusive banner for 1 of 5 stations
- A table Presentation of merchandise
- Merchandise included in VIP gift bags
- 6 VIP tickets

Product Sponsorships available