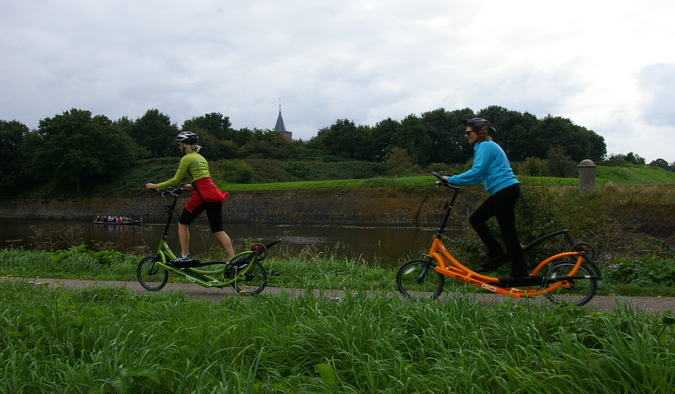 Dear ,


I hereby proudly announce that my Dutch Boot Camp has been nominated for the European Award for Innovative Teaching 2014! Stay tuned, I'll hear more on November 7th, when I have to present this project to the jury....
Meanwhile, you can have a look at the clip to see what my Boot Camp is about, or register for the next Dutch Boot Camp (January 15th - 17th), choice of sports depends on participants' wishes, weather and availability and will be announced later).
This is what Liz said after her first day of the pilot Boot Camp, where we shot bow and arrow, cycled on the ElliptiGo Bike and practiced on the Kangoo Jumps:
Well, what a day....... I have had the best day ever with Syl and Lucia.
This was the first day of the Dutch Boot Camp, combining exercise with learning Dutch.
I've lived here for 5 years but my Dutch needed a lot more help. Syl is the best teacher because you don't feel as though you're learning, until you stop when your brain hurts!! Today my body ached too but in such a fantastic way.
We had coffee by the IJmeer and talked (in Dutch of course) and then went onto some exercise using the most amazing piece of machinery, the ElliptiGo. A step machine and bike combined.
Having worked up an appetite we had a lovely lunch and then did some more exercising (brain and body again!) with bows and arrows and Syl's usual Dutch games thrown in for good measure. Syl makes sure she knows the areas where you need more help and caters her teaching especially to you - perfect.
I was asked to write 2 or 3 sentences but just can't stop. I cannot recommend this course highly enough. If you love the outdoors, learning new exercising techniques AND learning Dutch then sign up NOW.
I also created a Facebook group where you can find sports instructors who are willing to help you with your Dutch while getting back in shape. Inspired sports instructors are welcome to join this group and sign up for the list, so they can help people to improve their Dutch. Sports instructors of other nationalities are also welcome to help with other target languages. You don't have to act as a language teacher, just show what you mean and repeat things when needed.


Met vriendelijke groet,
Sylvia Clements