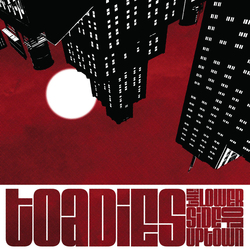 Toadies Hit The Road On Two Month Trek Starting Today
Hurricane Harvey Relief At Merch Tables
The Lower Side Of Uptown Out Friday - Preview On AllMusic.com
September 6th, 2017 Ft. Worth, TX: Toadies will hit the road today, kicking off in Denton, Texas to support their newest album, released this Friday The Lower Side Of Uptown. The two month trek will take them across the states and back and will include the band's own Dia De Los Toadies Festival on September 16th. The 10th installation of the fest will bring the band back to Possum Kingdom Lake at Possum Hollow in Texas. The line-up includes:  

Toadies, 

Local H, 

Riverboat Gamblers, 

The O's, 

Oil Boom, 

Quiet Company, 

Baboon and frontman Vaden Lewis's daughter and her band, 

Ting Tang Tina.
In the wake of the devastation caused by Hurricane Harvey, the band will have donation boxes set up at their merch tables for 

Houston SPCA and Music 

Cares. 

Drummer Mark Reznicek talks about helping their neighbors:  "We're heartbroken by the news and footage of the devastation from

Hurricane Harvey on our fellow Texans. Among the victims of this 

horrific 

natural disaster are the many animals and pets displaced by the 

catastrophic floods. We will be accepting donations on behalf of the 

SPCA." Guitarist Clark Vogeler adds: "This is a good opportunity for 

all 

of us to put aside our differences and help one another out. 

We've seen innumerable pictures and videos of people helping people deal 

with this disaster.  But we¹ve also seen that there are many little 

critters that have been displaced from their homes and need our help as 

well.  So in addition to our contributions to Music Cares, 

we¹ve decided to contribute donations to the Houston SPCA 

and encourage you to help out wherever you see fit."
The Lower Side Of Uptown is a 'return to form' as explained by frontman Vaden Todd Lewis: "This album is 'roots Toadies, full of riffs and time shifts.' The Lower Side Of Uptown is the follow up to 2015's Heretics which saw the band taking a change of pace with a stripped down sound and mostly acoustic. When they were preparing to enter the studio this time around there was no set idea for what was to come but, the process ultimately had the band going back to their signature sound: "I feel that subconsciously we thought that this record would have ended up incorporating some of that quieter sound, but that didn't happen. When we got to the studio with nothing more than a pile of riffs, what came out of the band was really loud and heavy music. So not only is this album louder than Heretics, I think it's louder and heavier than the last couple Toadies albums" guitarist Clark Vogeler said of the sessions, which were recorded Arlyn Studio, a favorite of the legendary Willie Nelson, and The Bubble in Austin.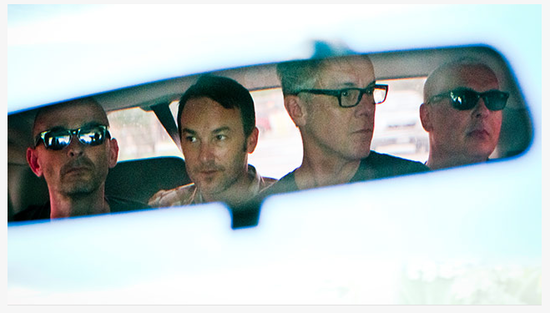 Since reuniting in 2008, after disbanding in 2001 Toadies have released 4 albums, played hundreds of shows and festivals, released 4 signature craft beers, and have been featured in an X-Men comic.In May they partnered with the Texas Rangers to release their own version of 'Take Me To The Ballgame.'  This year, the band continues that busy streak with The Lower Side Of Uptown showcased on a cross-country tour over two months along with Chicago's Local H. on the bill. The band are stoked to tour with an act they got to know at their own Dia De Los Toadies festival says drummer Mark 'Rez' Reznicek: "We're super excited to be going on tour with Local H, a band we've long been fans of. We've wanted to tour with them for years, and it's finally happening!" 
Sept. 6 - Denton, TX                

Rockin Rodeo
Sept. 7 - Oklahoma City           

Diamond Ballroom
Sept. 8 - Kansas City, MO       

KRBZ Beach Ball
Sept. 9 - St. Louis, MO            

Delmar SOLD OUT
Sept. 10 - Cincinnati                

Bogart's
Sept. 12  - Knoxville, TN          

The Concourse
Sept. 13 - Nashville, TN           

Exit In
Sept. 14 - Memphis, TN           

New Daisy
Sept. 16 - Possum Kingdom Lake, TX

Possum Hollow
Sept. 19 - El Paso, TX             

Tricky Falls
Sept. 20 - Tucson, AZ              

Congress
Sept. 21 - Las Vegas, NV        

Beauty Bar
Sept. 22 - Phoenix, AZ            

Crescent
Sept. 23 - Solana Beach, CA   

Belly Up
Sept. 24 - Los Angeles, CA     

Troubadour
Sept. 26 - Anaheim, CA           

House Of Blues
Sept. 27 - Berkeley, CA           

UC Theater
Sept. 29 - Seattle, WA             

The Crocodile SOLD OUT
Sept. 30 - Portland, OR           

Star Theater SOLD OUT
October:
Oct.  1 - Boise, ID                    

Knitting Factory
Oct.  3 - Salt Lake City, UT      

Metro Music Hall
Oct.  4 - Grand Junction, CO  

Mesa Theatre
Oct.  5 - Denver, CO               

Gothic
Oct.  6 - Omaha, NE               

Waiting Room
Oct.  7 - Des Moines, IA         

Wooly's
Oct.  8 - Minneapolis, MN       

1st Ave.
Oct.  10 - Chicago, IL              

Metro
Oct.  11 - Louisville, KY          

Mercury
Oct.  12 - Indianapolis, IN       

The Vogue
Oct.  13 - Detroit, MI               

St. Andrews
Oct.  14 - Cleveland, OH        

Grog Shop
Oct.  15 - Pittsburgh, PA         

Rex
Oct.  17 - Washington DC       

Black Cat
Oct.  18 - New York NY           

Gramercy Theater
Oct.  19 - Philadelphia, PA      

TLA
Oct.  20 - Boston, MA              

Brighton SOLD OUT -Second late show added
Oct.  21 - Asbury Park, NJ      

Stone Pony
Oct.  22 - Norfolk, VA              

Norva
Oct.  24 - Durham, NC            

Motorco
Oct.  25 - Wilmington, NC       

The Muse
Oct.  26 - Atlanta, GA              

Masquerade Hell
Oct.  27 - Orlando, FL             

Plaza Live
Oct.  28 - Ft. Lauderdale         

Culture Room
Oct.  29 - Tampa/St. Pete        

Ritz
Oct.  31 - New Orleans, LA     

Tipitinas
November:
Nov.  4 - Carrolton, TX              Carrollton Festival at the Switchyard
Nov. 10 - Austin, TX                  Stubbs BBQ    

  
Nov. 11 - Corpus Christi, TX

    Brewster St. Icehouse
Dec. 29 - Houston, TX

  House Of Blues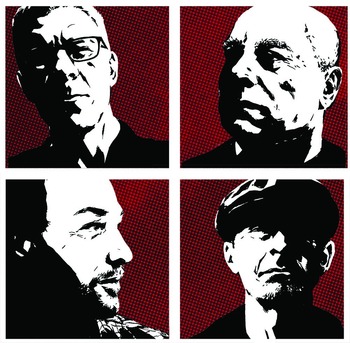 Website: http://thetoadies.com/
                                       Facebook: https://www.facebook.com/ToadiesBand
                                                Twitter: https://twitter.com/TheToadies
For interviews, more information & music - Erika Tooker - Me@ErikaTooker.com