---
Clean Up Oz Day Report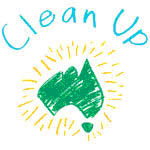 Once again Clean Up Oz Day was a resounding success!

A big thankyou to all those who participated and to the Wharf Co-ordinators, Greg Roberts, Bill Gye, Anthony Tremain, Michael Bookey and Greg Taylor, as well as to John Travers who rode around on his bicycle to check if anything was needed by the troups.

Thanks also to Emmie and the Pat Hilda Reserve Bushcare Group who have been painstakingly clearing out the Reserve and moved material to Cargo Wharf.

Elizabeth Park yielded a couple of secrets deep inside the bush, brought out by John Travers and Dennis Carter, assisted by Scott Bandfield and loaded into the Community Vehicle.

A special thank you my Community Vehicle team who, at different times, patiently traveled with me and loaded the vehicle 6 times!! Perri Grobler, John Travers, Jonathon Swain, Linda Prisk, Graeme Dickson, Sue Dickson, Skip Miller & Betsi Beem.

Last, but not least, grateful thanks to Toby and the crew on the "Laurel Mae" who are continually astounded at what I find to bring down to Cargo Wharf!! They spent the whole day on Pittwater collecting material from as far away as Mackeral Beach and making many trips back and forth to Cargo Wharf on the mainland.

Pittwater Council should also be acknowledged for their participation in Clean Up Australia Day each year!

See you next year folks!!


---
In regards to 'Junk or Treasure'



Dear editor/community,

After reading Kris Macken's piece about being criticised for leaving 'junk' at Bell Wharf, I would like to add my own comment.

I am a great believer in the freeform 'Freecycle' system we have going on the island. I have personally given away books and clothes and household objects over the years, and have picked up some wonderful things in return. (Whoever left the Breville coffee maker at Tennis, I thank you profusely!)

I have noticed that sometimes good stuff gets thrown in the bin, but I didn't realise there was such vocal and active opposition to the practice. But consider this, we are running out of landfill space, and every new thing we buy has a heavy carbon footprint and environmental impact. There is an internet group called 'Freecycle' (http://groups.freecycle.org/FreecycleSydneyNW) where people list what they have to give away and other people volunteer to take it. Like our island 'Wharf Boutiques' this is good for the environment. It keeps good second hand gear out of landfill, reduces the need for new goods to be made and bought, and saves people money.

If we need to organise the giveaway system better, then maybe we should, but I really think it's a great practice, for environmental and social reasons. Should we just put a big brightly coloured container there at the wharves, labeled 'Lucky Dip'?

Jessica McGowan


---
IWD Breakfast




From Heather Macorison


Many thanks indeed to those who supported the International Womens Day Breakfast and the Blue Dragon Foundation.

Roz has just received a short video about the Foundations Hoi An Children's Home house. I do hope you will follow the link which will show you lovely pictures of the children and the house in action.

Hopefully you may gave further support to the foundation in the future.

http://vimeo.com/9691416


---
Fundraiser helps National Champion to Compete Overseas


With the assistance of a generous contribution from the heroes of the Woody Point Yacht Club, a slew of Western foreshore residents raised nearly $1800 to help 14-year-old Chris Andersen, the national title holder in the Laser 4.7 class, compete in the upcoming International titles in Thailand.

Chris, one of Towlers Bay resident Marty Andersen's three sons, is an outstanding competitor and will be racing against some 200 other competitors at the event which is held in late March-early April.

Some of the money will be spent on a new sail, which he would not otherwise have been able to afford.
The fundraiser was part of a Bay Dinner held on Friday, March 12, a bring-a-plate-and-a-bottle function which Towlers residents have been enjoying through the cooler months for the past four or five years.

Chris would like to thank everyone who contributed and helped make the night such a great success.
May he follow in the winning wake of such locally-raised legends as Col Beashel, and James and Katie Spithill.


---
Scotland Island Presents
"ISLAND DUHS"
March 26,27, 28
Scotland Island Community Hall at 7.30pm
Tickets $15.00 available from PMC HILL Real Estate Church Point
artwork by Nettie Lodge
---
Kindy Bar @ Island Duhs



The Kindy Bar will be in full operation for the upcoming weekend of comedy 'Island Duhs' on 26th, 27th and 28th March.

There will be a bar on all three nights and we are excited to announce an early

opening time of 7.00 pm

. So come early and have a drink and a chat before the show begins.

There will be a range of beautiful Sacred Hill wines on sale as well as the usual beer, soft drinks and snacks. There will be free bar snacks for all early patrons, so we'll see you there!

As you know the kindy runs to a really tight budget so all money raised will go towards buying the children some much needed equipment. This time we hope to buy some scooters, some equipment to help launch the new school readiness program and some fishing nets just for fun!

Thank you in advance for all your support.


---







Local Council Notices




SENIORS WEEK AT MONA VALE LIBRARY


Have you ever wanted to write your memoir? To celebrate Seniors Week, Mona Vale Library will be running a memoir writing workshop.

The workshop will be held on Saturday 27 March from 10.30am to 12.30pm at Mona Vale Library. Attendees will learn various techniques to capture their life stories on paper.

The workshop will be hosted by writing expert Robin McWilliams who will give tips on how to successfully write an autobiography.

"Ms McWilliams has been offering 'Writing Your Life' courses over the last couple of years and been teaching creative writing for almost 20 years," said Library Manager Cathy Howie.

The cost for the memoir writing workshop is $5 per person, with tea and coffee provided.

As part of Seniors Week the library will also be offering an enjoyable walk through Mona Vale visiting some of its historical sites.

The 1 kilometre walk will be guided by a local studies librarian and will be taken at an easy pace. The walk starts at 10am on Wednesday 24 March from the Rock Lily Restaurant.

Ms Howie said that the Rock Lily restaurant itself had an interesting past, firstly operating as a hotel from 1886.

"It was also used in the 19th century as a coaching house for the changing of horses between routes from Manly to Newport and Barrenjoey," she said.

Bookings are essential for both activities at the library on 9970 1600.

The activities form part of a packed program for Seniors Week supported by Pittwater Council.

The Pittwater Seniors Week program is available free-of-charge from Council's customer service centres, libraries and community centres. The program can also be downloaded at www.pittwater.nsw.gov.au

For details of events across NSW visit www.nswseniorsweek.com.au For more information about Seniors Week in Pittwater call 9970 1168.

Media contact: Sharelle Ravenscroft , Pittwater Council Ph: 9970 1609


---
Talk at the Coastal Environment Centre

Creating Inspiration:
Shaping sustainable behaviour through the arts


Keynote speaker David Curtis

David Curtis, ecologist and environmental sociologist, will present a talk on how the arts can influence sustainable behaviour.

Participants will have the opportunity to discuss some of their own ideas for community art projects in Pittwater based around sustainability.

The presentation will also include a part-screening of Plague and the Moonflower, a production by the
Armidale community.




Location: Coastal Environment Centre, Lake Park Rd, Nth Narrabeen




Date: Thursday 29 April 2010




Time: 6:30pm-8:30pm




Cost:$10 per person

Click image to load flyer



---
You Asked..




Share Office Space at Anchorage Marina


I'm looking for someone to share office space with me.
I have a 49m2 at the Anchorage Marina (where the Green Pearl is)
Space is available from 12th April.

Please call Andreas Smetana if you're interested in having a look.
9997 8955




Missing orange 'witches hat'


An orange plastic cone 'witches hat' disappeared from the

Go Get car share spo

t in the car park this week. If anyone sees it lurking in the bushes or wherever, it would be great if you could return it to the garden in front of the car share spot east of the toilet block, please.

Car sharing helps reduce the car parking hassles for everyone, by getting lots of people to share the one car in the one dedicated spot, instead of all having their own cars taking up lots of spaces. Please help by resisting the temptation to pinch the Go Get spot.


---
For Sale
If you have something for sale that you think locals would like - let us know and we will put an entry in the PON at the beginning of each month...
For Sale Dulcies Scooter

Beautiful Red Electric Meteor Hill climber
Designed to carry a load up to 200kgs.
4 years old only
No registration needed.
hardly used, regularly serviced
Spare parts and manual included.
On island demos available call Jonothan Swain
0419232913
ONLY $2500 ono (was $5500 new)




Yard/Moving Sale – SATURDAY 20 MARCH


Katy, Justin and family are moving overseas later in April…so now is your chance to grab furniture, kitchen stuff, books, toys and many other bargains.

Items for sales include…large TV/entertainment unit with storage for CDs/DVDs (FREE); three piece sofa (FREE); wooden toy chest with wheels; shelving units; 5 drawer dresser; 2 adult Raleigh bikes, bedside tables and matching drawer units; Microwave; large BBQ; Denon HiFi & speakers and lots, lots more.

Grab books, kitchen stuff (including kettle, food processor), outdoor sit-in toys (cars etc), baby gate, recipe books, heater, fan. Bargains galore.

Contact Katy and Justin on 9997 1287 if you want to take a look/buy any furniture prior to the 20th. Our house is the third house west from Bells Wharf.


---
The Local Guide - Community Information


Click HERE to load
---