Advertise in this newsletter and reach thousands!

List your property or activity!
Add your Event to our Calendar
From your "Colorado's Best Deals" Email Announcements subscription.
December in fourteener country is absolutely beautiful. The surrounding mountains are capped with a fresh layer of snow, and the cities are blooming with joyful Holiday spirit. The area has a few local ski resorts where you can take the whole family, and spend the day making memories on the trails. You can also get your holiday shopping in by visiting the quaint downtown shops of the area. Also, don't forget to check out all of the Santa visits and other holiday events happening this month.
Here are a few things you don't want to miss in December:
Salida Christmas Parade of Lights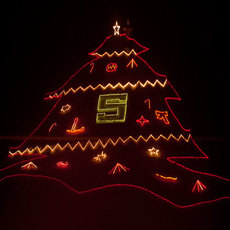 Christmas Parade of Lights begins at dark, followed by the transformation of Riverside Park into Holiday Park, and Tenderfoot Hill ("S" Mountain) into Christmas Mountain.
Downtown shops and galleries stay open extended hours, and local restaurants and bars are bustling with activity.
Festivities continue with a community open house at the SteamPlant Event Center with free cocoa, cookies and entertainment.

When: November 25th  
Celebrate the beginning of the Christmas Season with the Chocolate Walk, Santa, The Equine Parade, carolers, Parade of Lights, Festival of Trees, shopping at local stores and our famous Christmas Card Lane. This annual event draws people from across the county and there are family friendly events spread out during the entire day. 
Where: Downtown Buena Vista
Torchlight Parade & Fireworks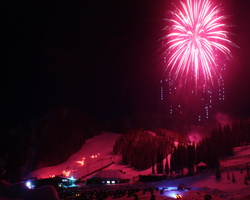 The Torchlite Parade at Monarch Mountain is a sight not to be missed. This annual event starts at dark. Ski all day, have a bite to eat, then step outside for the show. About 150 skiers and snowboarders come zig-zagging down the mountain carrying torches. When they arrive at the base the Fireworks display will start. Enjoy games inside and on the snow; festivities from 4 p.m. to dark, parade starts at dusk.
When: December 31st  
Where: Monarch Mountain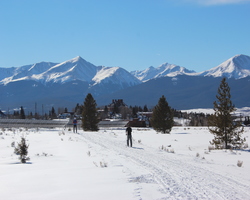 The Mineral Belt Trail is a 12-mile all-season trail that loops around the city of Leadville. It travels through aspen groves, forest and offers grand views of Leadville, Mt. Massive and the surrounding mountains. Dedicated in 2000, it travels through parts of the Leadville historic mining district, including California Gulch, the site of a former bustling mining area.
Many signs on the trail provide information about Leadville's settlement era, its mining history and other interesting facts.
This trail is closed to motorized vehicles. In the winter, snow is groomed to serve as a recreation area for cross-country skiing, snowshoeing, and even fat tire biking. It has an average of a 3% grade and throughout is a 12-foot-wide paved path with an adjacent 3-foot resting and "recovery zone".
Here in Fourteener Country, we are lucky to have two local ski resorts, where you can skip the lines, and enjoy a wide variety of trails along with great views of the Colorado Rockies.
Ski Cooper
is located in Leadville and is known as the place to be, if you're looking for authentic Colorado skiing. 
Monarch Mountain
is located in Salida,  and has 800 skiiable acres for the you to enjoy.  
Both of these resorts pride themselves on the fact that they let mother nature make all of the snow for them. Because of the natural snow fall, their opening dates range every year. This year Cooper is expecting to open December 10th, and Monarch in late November. Be sure to keep an eye on the weather and prepare yourself for a hassle free trip to either one of these Ski Resorts.

For more information on local skiing, click here! 

Check out our 
Facebook page
 for the latest special offers, amazing pictures, and upcoming event information.