Why not bookmark this AMPS Newsletter and read at your leisure!

AMPS Newsletter December 2015
This month - Sound team win RTS award, AMPS visit to anechoic chamber, retired members lunch, multitrack recording with single mic device, Electrosluch, 'Ear, Ear' video link, Tangerine - shot on two iPhones, Palio - 600 year old horse race, AMPS members' benefit, new members…
Header image - Courtesy of Graham Hartstone, mixing Goldeneye.
Bristol Social - last Wednesday each month

Beerd, 157-159 St Michaels Hill, Cotham, Bristol BS2 8DB, 7.00pm on the last Wednesday of each month is the place to meet up with other AMPS members and like-minded people! Apparently, great craft beers and amazing pizzas are available!
London Social - first Tuesday each month

Make sure that you attend the AMPS Social at the De Lane Lea bar in Dean Street on the first Tuesday of every month - be social with your AMPS members! The first Tuesday in every month - 6.30pm.
… not in Bristol or London?
Andrew Wilson reports, "For those members a little further North we have had offers of help to set up socials in the Manchester and Leeds areas - hoping to get at least one of these up and running for next month so please stay tuned. There's also signs of life in Cardiff. If anyone elsewhere in the country would like to get something going in their region please let me know and I'll get you started. I'll do the admin and emails, we just need someone local to host!"
Sound Team win 'RTS Award for Fortitude
L-R, standing - Blair Jollands ( Sound Designer), Chris Roberts (Supervising Sound Editor), Phil Barnes (Dialogue Editor), Howard Bargroff (Rerecording Mixer), Rudi Buckle ( Production Sound Mixer), Kneeling - Joe Fletcher (Sound Effects Editor)
AMPS member Chris Roberts recently reported that he and his colleagues won in the 'Sound-Drama' category for their work on Sky Atlantic's Fortitude at the 2014/15 Royal Television Society Craft and Design Awards.
 
"The judges felt [Fortitude] quite simply achieved 'movie sound' on television," said the RTS. "The soundscape created a world that the viewer utterly believed in but never felt as if it took over from the drama in any way. It was well judged to enhance the scale and impact of the drama itself."
 
Chris Roberts added, "My employer's press release identifies the culprits in post production, but I would also like to mention the great foley provided by Universal Sound, music editors Lawrence Love Greed and Joe Rubel and the amazing work from Production Sound Mixer Rudi Buckle and his crew."
AMPS Anechoic Chamber Lab Visit at London South Bank University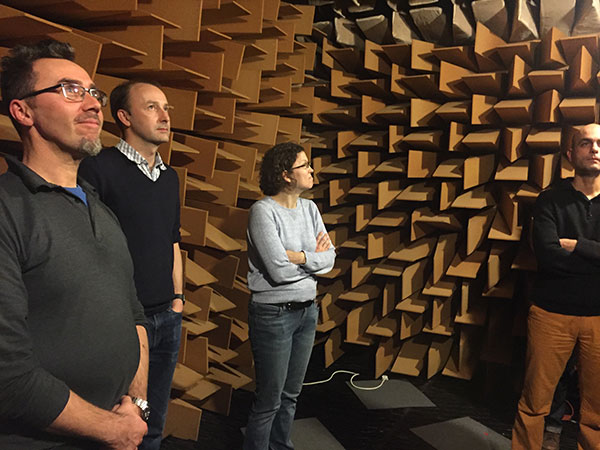 Following on from discussion on Connect with regard to anechoic chambers and their effects, Jon Olive organised a visit to South Bank University. Jon has recently completed an Acoustics Diploma.
This was a wonderful opportunity to experience the two basic environments for conducting laboratory based acoustic research; the anechoic chamber and the reverberant chamber. Members also learnt more about the research activity currently being carried out at the lab which includes such varied topics as the acoustics in schools and their effect on pupils and teachers, voice alarms and public address systems in underground stations, and controlling the noise exposure of classical musicians. More information on the lab can be found at
www.lsbu.ac.uk/case-studies/acoustics-anechoic-reverberation-chamber
.
Dr Stephen Dance, Course Director for MSc Environmental and Architectural Acoustics tested our hearing age as well as explaining more about their work. One of the demonstrations Jon Olive carried out was showing us the very different sound bursting a balloon can make in the dead anechoic chamber compared to the reverberant chamber.
Many thanks to Jon for arranging this visit.
Retired AMPS Members Christmas Lunch

 

Ian Munro reports, "The Black Horse at Fulmer was a great choice of venue; good food, good service, excellent company with Christmas cheer all round! Many thanks to Shelly for all her hard work in organising the event."

 

Along with Ian, retired members enjoying lunch were Clive Derbyshire, Richard Daniel, John Rudling, Colin Wood, Ken Somerville and Graham Hartstone.
Multitrack Audio Recording in Studio-Quality with a Single Microphone Device.
The Polish firm Zylia has created a prototype for a ball-shaped device very likely to revolutionise the music world. Called AudioImmersion, it simultaneously records live sounds from various sources on separate tracks with a single piece of equipment.
The website says, "AudioImmersion is a system capable of 360 degrees live audio recording. The system consists of a microphone array and a cloud-based audio processing service. Sound recorded by this system can be represented as a group of independent audio sources (guitar, violin, trumpet, vocal, etc.) with associated information about their position in space. AudioImmersion is suitable for musicians, bands, recording studios and all music enthusiasts who like to record and process audio."
You Can't See It, but You Can Hear It with

Electrosluch!
AMPS members Anna Sulley and Enos Desjardins attended an 'Elektrosluch Workshop' at Cafe Otto in Dalston in which they built a electromagnetic listening device 'Elektrosluch' designed by Jonáš Gruska.
Elektrosluch is an open-source device for electromagnetic listening. It allows one to discover sonic worlds of electromagnetic fields that are invisible, but an ever present part of our environment.
After the workshop we plugged our headphones in the new miniaturised version of Elektrosluch and explored our surroundings.
Ear Ear - Watch the Video of the Event

You may remember last month I reported on an IPS hosted event called 'Ear, Ear - Hearing Protection 2015'. The video is now available to view… and listen to, well worth 90 mins of your time.
Call to Action - Content for Next Issue of The Journal

 

 

As the saying goes, "Everyone has a book inside them…" Well now's your chance to prove the point! And I don't even want a book, I only need 500 words… plus photographs. Of course, if you want to write more, then please do.

 

Been working on an interesting project recently? Encounter some highs, some lows? Put it into words, get it off your chest, share it with your AMPS members.

 

I would be very happy to read your thoughts, so please email to me, Tony Andrews at

newsletter@amps.net

 
Tangerine… the Film Shot Entirely on iPhones. Apart from the Sound that is!

AMPS member Peregrine Andrews recently brought Tangerine to our attention; the indie film shot entirely on two iPhone 5S.
Sound mixer Irin Strauss commented, "Whilst this allowed us to quickly shoot in certain locations almost undetected, my choice of audio gear was of utmost importance as, also being the boom operator, I had the most to carry. The
Sound Devices
(AMPS Sustaining Member) 664 mobile mixer and recorder was invaluable for this project as it it was one less thing I had to carry!"
Tangerine is a comedy-drama about a woman who searches throughout Hollywood for the pimp who broke her heart and the girl with whom he cheated and reportedly 'blew everyone away' at this year's Sundance Festival.
Palio - the Film of the 600 Year Old Horse Race

AMPS member Ivan Sharrock recently reported, " I was privileged to attend a screening of Palio, an excellent documentary of Siena's historic 600 year old horse race"
"This was followed with a Q & A with its Director, Siena-born Cosima Spender.
Cosima, without any prompting, praised the work of Giancarlo Delapina (Prod Sound Mixer), Jennie Evans (Dialogue Editor) and the Pinewood crew for what is in my opinion, one of the best sound tracks I have heard this year. The sound track not only complemented the visual images but was a major component for bringing the excitement and drama to the front of the screen. Well done everybody."
The Palio is only a 90-second horse race, but the plotting and scheming last all year. There are two races, one in July and one in August, and 10 of the 17 districts (contrade) are allocated a horse in a draw that takes place in front of the whole city in the main square, Piazza del Campo.
nOb - One Knob Controls It All

Just in case you hadn't come across this device - still in Kickstarter mode, but pretty cool.
AMPS Member Benefit from Volkswagen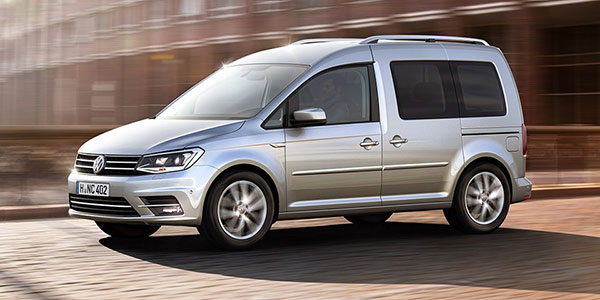 AMPS is pleased to announce the return of this Benefit for members. The new arrangement has been made with VW Commercial Vehicles to secure a valuable discount on the basic new retail value of any of its vehicles, such as the Caddy 4, Transporter 6 and all new Crafter model ranges. This scheme is available from 7 October 2015 until 7 October 2018 when it will be subject to renewal.
This gives all members a level of additional discount supported by Volkswagen. The total discount is made up from the VW discount of between 11% and 17% depending on model group, to which is added any further discount negotiated by the purchaser with their chosen VW Van Centre.
 
The scheme provides a substantial saving – for example of up to 20% in total for a Transporter - on the purchase of a new vehicle, which must be registered to the member. The discount is not transferable and cannot be used by friends, family or others who are not members.
N.B. The scheme is effective at all VW Van Centres nationally and applies only to the purchase of a new commercial vehicle. It does not apply to used vehicles and promotional offers.
Full details can be obtained by emailing -
admin@amps.net
- Please put 'VW Purchase Scheme' in the subject line.
AMPS wishes to thank Cordwallis Heathrow VW Van Centre for their support in facilitating this arrangement and to whom you are encouraged to direct your enquiries when considering any purchase. Cordwallis has VW Van Centres at Heathrow, Maidenhead and Oxford -
www.cordwallis.com
New AMPS Member 1 - Claire Stevens

 

Hi, I'm Claire Stevens and I'm currently completing my final year of Film at Falmouth University, where I'm specialising in Sound.

Previously producing Life of the Midland & South Western Junction Railway (2012), a documentary featuring Tony Robinson, I was a Foley artist for short film Synthetica (System Error Studios, 2015), Winner of Best Cinematography, Reading Fringe; Official Selection at the Skinny Short Film Festival, Fingal Film Festival and Thurrock International Film Festival. I have recently been an Assistant Sound Editor on Brown Willy, a feature film currently in post-production in Cornwall and I'm currently working with Script 2 Screen Media.

 
My final year projects include a short musical film about a town where everyone sings everything they say and a period drama based on Alfred Noyes' The Highwayman.
New AMPS Member 2 - Cei Frampton

 

My name is Cei Frampton, pronounced Kai! my unusual spelling stumps everyone… I am a recent graduate from The Arts University Bournemouth studying film production and have been specialised in sound throughout university under the guider-ship of Alan Cridford.

 

I have always had a keen ear for everything sound related and I think my connection emotionally with film and TV has always been through my ears just as much as my eyes… Now working freelance as a sound trainee/2nd assistant sound, my push towards location sound was aided by a short period where i worked alongside Chris Munro on The Huntsman this summer.
I am extremely happy to be here amongst such esteemed names and sound enthusiasts! It really is a honour!
Did you know that the Directory pages on the AMPS website are some of the most frequently visited?

 

Make sure that your profile is up to date - you never know where your next work enquiry will come from!

 

 
Can we help with your Professional Development?
We're keen to hear from you with ideas for seminars and training sessions which would contribute towards Continuing Professional Development.
We're very aware that keeping up with techniques and updates can be a full time job in itself, so if there's any way that AMPS can contribute towards maintaining and developing your industry knowledge and skills, please get in touch.
AMPS Address & Phone Number
27 Old Gloucester Street
London
WC1N 3AX
Tel: +44 (0)1753 669111
AMPS, 27 Old Gloucester Street, London, WC1N 3AX
www.amps.net / +44 (0)1753 669111