---
Contents
---

---

---
Church Point Parking Permits Due Sept 1, 2012



Pittwater Council has advised that Church Point Parking Permits are due for renewal on September 1st, 2012.



Here is the link to view information about the Church Point Plan of Management and to download the 2012-2013 Church Point Parking Permit Application Form:

parking permits



The Church Point Parking Permit is currently being issued at the 2011 annual fee of $283.00 ex GST.



Proof of Residency must be provided when purchasing the parking permit or 10% GST will apply (increasing the parking permit price to $311.30).

The fee may be revised annually through Council's Fees and Charges as adopted in Council's Delivery Plan.

Should local residents elect not to purchase an annual parking permit, parking tickets will need to be purchased through the pay and display parking machines located through the precinct.

The short term parking area adjacent to the Pasadena and general store will not require permits.  Parking permits will be required throughout the precinct which includes Church Point Reserve through to McCarrs Creek Road, above Holmeport Marina.

Replacement permits will incur a fee of $20 and require a copy of the initial receipt and original permit number.

Download the Application Form directly HERE



---
SCOTLAND ISLAND RURAL FIRE BRIGADE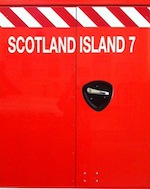 Your Brigade -

Fire Brigade Matters



Prepare - Act - Survive

This list will help you make important decisions before a fire arrives, we will have some advance warning as the fire will most probably originate in the National Park opposite (Kuringai Chase).

We will be threatened by an ember attack when burning twigs and leaves carried by the wind land in or near your house.

check that your property is well prepared, a well prepared house is more likely to survive a bushfire
look for places where embers could start spot fires, on the roof, under the floor. and around windows and doors
clean leaves from the roof, gutters and downpipes
cut back overhanging trees and shrubs
check the condition of wall cladding and fill any gaps
move and store any flammable items away from the house
ensure you have a hose long enough to reach all parts of the house
keep an area around the house clear to allow access to hoses should this be necessary
make sure the pressure valves on LPG cylinders face outwards (so flame is not directed towards the house
store wood piles away from the house and keep covered
maintain adequate levels of house and contents insurance
We strongly recommend the RFS website for information  regarding preparation and survival of a bushfire. www.rfs.nsw.gov.au/ or just google NSW RFS.

The final Winter Season Fire Shed Dinner will be on Saturday 8th Sept and should be a fitting finale to the great monthly evenings enjoyed over the Winter months. Thanks in advance to all those people who have made them possible and so enjoyable.

We need to increase active membership of the brigade, if you feel you can make the commitment please contact me or any member of the brigade.

All are welcome to our training sessions on the first Sunday of each month.

David Wardman   SIRFB
9999 5944
david@wardman.com.au



---
Come and join us in an informal farewell to Trudi to celebrate her life and remember her long and active contribution to our community.
Sunday 30th September 4-6 pm in the hall.
Please bring a plate and BYO drinks.   
We would like to collate a few photos of Trudi to distribute electronically.
Please can you email any pictures you would like to contribute to Deryn 
vokins@hotmail.com
Deryn and Marion

---
The Western Shores Grameen Group

The Western Shores Grameen Group is raising money to assist women in Kenya set up small and sustainable businesses to help alleviate their poverty. There will be a morning tea and lunch on a sunny Elvina Bay deck, and enjoy a guided nature and wildflower walk in our beautiful National Park.
 
Many thanks,  Michelle McDonald
0416039335
99993550



Wildflower Bushwalk




ELVINA BAY TRACK





SATURDAY 15 SEPTEMER



The Western Shores Grameen Group invites to you join their residentexperts on a stroll through the wildflowers on the western slopes of Ku-Ring-Gai Chase.

0900
Church Point Ferry Wharf: welcome and ferry ride to Elvina Bay

1015
Elvina Bay: Morning tea on a verandah overlooking the water

1045
Bush Walk: with Dr Alan Yuille, Dr Alan Hill and Lisa Atkins

1245
Elvina Bay: Sit down to a lunch and enjoy the company

1355
Elvina Bay Wharf: Catch the ferry back to Church Point
Church Point arrival time is 1410.

The all-inclusive cost for ferry ride, morning tea, walk and lunch is $50.

Bookings are essential as numbers are limited. Please advise us of your interest by September 7. All proceeds will go to our first Grameen micro- banking project assisting a Kenyan woman start up a small business to support her family.



BOOKINGS:


Judy James. T: 99991617 M: 0450 299 964
E: judy.james@hotmail.com

springtime in Ku-Ring-Gai Chase a uniquely Pittwater experience



---

Local Council Notices

A NIGHT TO REMEMBER!



The Aboriginal Support Group - Manly, Warringah and Pittwater are inviting residents to sample traditional food and learn about the customs of the first people of Australia.

'

A night to remember' will take place on Monday 10 September from 7.30pm at Mona Vale Memorial Hall.



Event coordinator Neil Evers said the event will combine free entertainment, tasty food and a variety of interesting speakers.

"The evening has a special dance performance by the girls from Biala, along with talks from speakers knowledgeable about bush tucker, traditional foods and the first people's customs.

"We will hear from Geoff Lambert from the North Head Sanctuary Foundation sharing the 'North Head Story'. He will explain how Car-rang-gel is a place of outstanding beauty and of great significance to the first people," said Mr Evers.

"Jess Relton will talk about traditional food including bush tucker, homemade jams and cheese using native herbs for flavour. He will also discuss after-dark Cabbage Tree Bay tours which look at local indigenous sites in Manly.

"Discovery Ranger, Les McLeod will explain more about how the Guringai people lived in the local area. We will also have Laurie Bimson who will be cooking up marinated kangaroo, emu sausages and traditional jonny cakes for everyone to try," added Mr Evers.

Bookings are not required for this event. For further enquiries call Neil Evers on 9999 3045.


---



SCIENCE CLUB FOR JUNIOR RESIDENTS



Mona Vale Library is offering a special four week science club for Pittwater pre-schoolers in October.



Known as the 'Little Bang Discovery Club,' the science club begins on Tuesday 9 October.



The course has been designed by the Children's Discovery Museum and is suitable for children aged 3 to 5 years and their accompanying parent or caregiver.

Library Manager Cathy Howie said the course would encourage ideas and skills among young children, inspiring them to get interested in the scientific principles of exploration and discovery.

Ms Howie said the course was designed for experiential learning, including at home.

"The intention is for children to experience each concept, rather than simply talk about it," she said.

The course will run each Tuesday from 9 October to 30 October from 1.30pm to 2.30pm, culminating in a science fair and graduation at the last session when each child will receive a certificate.

Each child will also receive a 'Discovery Club' passbook which is stamped after each session.

The four sessions include:

•    Collecting and classifying – discover how to match objects from around the home including those from a loaned 'discovery box'.
•    Measuring and recording – learn all about weighing and measuring, one of the most important skills for early discoverers
•    Experimenting –design your own experiment to find the answers
•    Science fair and graduation – explore the exciting table-top science toys and participate in a graduation ceremony.

The cost of the four week course is $20. Bookings are essential on 9970 1600, with payment required at the time of booking.

For more information call Rebeccah on 9970 1622. Mona Vale Library is located at 1 Park Street, Mona Vale.

---



SEMINARS FOR TECH SAVVY SENIORS



Avalon Computer Pals will host a series of low-cost seminars on a range of portable electronic devices throughout September at Newport Community Centre.

The two-hour courses will cover topics such as Android tablets, slates, e-readers, smart phones, basic computing and a three-week introduction to iPads.

Course coordinator Paul Purvis from Avalon Computer Pals said the seminars were perfect for older residents to get acquainted with the range of technology available.

"For example our session on Android tablets, slates and E-readers on Tuesday 4 September shows you how to download and use apps," he said.

"Also on that day will be the first in a three-part series called Introduction to iPads. This will cover the models and sizes available, how to set up your device using control buttons, as well as deciding on the best model for your needs."

Mr Purvis said they were also holding the ever-popular beginner's introduction to computing on Tuesday 11 September.

"Our trainers provide information on hardware attachments, software and give you an introduction to emailing and Googling.

"And a must for anyone who wants to keep up to date with phone technology is the Smartphone /Cheap Phone Calls workshop on Tuesday 18 September.  You'll learn how to install apps, change your ring tone and customise your phone, as well as choosing the right phone plan to minimise costs," added Mr Purvis.

The workshops are open to participants over the age of 50 and are at the Newport Community Centre, 11-13 The Boulevarde, Newport.

Courses run on Tuesdays throughout term three between 1.30pm and 3.30pm.  The cost is generally $10 per person per session.

For a complete list of course times and locations and more information about Avalon Computer Pals visit

www.avpals.com

 



Bookings for seminars are essential due to limited spaces; call 8064 3574. 





---
Community Profile of Scotland Island
by Robyn Iredale

Scotland Island resident Robyn Iredale has put together a very interesting and comprehensive summary of Scotland Island statistics based on the last Australian Bureau of Statistics (ABS) census in August 2011.

The Community Profile of Scotland Island covers the following;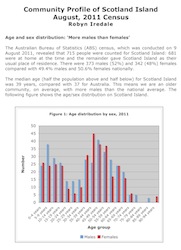 Age and sex distribution: 'More males than females'
Country of Birth: 'More overseas born, especially in the UK'
Marital status: 'More married, separated and divorced'
Weekly average income: 'Higher than the national average'
Volunteer work: 'More common among women'
Households: 'Families comprise 80% and women do more of the
unpaid domestic work'
Dwellings
Motor vehicles

The document is too large to reproduce in the PON, so a link is available here as a PDF version or just click the image to load the PDF file...
 

The editor would like to thank Robyn for the time and trouble she has taken to produce this comprehensive snapshot of the Island Community.



---

HELP EXPAND OUR LIBRARY COLLECTION!

Mona Vale Library is inviting residents to choose a book for their collection on Monday 24 September.

Library Manager Cathy Howie said the 'My Choice' event was part of the library's 40th birthday celebrations and would give members a chance to choose from a selection of over 200 new books.

Ms Howie said it was a great opportunity for library users to choose a favourite read that's not currently on the library shelves.

"There will be a wide variety of books on offer including fiction and non fiction as well as many new releases. All you have to do is choose a book from the 'My Choice' display located in the Pelican Room and take it to the registration desk, with your library card."


 

Click image to load flyer


"Staff will check that the book is not already in our collection or currently on order. You may also reserve the book at that time should you so wish," said Ms Howie.

The 'My Choice' event is on Monday 24 September from 10am to 5pm, with a display of the chosen books on Saturday 6 and Sunday 7 October. The books will be released for borrowing from Monday 29 October, with all reservations free-of-charge.

For more information call 9970 1600. Mona Vale Library is located at 1 Park Street, Mona Vale.



---
Presentation and readings Collected Poems (1950-2011)




Paolo Totaro AM



My new book Collected Poems (1950-2011) is now out, published by Padana Press.
It comprises about 100 poems in both English and Italian covering events and ideas over these last sixty years.

It would mean a lot to me if you came to any of the forthcoming presentations:



Balmain Library, 26 September

(see flyer)
370 Darling St, Balmain 2041 RVSP (02) 9367 9211
1800 for 1830hrs.



Italian Cultural Institute, 4 October


125 York St, Sydney 2000 RVSP (02) 9261 1780
1800 for 1830hrs.



Mona Vale Library, 18 October


1 Park St, Mona Vale 2103 RVSP 9970 1600
1800 for 1830hrs.


 

Click image to load flyer


It will be simple and convivial, with friends like authors Anna Fienberg and John Bryson, journalist Ian Leslie, literary translator Madeleine Strong-Cincotta and poet Theodore Ell joining me in the readings.

Simple refreshments will be available.
Before the readings, the book will be offered for sale by representatives of the sellers.

Would you please let me know if you can come and to which event.

Please accept my warmest wishes in the meantime.

Paolo
Paolo Totaro AM
0412 767 858



---
Pittwater Writing 'Treat
Pittwater Youth Hostel, 28-30 September 2012
$240pp, includes 12-hour course, bed and lunch (Fri–Sun)

Contact and bookings: Pittwater YHA
Sarah Polomka or Michael Doherty
Ph: (02) 9999 5748
8–11 am and 5–8 pm

---
WOW Meeting

Hi everyone,
Just to let you know that the September WOW meeting will be held at Rosemary Haskell's on Wednesday 19th September from 12.30pm. The topic this time is 'travel'-(where/why/how/when we do it) which is very appropriate, given that our hostess will have just returned from a lovely holiday.

To assist with organisation, it would be greatly appreciated if you could RSVP by email ASAP so that I can advise Rosemary.

Usual arrangements apply-please bring a plate of food to share for lunch as well as your beverage of choice.

Cheers,
Jenny



---

---
Missing/Lost




The Case of the Missing Golden Saris



I left 2 Saris in the Fireshed after Gordon's Memorial Service. Would anyone know where they are? I do use them as home furnishings and would love to get them back.
Call me  0400311157 if you have any info as to where they are stored.
Cheers Tracy Smith


---
Borrowed Life Jacket


 
Could whoever "borrowed" the large life jacket from our tinny last week Wednesday to please return it to the tinny, or leave it at commuter wharf, as with the new laws we use it every day.
Gary Hirsch
0410 314 567


---
Boat Keys Misplaced


Did anyone see a set of keys laying on the far end of the pontoon at Tennis after 4:30PM on Monday August 27th?  They would have had a cork ball on a rope, two keys (a large one and a smaller one) along with a kill switch. Or perhaps they were dropped along path from pontoon, through the park, up the stairs and along the road heading towards Bell's.
 
If you have seen them or better yet were kind enough to pick them up please call 0450 334 565.
Thank you.
Jillian DelleMonache



---
Singing Teacher Wanted


 
I'm looking for a local singing teacher for an inexperienced young teenager.
If you know anyone who is provides classes after school, please contact me on 0408 811 066.
Thanks very much, Grace






---
The Local Guide
Community Information
Scotland Island Web Site

 www.scotlandisland.org.au

What's On in Pittwater - Self Editing Event Calendar 

click to go to the Calendar

Scotland Island Community Vehicle -

0404 103 700
Number, Usage & Charges

Scotland Island Rural Fire Brigade -

9999 4404
http://www.sirfb.org.au

West Pittwater Rural Fire Brigade

- 9997-3795
www.westpittwater.rfsa.org.au

Offshore Photo Gallery

offshore gallery
Scotland Island Residents Association (SIRA) Membership Application

- click here to download
West Pittwater Community Association (WPCA)

- http://www.wpca.org.au
Scotland Island Water


SI Emergency Water Contacts and Guidelines for water: click here for information and contacts
Scotland Island 'Water Agreement' - click here to download
Scotland Island Children's Centre

- (SIOCS - Scotland Island & Offshore Childrens Services)
Catherine Park (Long Day Care Service)  7.30am - 5.30pm (Tues, Weds, Thurs & Friday)
Other services include: School Holiday Programme / Facility & Equipment Hire
For information call 02 9979 7856 or email:  siocs@comcen.com.au
Scotland Island Community Hall Bookings:

  Kez on 9999 4092 or kezborthwickbolton@gmail.com
---

Transport
---
Real Estate
---
Services, Clubs & Accommodation
Scotland Island Traders - On-line shopping

from your computer, through your door on Scotland Island. Contact Graeme on 0419 460 331 or click here for full details
Justice of the Peace

- Bob Bolton - 9999 4092
Justice of the Peace

- Paul Purvis - 9979 9667
Justice of the Peace

- Paul Burchall - 0414 975 793
Justice of the Peace

- Bob Mitchell (Mackeral Beach) - 0419 745 628
Justice of the Peace -

Maureen Anderson - Morning Bay resident. - 02 9997-2659 or  0417-279-346
Pittwater Community Arts Inc.

 - Enquiries Lorrie Morgan 9997 8079  lorriemay@bigpond.com
Peninsula Music Club

- enquiries Janice Tuynman - 99991937 - jt@swift dsl.com.au
Woody Point Yacht Club

-  http://www.wpyc.com.au   commodore@wpyc.com.au
Royal Prince Alfred Yacht Club

-

02 9997 1022

  http://www.rpayc.com.au/  
Royal Motor Yacht Club

- http://www.royalmotor.com.au/ 02 9997 5511
Scotland Island Lodge - Bed & Breakfast -

02 9979 3301 or  http://www.scotlandislandlodge.com.au 
Pittwater Youth Hostel

 - 02 9999 5748  www.yha.com.au/hostels/details.cfm?hostelid=31  
Nila Chambers - Celebrant (marriages, funerals etc)

  Discount for all offshore residents. 9999 2445
Handy Service

- "No job too small"  - Call Alan 0447 775 541
Electrician Wayne

on Scotland Island 0418 229 277 - offshore community sparky - www.sparky.com.au
---
Island Classes (Fitness, Dance, Art etc)
Pilates, Meditation and Group Fitness with Patrice

-  0406 483 036 patrice.corrie@gmail.com
Anusara Yoga

-  Thursdays -  0421762236 dominiquemarill@gmail.com or floydcbg@ozemail.com.au
Art with Max

- Watercolour classes. Phone Max on 9997 4527
Art Classes

- drawing and painting in oils, acrylics and mixed media- Marion 9979 3993 or 0431 457 431
@ Nathalie's Table - Cooking Classes

- Mediterranean cooking fortnightly - Nathalie - 9999 4449
Dru Yoga

- Tuesday evenings - Phone Katya on 0414 187 916
---
Groups
Gurdjieff / The Forth Way

- Call John on 9979 5584, Marion on 9979 3993 or Anne on 9999 3478
Island Kinesiology Clinic

- Mondays on SI   Phone Jen Cudmore 0425 212 849
Green Group For Catherine Park

- Run by SIOCS - Emmie Collins on 0405 330 781
WOW - Women on Water

- second Wednesday of the month - contact Nila on 9999 2445   
Parents & Kids Groups Playgroup

- Run by SIOCS - email Emma trysemz@tpg.com.au
Scotland Island Players

- contact Bob or Kez on 9999 4092
Catherine Park Bush Care Group

, 2nd Sunday @ 9.30am, Sharon Kinnison @ 9997 6017
Elizabeth Park Bush Care Group

, 1st Saturday @ 9 am, Bob Bolton @ 9999 4092
Island Thinking Group -
Roy Baker, 9999 6891, roybaker99@yahoo.com
Offshore a capella choir

–  Saturdays at 2:30 pm, SI Community Hall. Call Gordon on 9997 2035.
---
Government Organisations
---
Airlines, Buses and Railways
---
Weather
Scotland Island Tides, Moon phases, Sun rise & set
Local Weather Forecast

Radar weather for Sydney (128k circle)
---
Emergency Contact Numbers
ALL EMERGENCIES (Police - Fire - Ambulance)
000
Police Assistance Line & Information
13 1444 or 9281 0000
Broken Bay Water Police
9910 7899 or 0412 162 093
Marine Rescue Broken Bay - Weekend

(

02) 9999 3554 - (02) 8411 1121



Marine Rescue Broken Bay - VHF Radio channel

VHF Radio Channel:

VHF 16


27MHz Radio Channel:

86 or 88



Scotland Island Rural Fire Brigade 
9999 4404
NSW Fire Service General Information 9265 2999
9265 2999
Rural Fire Service General information
9450 3000
State Emergency Service, Warringah/Pittwater SES
9486 3399
National Parks & Wildlife Service: 000, general information
9457 9322
Dept of Community Services: general information
9977 6011
Sydney Water
132 090
Energy Australia
131 388, (ah) 131 909

---
Join SIRA
You can now join the Scotland Island Residents Association by
clicking here.
Please print the page and return the completed form to SIRA at this address:
The Treasurer, SIRA, PO Box 70, Church Point 2105.
Please NO CASH.

Contact SIRA at
 sirapittwater@gmail.com
Join WPCA

To join the Western Pittwater Community Association, contact Michael Wiener at
m2wiener@bigpond.net.au
---
Archived Newsletters


A complete set of past electronic newsletters since May 2000 can be found and read at https://ymlp.com/archive_gesgjgm.php  or by clicking here or by visiting the Mona Vale Library.

The Island website is at www.scotlandisland.org.au


---
To Contribute


If you would like to contribute to this newsletter it's easy!. Send an e-mail to the editor (editor@scotlandisland.org.au) or by clicking here. Type your contribution (100 words or so would be fine) and assuming it is of general interest to the community, does not include matter of a political nature and is not offensive, it will appear next month.

Subscription Information


To get on and off this newsletter,

click here

or got to:

http://www.scotlandisland.org.au/signup .


To change your address, click the 'modify' link at the bottom of this newsletter or send an email to the

editor@scotlandisland.org.au


---
Follow the PON
---
The Online Local Contacts Guide
 Click HERE to load
The views expressed in this newsletter are not necessarily the views of the Scotland Island Residents Association (SIRA), or the Western Pittwater Community Association (WPCA)

---