SHOP HOURS
Monday: CLOSED
Tuesday: 11 - 5
Wednesday: 11 - 5
Thursday: 11 - 5
Friday: 11 - 5
Saturday: 10 - 4
Sunday: 12 - 4

 

 

 

There is a lot happening at the shop over the next couple of months so hold on to your (knit) hats!! We are about to start not one, but two yarn and fiber crawls featuring a fabulous trunk show from our friends at Emma's Yarns. We have a full schedule of fall classes ready to go and of course we have some fun surprises for our anniversary celebration coming in September. Grab your needles and hooks, this is going to be a wild ride!!

 

We have lots of new stuff in the shop so if you don't already follow our

Facebook

or

Instagram

, now might be a good time to start. We will be featuring new items for fall all through the month of August.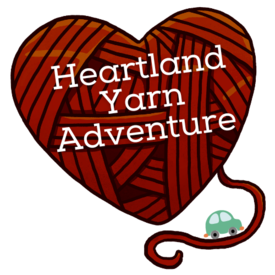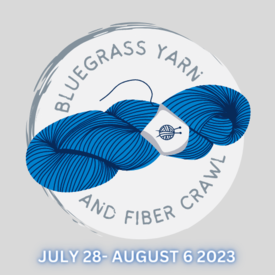 Heartland Yarn Adventure
Are you ready for a yarn adventure? We are so excited to be participating in this year's Heartland Yarn Adventure Shop Crawl. The adventure starts on July 28 and runs through August 6 this year. Whether you plan to hit 2 shops or all 68, this passport will give you access to exclusive deals, prizes, and shop giveaways. It will also provide a roadmap to all participating shops in Kentucky, Indiana, Ohio, and Michigan for your future use.
Grab a friend and start planning your 10-day road trip to dozens of beautiful yarn shops in the Heartland this summer! The crawl will go from Friday, July 28- Sunday, August 6.
You can buy passports on our website or in the shop all the way up to the crawl.
Bluegrass Yarn and Fiber Crawl
Last year was a blast and we are so excited to be participating in the Bluegrass Yarn and Fiber Crawl again this year.
Come travel the 2nd Annual Bluegrass area yarn and fiber crawl! Hosted by the Kentucky Fiber Trail, this crawl will take place July 28-August 6. Come explore and celebrate some of the best fiber venues in the commonwealth area!!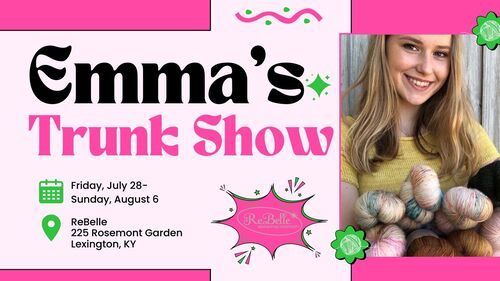 It's our favorite time of the year- time for the Emma's Yarn Trunk Show!! Y'all know we are deeply in love with the color and base yarn combos from Emma's Yarns and judging by your responses to the Super Silky and Marvelous Mohair we carry in the shop, you are too! We are very excited to be hosting a two week trunk show featuring three yarns we don't currently carry from them- Hella Hanks, Simply Spectacular DK, and their Slubby Slub. We will have a ton of colors and samples to get you inspired. Time to start planning those fall shawls and sweaters!!
The trunk show will be up during the entire Heartland Yarn Adventure and the Bluegrass Yarn and Fiber Crawl.
ReBelle Knit/Crochet Alongs
For our August shop KAL/CAL we are doing fades, shifts, and other gradating patterns. We love these types of patterns because they are both accessible for new knitters/crocheters (no fancy colorwork, simply stripes and slipped stitches) and fun for seasoned knitters/crocheters. Sarah, our in-house color expert, will be putting some fades together in multiple weights and will also be available to work with you to create your own perfect color palette.  
For those of you longing to get something new on the needles, Robyn created a Ravelry bundle (https://ravel.me/spingirl/sfa) with several pattern ideas if you need some help finding the perfect project. She is also available if you need help finding a pattern for a particular yarn or if you need help creating your fade.
All ReBelle knit alongs are free and open to the public. You are welcome to attend as many or as few of the KAL sessions as you like.
Meeting ID: 839 1287 3275
Featured Upcoming Classes
Intro to Colorwork Series: Mosaic Knitting

 

Mosaic knitting is a method of 2 color knitting that uses slip stitches, so that you only work with one color in any given row.  Learn the magic of mosaic and how to read mosaic charts.  Bring 2 colors of worsted weight yarn and needles.

 

1 class, $20

Thursday, July 27, 6:30-8:30pm

 

 
 

 

Come learn the basics of embroidery! Learn how to work a straight stitch, a lazy daisy, and French knots while you create a piece of 'zen embroidery'.  Susan will have you stitching in circles while releasing some of that summer tension.

 

This class is perfect for the beginner, but can also be enjoyed by intermediate stitchers. We'll provide everything you need to begin your stitching adventure.

 

 

1 class, $20

Saturday, August 19, 1-3pm

 

 



Visible mending celebrates the mending of cloth, bringing new life to beloved clothing.  Sure, there are times when you want to mend a hole invisibly… but it's more fun and creative to use a rainbow of colors and stitches! 

 

In this class, you'll learn the basics of visible mending.  Susan will have cloth and threads for your mending pleasure, and feel free to bring something that needs to be mended.

 

1 class, $20

Saturday, August 19, 1-3pm

 
 

 

Whether you are stuck in the middle of a pattern and want some guidance, need some finishing help, or just need a bit of motivation, join Susan for her Project Help Sessions and get those projects done. No matter which fiber art you enjoy- knitting, crochet, weaving, felting, Susan can get you and your project back on track. Sessions will take place on the first Wednesday of every month and each group session is $20 for two hours and space is limited so register early.




Teacher: Susan Winkler

1 session, $20

Wednesday, August 2, 6:30-8:30pm

Wednesday, September 6, 6:30-8:30pm

Wednesday, October 4, 6:30-8:30pm

 

 

 

 
Sweater Workshop with Susan




Ready to knit your first sweater or found a great sweater pattern but feel a little unsure about going at it alone? Then this class is for you. This class will be a workshop -- you pick the pattern and yarn you want (with our help if you need it) and bring it to class.  While we knit, we'll learn from each other's patterns by discussing techniques found in your individual patterns.

 

5 classes, $60

 

Fall Tuesday Session

8/22, 9/5, 9/19, 10/3, 10/17. 6:30-8:30pm

 

Fall Saturday Session

8/26, 9/16, 9/30, 10/14, 10/28. 10am-12pm

 

Fall Wednesday Session (4 classes, $50)

9/13, 9/27, 10/11, 10/25. 6:30-8:30pm