---
---
Christmas Carols
Thursday 22nd December (tonight!!)

First show at

7 pm at the Lovett Bay Boat Shed

and boats are welcome to raft up and gather round the marina area to listen.

After the show the choir will board a ferry to be taken across to Church Point for the s

econd show from the Old ferry wharf starting at 8.30.



Boats are welcome to come alongside but Tim Byrne's cruiser will be across the end of the wharf as some of the choir will be singing from there.

Rest assured if you are in the square, on the ferry wharf or at the Waterfront Restaurant you will hear the carols.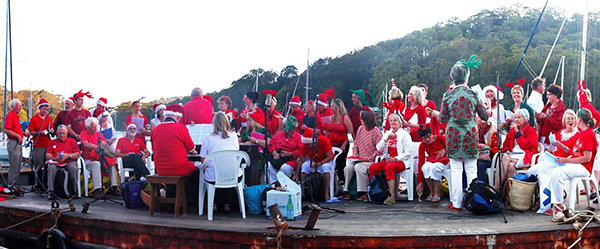 image by June Lahm
Everyone is welcome
---

Pink Water Taxi - Holiday Hours

Our regulars have spoken.


We are needed for Christmas Day morning but NOT the afternoon.
Accordingly, Rod will run the Water Taxi from
0700 to 1100 with scope to extend prior to lunch
.
The Water Taxi will re-open at 0600 on Boxing Day.
---
---
---
A complete set of past electronic newsletters since May 2000 can be found and read at https://ymlp.com/archive_gesgjgm.php or by clicking here or by visiting the Mona Vale Library.

The Island website is at www.scotlandisland.org.au




---
To Contribute
If you would like to contribute to this newsletter it's easy!. Send an e-mail to the editor (editor@scotlandisland.org.au) or by clicking here. Type your contribution (100 words or so would be fine) and assuming it is of general interest to the community, does not include matter of a political nature and is not offensive, it will appear next month.
Subscription Information
To get on and off this newsletter,

click here

or got to:

http://www.scotlandisland.org.au/signup .


To change your address, click the 'modify' link at the bottom of this newsletter or send an email to the

editor@scotlandisland.org.au


---
Follow the PON
---
The Online Local Contacts Guide
Click HERE to load
---
---
The views expressed in this newsletter are not necessarily the views of the Scotland Island Residents Association (SIRA), or the Western Pittwater Community Association (WPCA)
---