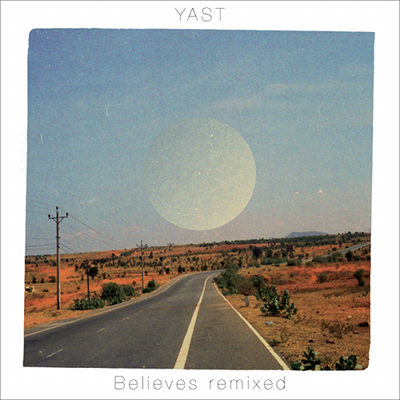 Artist: YAST
Catalogue nr: DSWEB005
Format: Webb
Label: Double Sun/Hare Tracks
Release date: 2012-03-26
Lo-fi romantics YAST started in Sandviken 2007, but moved to Malmö the following year. They were three back then, Carl Jensen, Tobias Widman and Marcus Norberg. In 2010 they got help from Markus Johansson and Niklas Wennerstrand, drummer and bass player in post rock act Aerial.
Together with producer Emil Isaksson the band recorded a few songs in the soon to be legendary, Studio Möllan, Malmö, Sweden. The single Believes was released by Adrian Recordings new sub label Double Sun and Hare Tracks in February 2012.

Download Believes by YAST here
Believes with the B-side single Because of You has been delicately remixed by these three Swedish acts:

Dunklet feat. Simian Ghost, Sail A Whale and Döden (YAST).
"Believes" has been beautifully cut up into sad chamber pop by Dunklet feat. Simian Ghost on track 1.
Then Sail A Whale turns the dark kraut out of "Because of You" into a dreamy epos. The song was premiered on the fine blog No Modest Bear last week.
And finally Döden (Markus Johansson from YAST) shakes "Believes" like a chill wave cocktail to dance to.

This release is presented by Hare Tracks, Adrian Recordings och Double Sun.

YAST www.soundcloud.com/yast | www.yastmusic.tumblr.com |

yastmusic@gmail.com
Double Sun www.doublesunrecordings.com |

contact@doublesunrecordings.com
Hare Tracks www.haretracks.tumblr.com |

haretracks@gmail.com
Adrian Recordings www.adrianrecordings.com |

magnus@adrianrecordings.com