On this day, the 14th of June 2001 David & the Citizens released their second EP "I've Been Floating Upstream" on CD. Today exactly 20 years later it is released again on yellow vinyl together with the first EP. The first EP was self titled but has come to be known as "Beppe - EP" as it depicts the drawing of David's cat named Beppe.

Support your local record store or get it directly from Adrian Recordings here:
https://adrian-recordings.myshopify.com/products/david-the-citizens-beppe-i-ve-been-floating-upstream

The band that had formed two years earlier by the songwriter and singer David Fridlund had now found its form when earlier members Jenny Wilson and Karl-Jonas Winqvist left to focus on First Floor Power and remaining David and Mikael Carlsson was joined by Conny Fridh, Magnus Bjerkert and Alexander Madsen. For the next 6 years the band will be touring every festival and small city in Sweden and a few tours around mainly Europe. It was an euphoric era that formed not only the band members but also an audience and community that in a way don't exist anymore.

Artist: David & the Citizens
Title: Beppe + I've Been Floating Upstream
What: Full length vinyl 12" with "Beppe" on side A and "I've Been Floating Upstream" on side B. Pressed on yellow vinyl.
Label: Adrian Recordings
Release day: June 14th
Cat#: ar12" 351
Copies: Limited to 300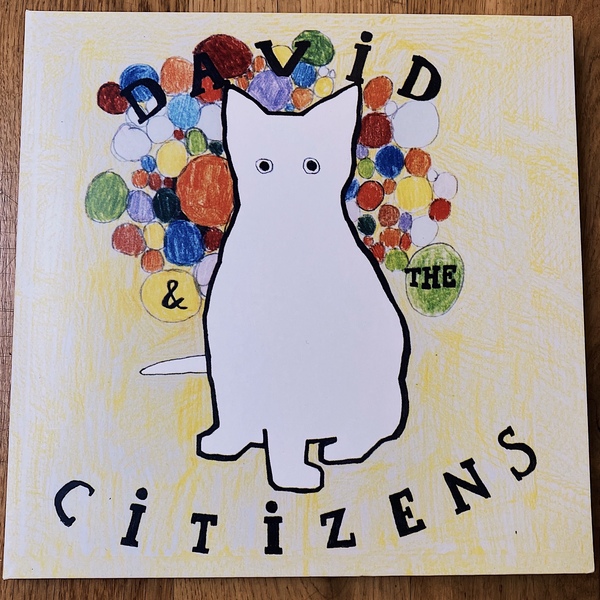 A
1. Now She Sleeps in a Box in the Good Soil of Denmark
2. Summer in No-man's-land
3. Family Gathering
4. Brother


B
1. I've Been Floating Upstream Since We Parted
2. Paulie (It's the Work of Evil Minds)
3. Made of Words
4. Showing the Apartment
5. Your Cool Entrance

"20 years sounds like a long time. In reality you just blink your eyes and wake up in another life. At least that's how it feels now that I look back at these recordings...20 years already?
When I think of those days, I feel an enormous pride. That first EP, the one with the cat, known as the Beppe EP, was such an emotional outlet for me. Those songs were intimately connected between me and my mom and me and my brother.

I remember sitting in my living room when I first got a copy of it. I opened and closed it over and over, pulled out the CD, read the lyrics, although I was the one who wrote them. I remember being so happy that we had actually recorded an EP. A dream come true. I had been playing, dreaming, crying these songs so many times and then; there they were! Unreal.

I was proud of it then and I'm still fucking proud of it. I created it and the band and I played it, sweated it out on stage, drove thousands of miles to play for kids our own age, older and younger, everyone seemed to love it. It was weird and absolutely amazing! I remember when we recorded "Your Cool Entrance" for the second EP. How nervous Sara was about singing with me and how beautiful it came out. I remember recording "Now She Sleeps..." at the Tambourine Studio...oh, nostalgia!

I'm really happy that this vinyl reissue actually happened and I hope you enjoy listening to it, whether it's your first time, or just the first time in 20 years."
- David Fridlund, Santa Fe, New Mexico 2021
Magnus Bjerkert
Adrian Recordings
Sweden

magnus@adrianrecordings.com
www.adrianrecordings.com
ALICE BOMAN ALEXANDRA BERGER ANDREAS TILLIANDER BITCH HAWK BJÖRNS VÄNNER BOEOES KAELSTIGEN DAVID & THE CITIZENS DAVID FRIDLUND DEN SVENSKA TYSTNADEN DMITRY FYODOROV DÖDEN EDDA MAGNASON EMIL JENSEN FAMILJEN HENRIC CLAES HEY ELBOW JONAS LUNDQVIST LAAKSO LATELY LA LA MARCUS CATO MARCUS NORBERG AND THE DISAPPOINTMENTS MEDBORGARBANDET MF/MB/ OLD POIZON_SW3 PRINTER RA SHARIF SHE'S WILD AGAIN TONIGHT SURF PHILOSOPHIES SVART KATT THE BEAR QUARTET THE FINE ARTS SHOWCASE THIS IS HEAD ULF STURESON VED YAST NEED FOR SPEED BO MEHR BOB HUND SPUNSUGAR JH3 WHOMSOEVER TOI LET