---
Gone Fishing Gallery has closed its Doors
It is with great sadness that the Gone Fishing Gallery has closed its doors today.

The Pasadena has been taken over by the banks and we were not given the option by the bank to stay on any longer. A sad day but we are ever grateful for 13 wonderful months at the Pasadena. Much longer than we had expected! Huge thanks and thoughts go to Mary and Joe who generously provided this space to our community.

All the GFG artists would like to also thank our wonderful community for supporting us and all our ventures, fund raisers, book launches etc. We have new ideas in the pipeline so please visit our website and Facebook for further news. As one door closes another one will open and if it doesn't we will break the door down!



---
Tree of Life Theatre workshop on Scotland Island




This weekend the Tree of Life Theatre is doing a mentoring workshop on the island.



This is the second workshop that we have had on the Island. It involves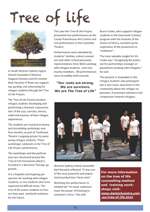 workshops, a Saturday night mini performance in the Fireshed and a picnic Sunday lunch time on the grass in Bill's Bay, both of which we are hoping to connect with Islanders interested in this initiative to help young refugee people tell their story in a theatre setting as part of a healing process.

Treehouse Theatre works with young refugees to assist in resettlement and trauma recovery. The program involves drama therapy and culminates in a performance based on their personal experiences. Some of the cast from the successful production of the 2011 Tree of Life performance will be visiting the Scotland Island on Friday, 20/1 to Sunday, 22 to participate in Mentoring/Leadership Training.

Several Scotland Island families will host the young people. The training will take place in the Fire Shed.



Scotland Island residents are invited to a short performance on Saturday, 21/1 at 8.00 pm at the Fire Shed, followed by supper.



Please bring gold coin donation and if possible a plate of food to share.

There will also be a BYO BBQ/picnic on Sunday, 22/1 at Bills Bay from 11.30
am.

Contact Annabelle Kristevic for further information: 9997 2670/ 0146 620 982



click the image to download the article (in PDF)



---
Wanted




Commuter Boat


Forthcoming offshore couple looking for used commuter boat. Aluminium, front steering, electric ignition, windscreen preferred. Ideally will plane.
Please phone Deb 0417 418942.


---
---
Follow the PON
---



Missed out on a Newsletter?




Go to the archives to download previous notices



A complete set of past electronic newsletters since May 2000 can be found and read at https://ymlp.com/archive_gesgjgm.php


---
The Online Local Contact Guide

Click HERE to load
The views expressed in this newsletter are not necessarily the views of the Scotland Island Residents Association (SIRA), or the Western Pittwater Community Association (WPCA)
---