---

Road Closures due to Hairpin Works
Council needs co-operation from residents to comply with road closure measures in relation to the remediation works at the Hairpin Bend of Kevin Avenue
The following road will be closed from Monday 12 October until Friday 16 October:   

Parking Restrictions during this period:
    No parking on corners of the concrete access ramp from Cargo Wharf to Robertson Road
    No vehicles or equipment to be left anywhere at Cargo Wharf or along the road up Cargo Hill (this is due to the need for heavy equipment and 24 ton trucks to maneuver along the road)
    No parking on Robertson Road between Cargo Wharf and Kevin Avenue
    No parking on Kevin Avenue between Robertson Road and Hairpin
Council Contact: David Munday (Project Engineer), Phone: 9970 1248
---
SIRA

Notice
Community Vehicle will be out of service from Tuesday 13th October until Midday Friday 16th October.
The Community Vehicle will be going off the Island to fit the new tonneau cover, rear floodlights and hopefully a new reversing camera.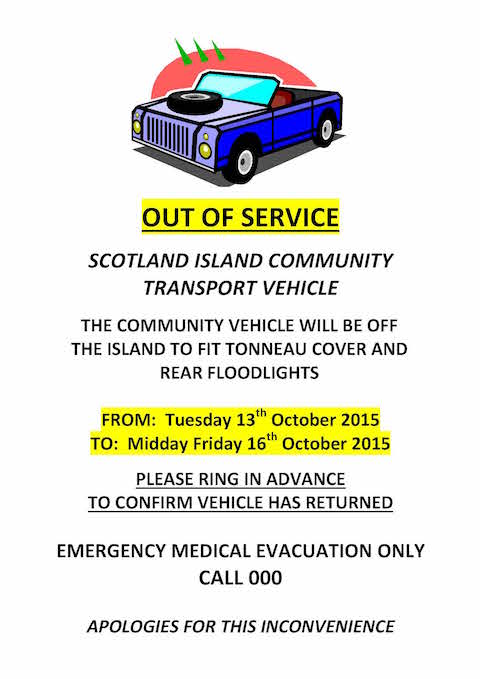 ---
---
Contemplate
Innovative Food by 13 Art Photographers
Includes Scotland Island Fine Art Photographer June Lahm
---
Keeping Company Saltwater
Manly Art Gallery & Museum 30 October – 29 November 2015
Manly Art Gallery & Museum and the MAG&M Society support and encourage creativity on the Northern

Beaches and invite expressions of interest in the 6th exhibition of new works by members of Manly Art

Gallery & Museum Society and Northern Beaches artists. This year, artists are invited to create new works in

response to a theme - 'saltwater'.


Manly Art Gallery & Museum is showcasing new art works by 45 established and emerging Northern Beaches artists.

To be opened by ABC arts presenter James Valentine ('The Mix' and 702 ABC Sydney) at 6.00 – 8.00pm on Friday 30 October 2015, the exhibition titled 'Keeping Company: Saltwater' explores works across a wide range of art disciplines and media.




---
FOLIA
Opening on Thursday, October 22, at 6pm.
The Shop Gallery, 112 Glebe Point Road, Glebe NSW.
Painter Michelle Ball, stylist Vanessa Colyer Tay and photographer Sam Mcadam-Cooper join forces for Folia, their first show.
By day all three work in the magazine world and this exhibition was born from their mutual passion for the Australian bush.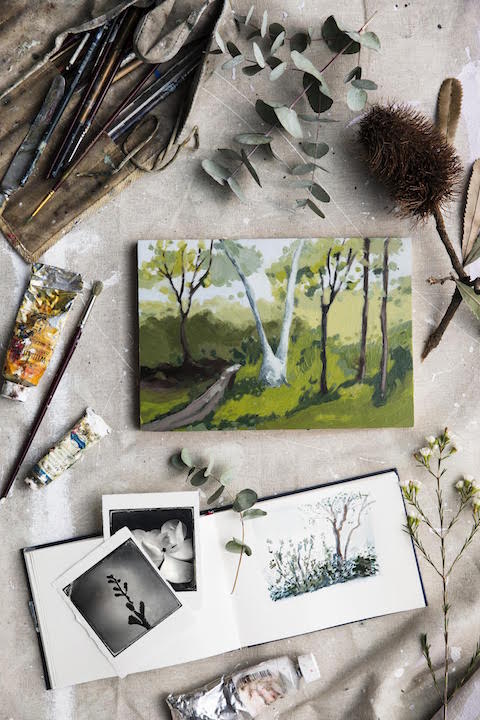 Meet the artists at the opening on Thursday, October 22, at 6pm.
The Shop Gallery, 112 Glebe Point Road, Glebe NSW.
Open 10am-6pm until October 30
theshopgalleryglebe@gmail.com
---
Clean Fill
AVAILABLE NOW FROM 39 Robertson Rd
Call Toni
Ph. 0431018279



---
Family looking to move to Scotland Island.
Currently seeking a rental on Scotland Island starting from late Oct.


3 Bedrooms would be grand.

We are 2 professional adults and our 6 y/o son who will be attending Newport primary.

May even consider the purchase of the right property.

Please contact Benedicte on 0415 858 605





---
For Sale

Oven and cooktop unit for sale $50 and its yours to take home.

Works perfectly just got a new style kitchen and didn't suite the new look.

Located near Bells wharf.

Call Aggy on 0424209242 to arrange a pick up time.





---
---
The views expressed in this newsletter are not necessarily the views of the Scotland Island Residents Association (SIRA), or the Western Pittwater Community Association (WPCA)
---
---